Should you buy Ford stocks amid Stripe deal to overhaul online payments?
Ford (NYSE:F) announced a 5-year deal with Stripe to overhaul online payments. Ford stocks are on the run in 2022, fueled by strong sales in China.
Ford shares outperformed in the first two trading weeks of the year. Investors reward the stream of good news coming from Ford, and the stock price is up +21.28% this year alone.
Earlier this year, Ford announced higher Q4 sales in China by more than 11%, news that propelled the stock price. This week, it made public a five-year deal with Stripe to overhaul online payments.
Ford and Stripe team up for the next five years
Yesterday, Stripe and Ford announced a five-year deal agreement to overhaul Ford's online payment processes. One of the major impacts of the pandemic on consumer behavior was making people more confident to spend money online.
Online spending passed from simple grocery and clothes buying to large purchases – and this is what the move is about. In any case, Ford is viewed as stepping up into the future and being up-to-date with times, and so investors welcomed the news.
How did Ford stocks perform during the pandemic?
Unlike Tesla, which saw its stocks overperforming during the COVID-19 pandemic, Ford's stock price declined in 2020 and then has built a base from which it bounced back. Most recently, it crossed above the $20 mark, and the rally did not stop all the way to $25.
Ford is a dividend-paying company too. Therefore, besides the stock price appreciation, Ford shareholders also receive a quarterly dividend – the forward dividend yield is 1.59%, and the payout ratio is 20.93%.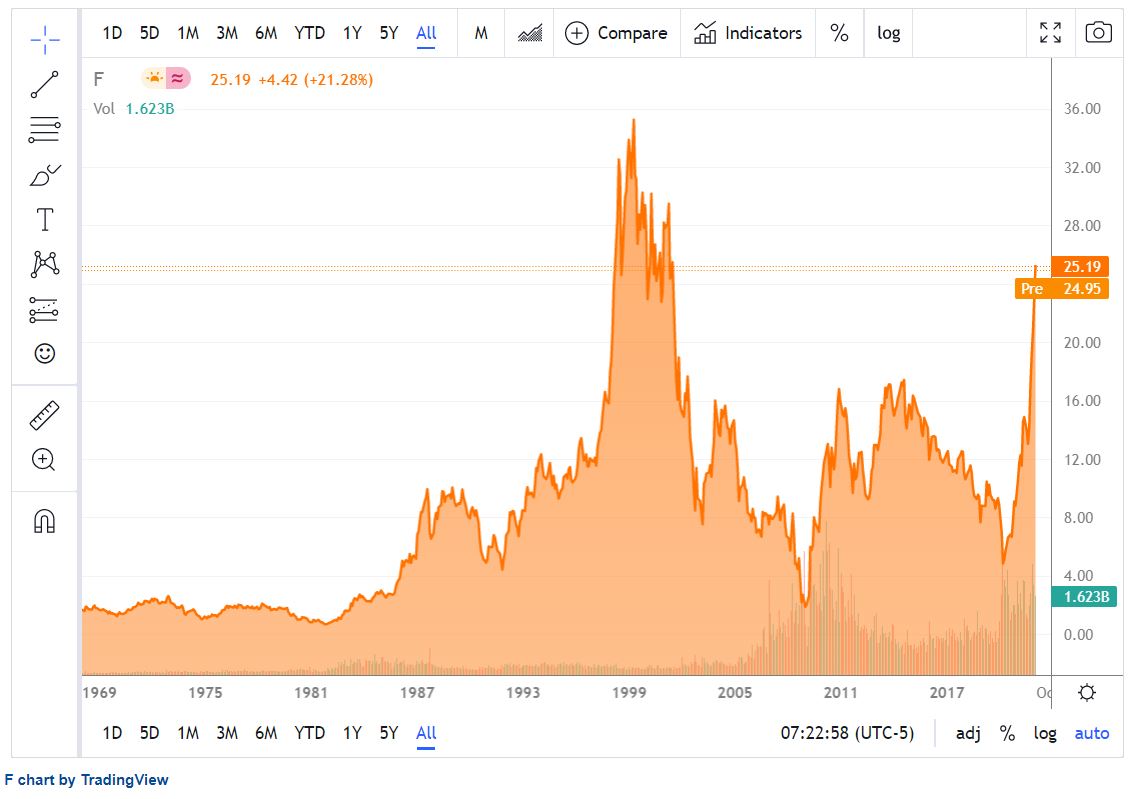 What do analysts say about Ford's stock price?
Out of the 39 analysts covering Ford's stock price, 21 have buy ratings, and 16 have neutral ones. Only two analysts have issued a sell rating, and Ford was downgraded to hold at RBC Capital Markets on January 14 with a price target of $26.
At the current stock price, Ford trades at an attractive P/E ratio of 6.08, and the company's market capitalization reached $100.67 billion. Also, the enterprise value is $215.23 billion.