Should you buy FedEx shares ahead of next week's quarterly earnings?
FedEx (NYSE:FDX) reports its quarterly earnings next week. The company is expected to report EPS of $4.26 on the quarter, and investors will focus on the management's forward guidance.
FedEx, one of the biggest air freight and logistics companies globally, is reporting its Q2 FY2022 earnings next week, on December 16, at 05:30 PM ET. Investors expect EPS in line with those reported in the same quarter last year, which may explain why the stock price YTD is down more than -5% when the leading US equity indices are close to all-time highs.
Transportation and logistics companies have had a great time during the COVID-19 pandemic. As travel was/still is restricted in many parts of the world, people relied on services such as express transportation or time-critical transportation services. FedEx is a leader in these areas and offers supply chain management solutions, customs brokerage, and freight forwarding services, among others.
FedEx is expected to report EPS of $4.26 on the quarter, and the annual revenue estimate for the fiscal period ending May 2022 is estimated to reach $91.01 billion.
What do analysts say about FedEx stock price?
Even though FedEx's stock price is down YTD, analysts are bullish on the stock price. Out of the 63 analysts covering the company, no less than 54 have buy ratings. Moreover, only 9 analysts have neutral ratings, while no one has issued a sell rating for the FedEx stock price.
Currently, the stock trades at $246, but analysts' price targets vary wildly. For example, Cowen and Company has recently maintained its buy rating with a price target of $283. Deutsche Bank did the same, only this time the price target for FedEx's stock price is only $280. Finally, the highest price target belongs to UBS, as it maintained its buy rating with a $380 target.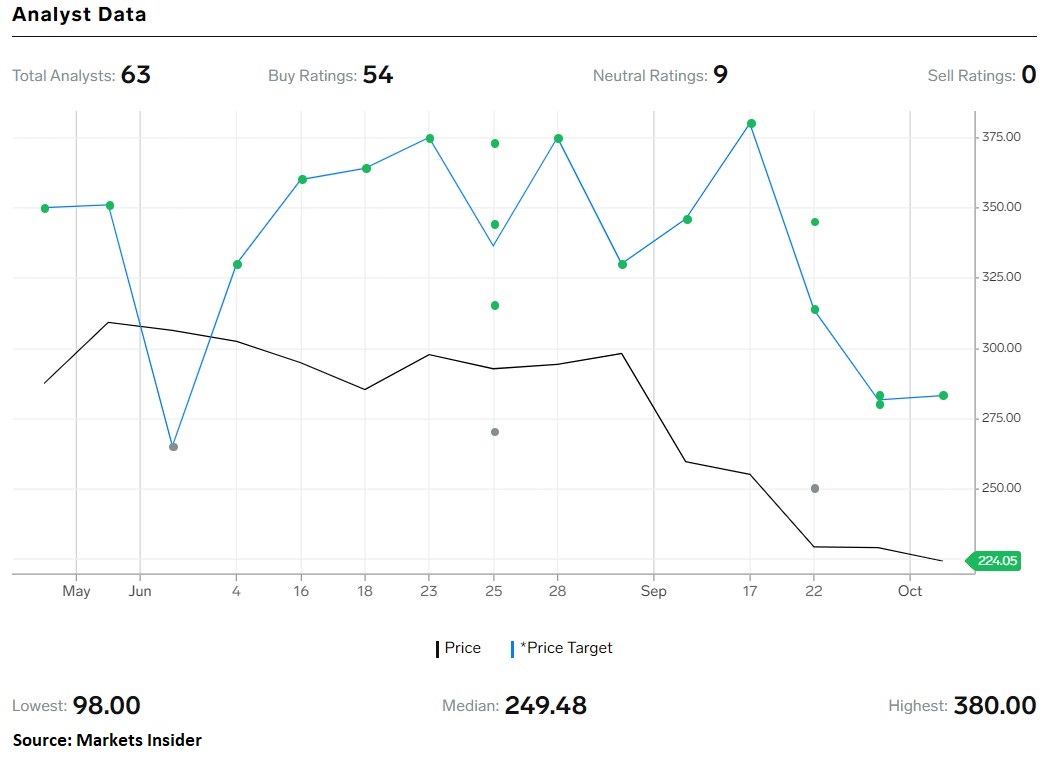 How about FedEx's valuation?
FedEx looks attractive, judging by the P/E Non-GAAP ratio for the last twelve months. The ratio sits at 13.84, much lower than the 21.56 sector median. Also, the Price/Book ratio or the Price/Sales ratio are lower than the sector median as well.
Does FedEx pay a dividend?
Yes, it does. FedEx pays a quarterly dividend with a five-year growth rate of 16.59% and a dividend yield of 1.23%.