Should you buy Conagra Brands stocks ahead of the quarterly earnings?
Conagra Brands (NYSE:CAGR) reports its Q2 FY2022 on January 6. Investors expect EPS of $0.68 on the quarter.
Conagra Brands is one of the companies reporting quarterly earnings in the first trading week of 2022. On January 6 at 09:30 EST, the company reports its Q2 FY2022 earnings and investors expect EPS of $0.68. Moreover, the annual revenue estimate for the fiscal year ending May 2022 is $11.24 billion.
The company is active in the packaged foods and meats industry and operates with a gross profit margin of 27.65%, lower than the sector median by -19.99%. However, it compensates with a much higher EBIT margin for the last twelve months of 17%, while the sector median is 10.05%.
Conagra Brands is a dividend-paying company with a forward dividend yield of 3.74%. Moreover, it has a dividend payout ratio of 50.75% and a two-year dividend growth history. Furthermore, it has beaten both the EPS and revenue estimates for the past six consecutive quarters, so the bias is that it will do so this quarter too.
What do analysts say about Conagra Brands' stock price?
Conagra Brands' stock price is down more than -7% this year. However, it rallied from the lows, and the technical picture might turn bullish should the price advances some more.
Analysts are mostly neutral on the stock price. Out of the 18 analysts covering the stock price, 11 have issued neutral ratings, and only 4 have buy ratings – the rest have issued sell ratings. Most recently, JP Morgan has downgraded the stock price to hold, with a price target of $38.
What about the technical picture?
2021 turned out to be a bearish year for Conagra Brands investors. After a double top pattern close to the $40 area, the stock price declined and threatened to break below $30. However, it met support and rallied recently. A daily close above $36 would turn the scenario bullish and trigger more strength toward $40.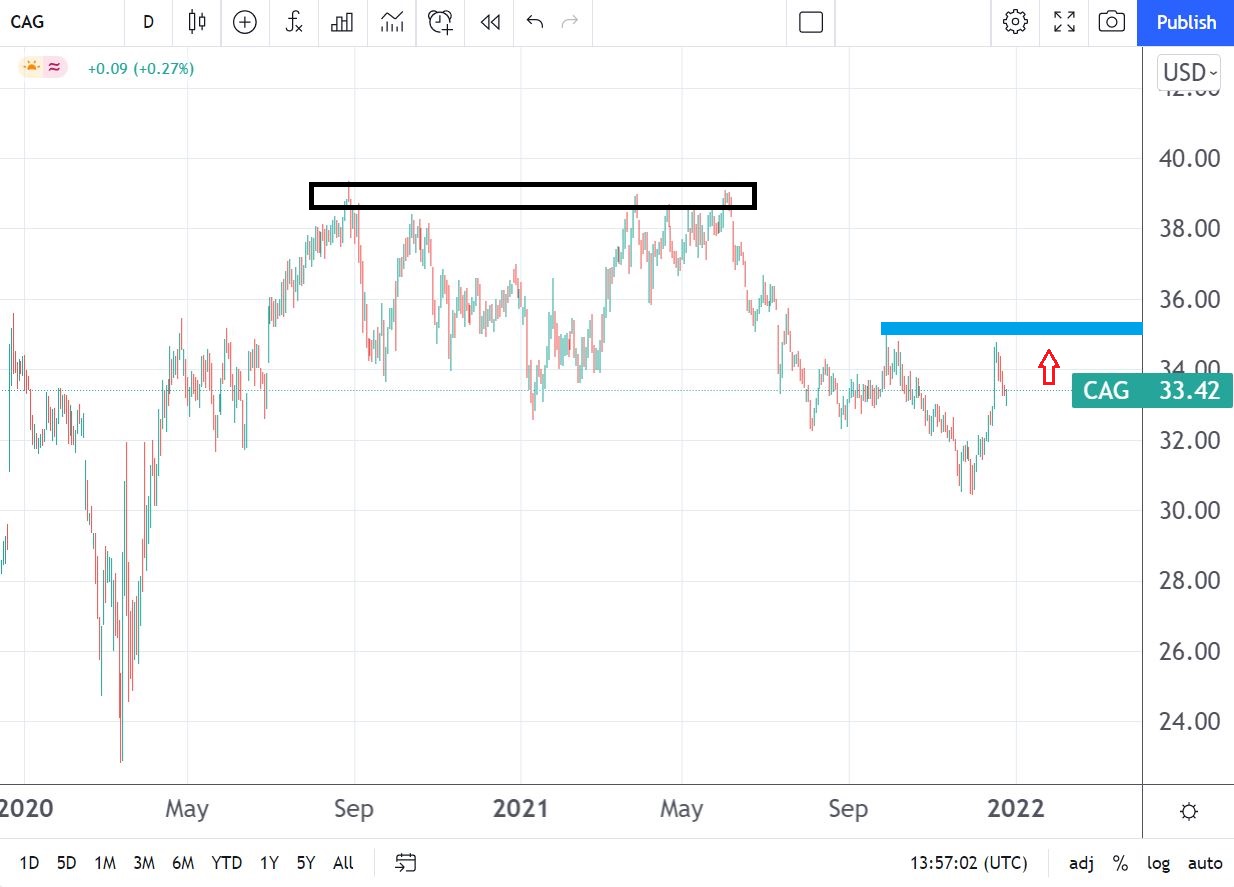 How is Conagra Brands' stock valuation?
Conagra Brands ' valuation metrics improved because the stock price declined this year. For example, the company currently trades at a P/E Non-GAAP (TTM) ratio of 13.70, much lower than the 20.16 sector median.