Should you buy Cintas stocks after another earnings beat?
Cintas (NASDAQ:CTAS) reported quarterly earnings last week, and it delivered much better than expected results. The company's EPS surprised to the upside by $0.11, and revenue grew 9.40% YoY.
Cintas is an American company from Cincinnati, Ohio, providing corporate identity uniforms. Its customer base is made of companies in services providing sectors, such as healthcare, hospitality, or food service, as well as in goods-producing sectors, such as manufacturing and construction.
The company reported its earnings for the second quarter of its fiscal year 2022 last week, and it delivered higher EPS and revenues than the market expected. Total revenue grew by 9.4% YoY, reaching close to $2 billion. Moreover, net income grew by 3.4% when compared to the same quarter last year and diluted earnings per share by 5.3%.
Cintas operates with a gross profit margin of 46.51%, much higher than the 29.29% sector median. Moreover, this is a dividend-paying company with a five-year dividend growth rate of 20.65% and a dividend payout ratio of 34.67%. Management raised the full-year guidance from a range of $7.58 to $7.67 billion to a range of $7.63 to $7.7 billion.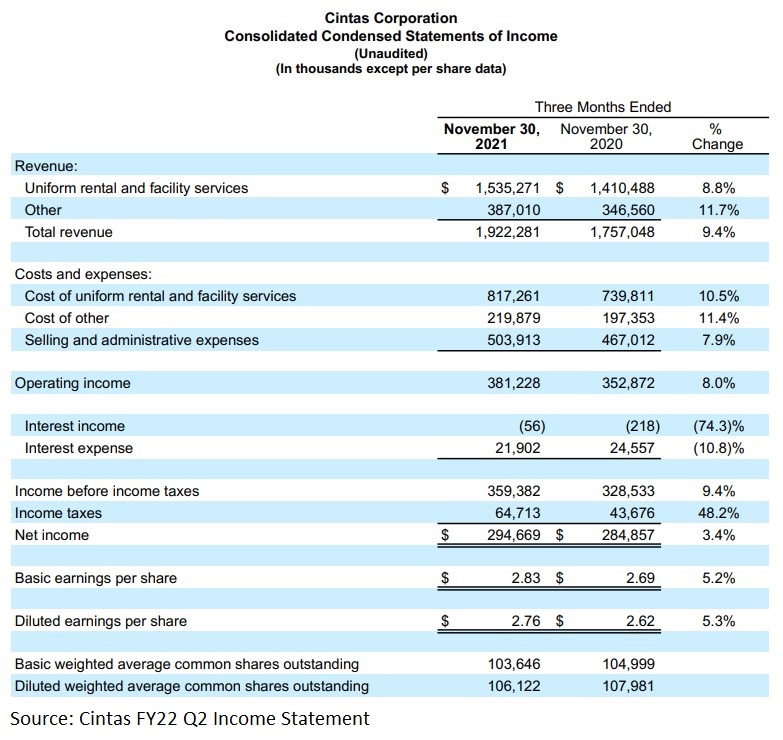 Cintas technical picture looks bullish
The technical picture looks bullish too. Cintas' stock price is up 23.07% YTD and it trades near record-high levels. After a bullish breakout following an ascending triangle pattern, it kept advancing this year. The bullish sentiment should persist while above the pivotal $360 area, especially if the series of higher highs and higher lows continues. On the flip side, a drop below $360 should invalidate the bullish scenario.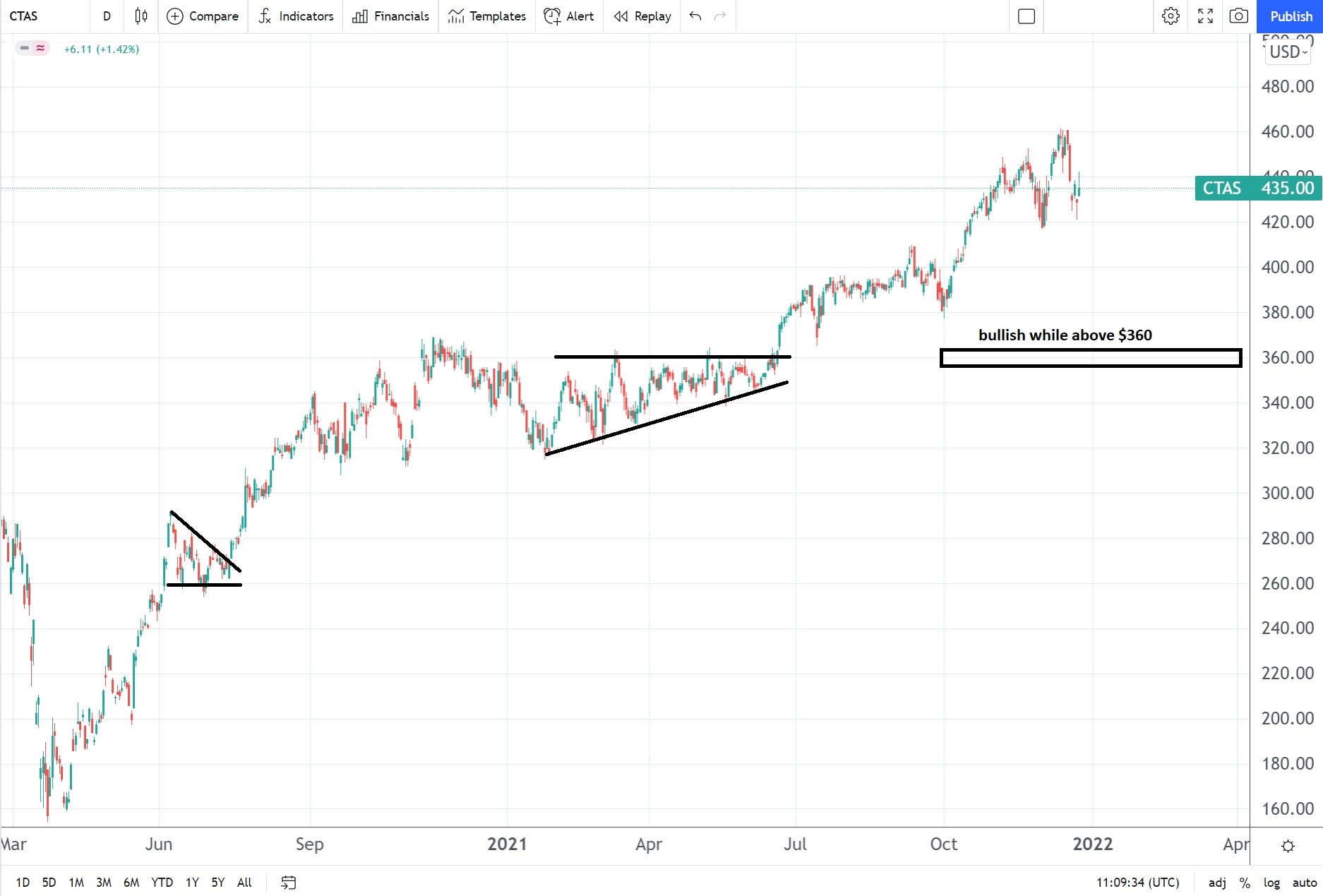 What do analysts say about Cintas stock price?
After the Q2 beat, several analysts raised their price target of the company's stock price. One is Goldman Sachs, who raised the price target to $460. Moreover, it maintained its buy rating. Another is Baird, which raised the price target to $465 from $425 previously and maintained its "outperform" rating.
All in all, another strong report from Cintas, as the company continues to reward investors. The estimates for the Q3 FY2022 EPS are $2.43, but given that the company has beaten the market estimate for the past eighteen consecutive quarters, the bias is that it will do so once again.