Should you buy Carnival stocks despite missing quarterly earnings?
Carnival missed both EPS and revenue expectations for the seventh consecutive quarter. However, the top and bottom lines improved YoY, triggering a move higher in the stock price.
Carnival Corporation (NYSE:CCL) is an American leisure travel company based in Miami, Florida. With a portfolio of nine of the world's leading cruise lines, such as AIDA Cruises or Costa Cruises, it employs over 70,000 people, and it was founded in 1972.
The COVID-19 pandemic severely impacted the cruise lines industry. In regular times, Carnival's ships visited over 700 ports worldwide, but that number declined significantly during the pandemic. As such, Carnival lost money – and continues to do so.
The company reported its quarterly earnings last week, and it missed both the EPS and revenue estimates. However, the top and bottom lines improved, giving investors something to cheer about. As such, the stock price jumped on the news, regaining the $20 level.
Details of the Q4 FY2021 earnings
Carnival lost $2.6 billion on the quarter under the US GAAP reporting method. However, while the loss was expected, some positive developments are worth mentioning.
First, the fourth quarter ended with $9.4 billion of liquidity. Second, revenue per passenger cruise day increased by 4% compared to the strong 2019, a year before the COVID-19 pandemic. Finally, with over 60% of capacity now in operation, Carnival is well-positioned for the strong summer period.
Moreover, the company reduced its future annual interest expense through its debt management efforts, thus optimizing its debt maturity profile. As such, it lowered the interest expense by about $400 million/year.
On the flip side, the pandemic's evolution remains a risk. New variants, such as the Omicron, threaten future earnings.
Carnival's stock price is almost flat on the year, trading at $21.20 after the quarterly earnings.
The technical picture looks bullish
The stock price jumped despite Carnival missing the quarterly expectations. Investors cheered the improved results and bought the stock despite the company still losing money.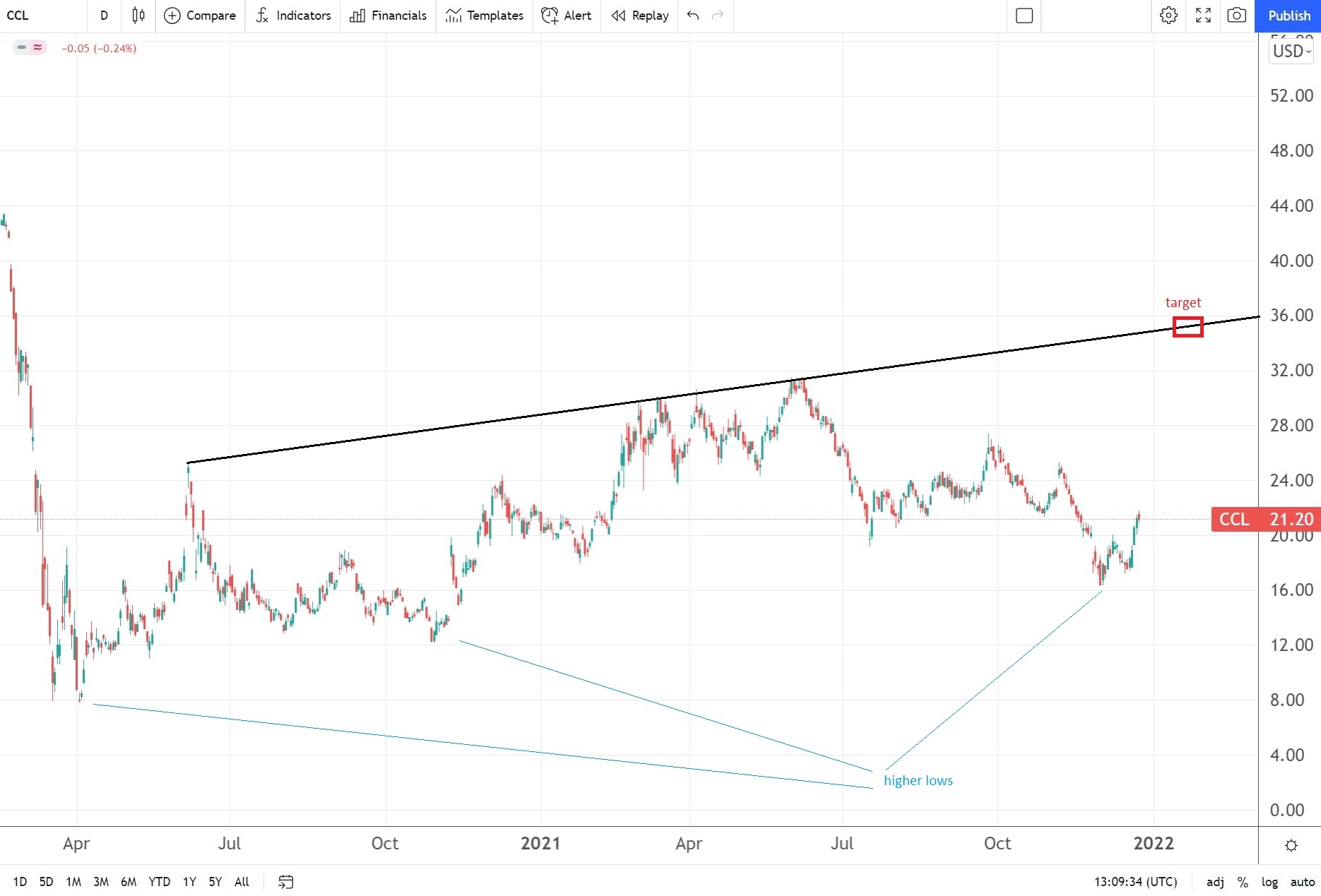 Carnival's stock price looks bullish as long as the series of higher lows continues from a technical perspective. Since the April 2020 low, the stock price bounced and a new higher high formed during the 2021 summer. If the stock price holds above $12, the path of least resistance remains the upside, with a price target of $36.