Should you buy Apple stocks after reporting the highest-ever quarterly earnings?
Apple reported its financial performance for the last quarter of 2021. Its quarterly earnings made a new record, showing that the company found a way to avoid the supply crisis.
Apple surprised the markets once again with its outstanding financial performance. It reported the highest-ever quarterly earnings yesterday, an announcement that triggered a sharp move higher in the stock price after-hours.
The company needs no introduction as it is one of the most famous brands in the world. Revenues reached close to $124 billion last quarter, higher than the previous year by 11.22%. Moreover, Apple reported higher EPS than the market expected – $2.10 vs. $1.89 expected.
Considering that the tech sector has come under pressure lately, as reflected by the NASDAQ 100 index, which dropped more than 2,500 points, Apple's quarterly earnings are nothing short of impressive.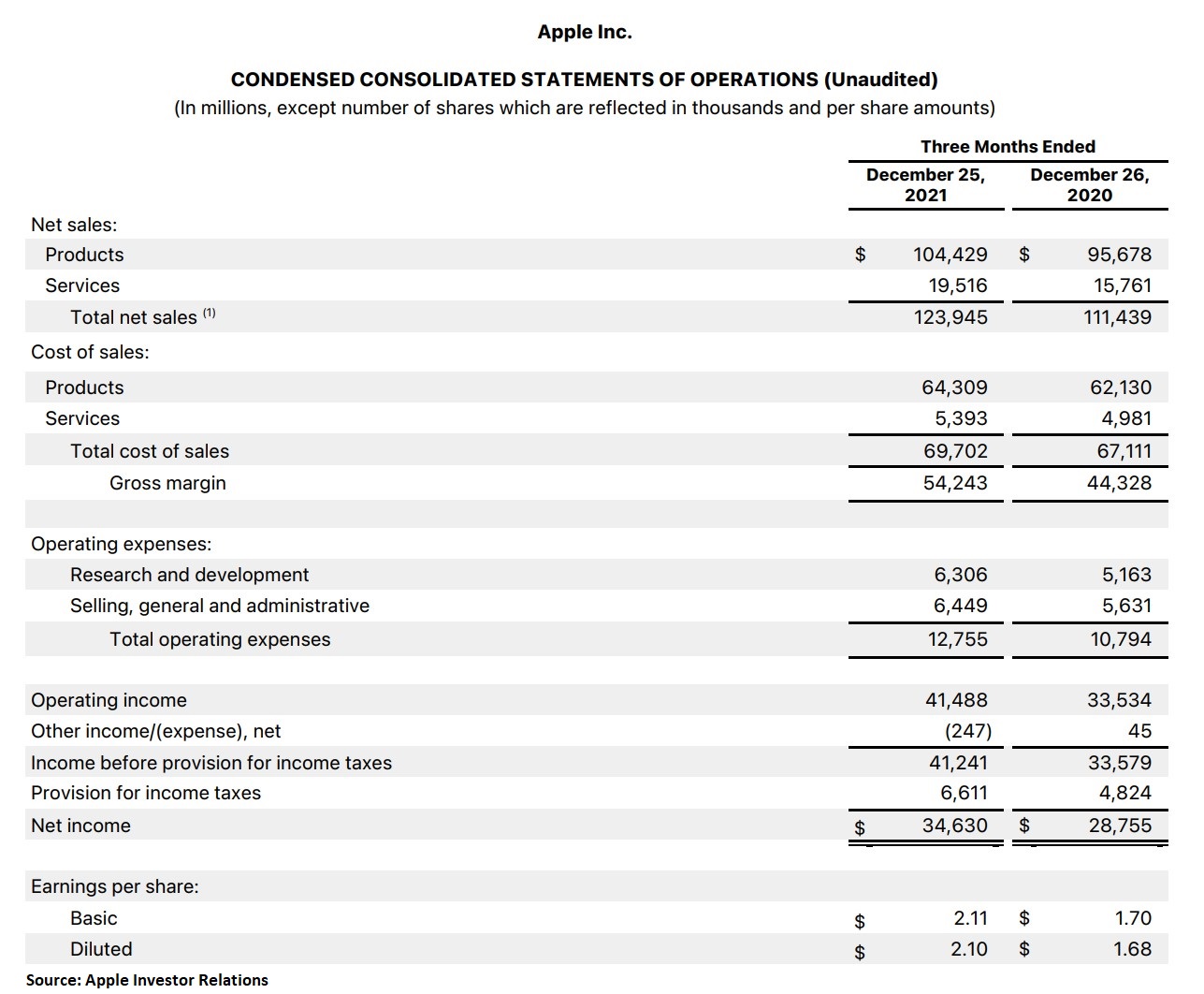 Apple's stock price seen higher pre-market
Apple's stock price jumped on the news, and it is currently seen higher by 2.76% pre-market. Investors cheered the strong earnings, and Morgan Stanley has boosted its price target.
Speaking of analysts, out of the 99 covering Apple's stock price, 83 have issued buy ratings, and 14 have neutral ones. Only 2 analysts have issued a sell rating for Apple's stock.
Just prior to the quarterly earnings call, Wells Fargo maintained its buy rating with a price target of $205. The same did Loop Capital, but with a price target of $210.
Apple pays a hefty dividend
Apple is one of the tech companies paying a hefty dividend. It has a five-year dividend growth rate of 9.18%, a forward dividend yield of 0.55%, and it increased the dividend for 9 consecutive years.
The company operates with a gross profit margin of 41.78% and, at yesterday's market price, it was valued at $2.61 billion. Moreover, the enterprise value reached $2.55 trillion and Apple employs over 154,000 people.