Should you buy Alphabet stocks ahead of the quarterly earnings?
Alphabet releases its quarterly earnings today at 05:00 PM Eastern Time. Investors expect EPS to reach $27.19 on the quarter.
Last week, Apple was the first major tech company to release its quarterly earnings. It delivered a strong financial performance for the previous quarter, and today the focus is on Alphabet, Google's parent.
Google was founded in 1998 by Sergey Brin and Larry Page, and since 2015, Alphabet has become the parent holding of Google. Besides Google, the company also owns a wide range of platforms such as Gmail or YouTube.
What are investors' expectations for this earnings call?
Investors expect EPS of $27.19 on the quarter, and the annual revenue estimate for the fiscal period ending December 2021 is $254.16 billion. Alphabet has delivered higher EPS and revenues for the past five quarters, and it is on track to do the same for Q4 2021.
How did Alphabet's stock price perform lately?
Alphabet's stock price is up 43.08% in the last twelve months and started 2022 on the wrong foot – it is down a little over -7%. The company pays no dividend, and it operates with a gross profit margin of 56.51%, higher than the sector median by some 9.38%.
Revenue growth is impressive, rising at a YoY rate of 39.32%, much higher than the 8.73% sector median. At the current stock price, the company is valued at $1.77 trillion, and it has an enterprise value of $1.66 trillion.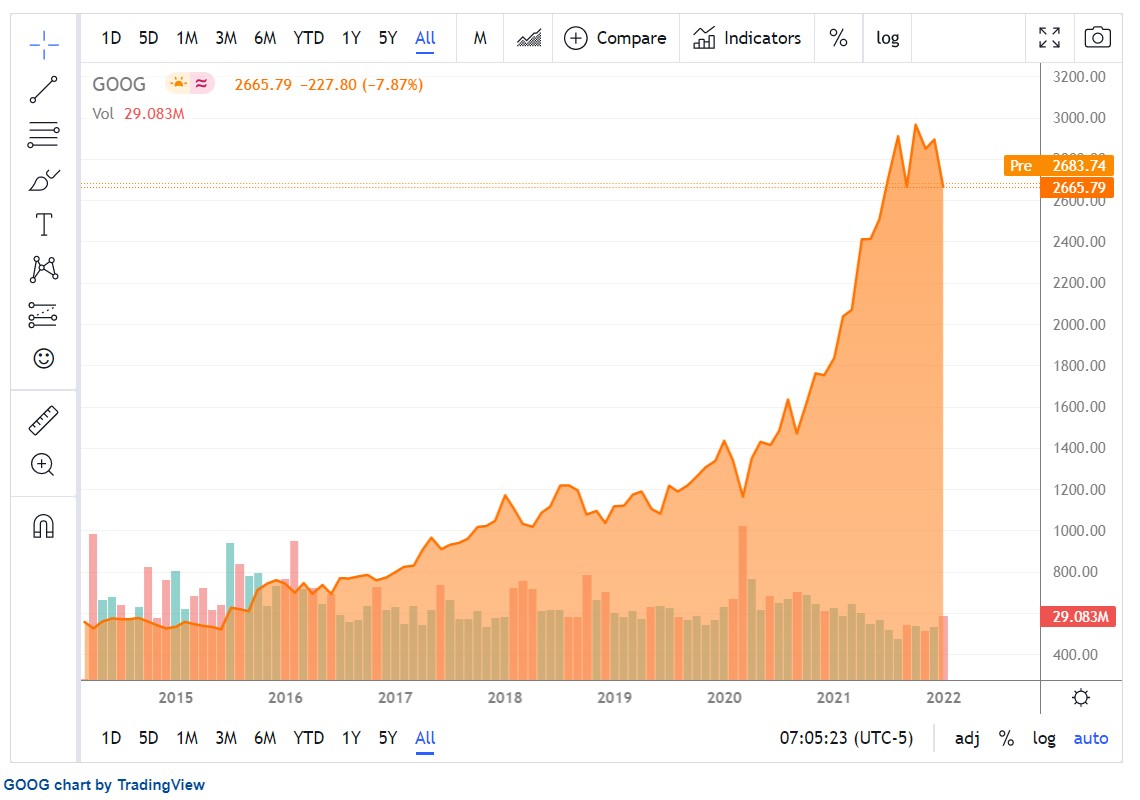 What do analysts say about Alphabet's stock price?
Everyone is bullish on Alphabet's stock price. Out of the 33 analysts covering the stock, all have issued buy ratings. The price range for their forecast varies widely, though.
For example, Oppenheimer & Co. maintained its buy rating four days ago with a price target of $3,500. The same did Raymond James Financial, but with a price target of $3,400.
Most recently, Google announced that it would invest $1 billion in Indian telecom Bharti Airtel, in a sign of continuing expansion of its operations. On the other hand, antitrust suits continue to be a threat.