Salesforce Stock Price Close to All-Time Highs Ahead of Q2 2021 Earnings
Salesforce (NYSE: CRM) stock price threatens to make a new attempt to record highs. Buyers stepped in and bought the 2021 dip ahead of the quarterly earnings. Investors expect EPS of $0.93 for the second quarter.
Salesforce stock price finds buyers below $220 and now builds energy to push to a new all-time high. The market expects EPS of $0.93 on the Q2 2021 earnings scheduled for release on the 25th of August at 02:00 p.m. (PT).
Salesforce is an IT company operating in the application software industry. Headquartered in San Francisco, California, the company was founded in 1999, and it is currently part of the Dow Jones Industrial index.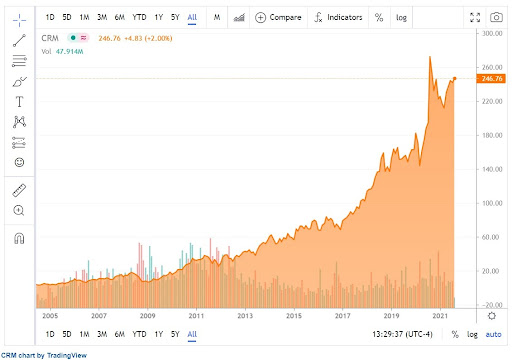 Since its IPO several years ago, Salesforce stock price was on a tear higher. Helped by the bullish momentum in the tech industry, the company's financial performance has been improving constantly.
As such, Salesforce has beaten the EPS estimates for the past four quarters. Equally important, the price action remains bullish from a technical perspective, pushing against horizontal resistance seen in the $250 area.
Salesforce Stock Price – Bullish as Suggested By an Ascending Triangle Pattern
Salesforce stock price formed a possible ascending triangle since the start of July. Currently, the market pushes against stiff resistance seen in the $250 area.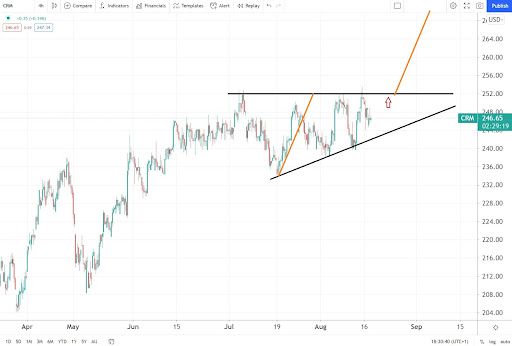 A break and close above $250 would fuel the bullish run with a new target close to $270. In other words, Salesforce might attempt a new run at record highs if the Q2 2021 earnings beat expectations.
Most analysts covering the Salesforce stock price are bullish. Evercore maintained its buy rating with a price target of $300, and so did Mizuho, with a price target of $290.
Salesforce traded at a price/sales ratio of 10.19 in the last 12 months, more than double the 4.17 sector median.