Redx Pharma Shares Rose More Than 28% This Morning! Buy Now?
Redx Pharma (REDX) shares shot up by more than 28% when the London Stock Exchange opened this morning, but why, and what should you do now?
Let's start with the chart that shows how the share price of British biotech company Redx Pharma surged by almost 30% this morning: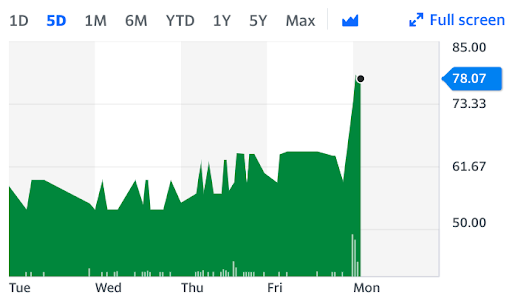 Redx Pharma 5-day price chart (source: Yahoo! Finance)
What Is Redx Pharma?
British biotech company Redx Pharma was founded in 2010 and is based in Macclesfield, UK. It works in the areas of discovery, pre-clinical development, and licensing of anti-cancer and fibrosis drugs. It is listed on London's Alternative Investment Market (AIM).
Should You Buy Redx Pharma Now?
When seeing a share price shoot up like this, it's always a good idea to look at the news behind the move. When underlying narrative news is scarce — as it is in this case — we have to rely on the technical picture. This list of trades on the London Stock Exchange shows that a large number of shares changed hands as soon as the market open at 8 o'clock this morning:

Redx Pharma share trades (source: London Stock Exchange)
Conventional investing wisdom suggests that a share price move is more likely to be sustainable if it is appreciating on high volume, so on that basis, this stock would be a buy. However, don't forget to do your own due diligence and protect your downside risk.
Where Can You Buy Redx Pharma Stock Today?
Redx Pharma isn't the only stock to shoot up unexpectedly, and there is usually at least one every day. If you want to buy such stellar stocks, you can do so via brokers such as these:
eToro
eToro is one of the world's leading multi-asset trading platforms offering some of the lowest commission and fee rates in the industry. It's social copy trading features make it a great choice for those getting started.
Webull
Financial company driven by technology and offering all-in-one self-directed investment platform that provides excellent user experience.