Pound drops as the Bank of England keeps rates unchanged
The Bank of England (BOE) keeps rates unchanged, and the British pound takes a dive. Some market participants expected a rate hike, after hawkish comments from the bank's officials in October.
After the Federal Reserve of the United States announced its monetary policy decision yesterday, it was the Bank of England's turn today. The BOE left the key interest rate and the quantitative easing target unchanged, triggering a sharp move lower in the British pound across the board.
Some market participants have expected the central bank to hike rates at this meeting. After all, inflation runs well above the central bank's target, and even the governor, Andrew Bailey, had recently delivered a series of hawkish comments. Yet, he was among those opting to keep the monetary policy unchanged today, thus taking many by surprise.
The confusion triggered a sharp move lower in the British pound. As a result, the pound weakened against its peers, as reflected below by the GBP/USD exchange rate – it dropped close to one hundred pips on the Bank of England's announcement.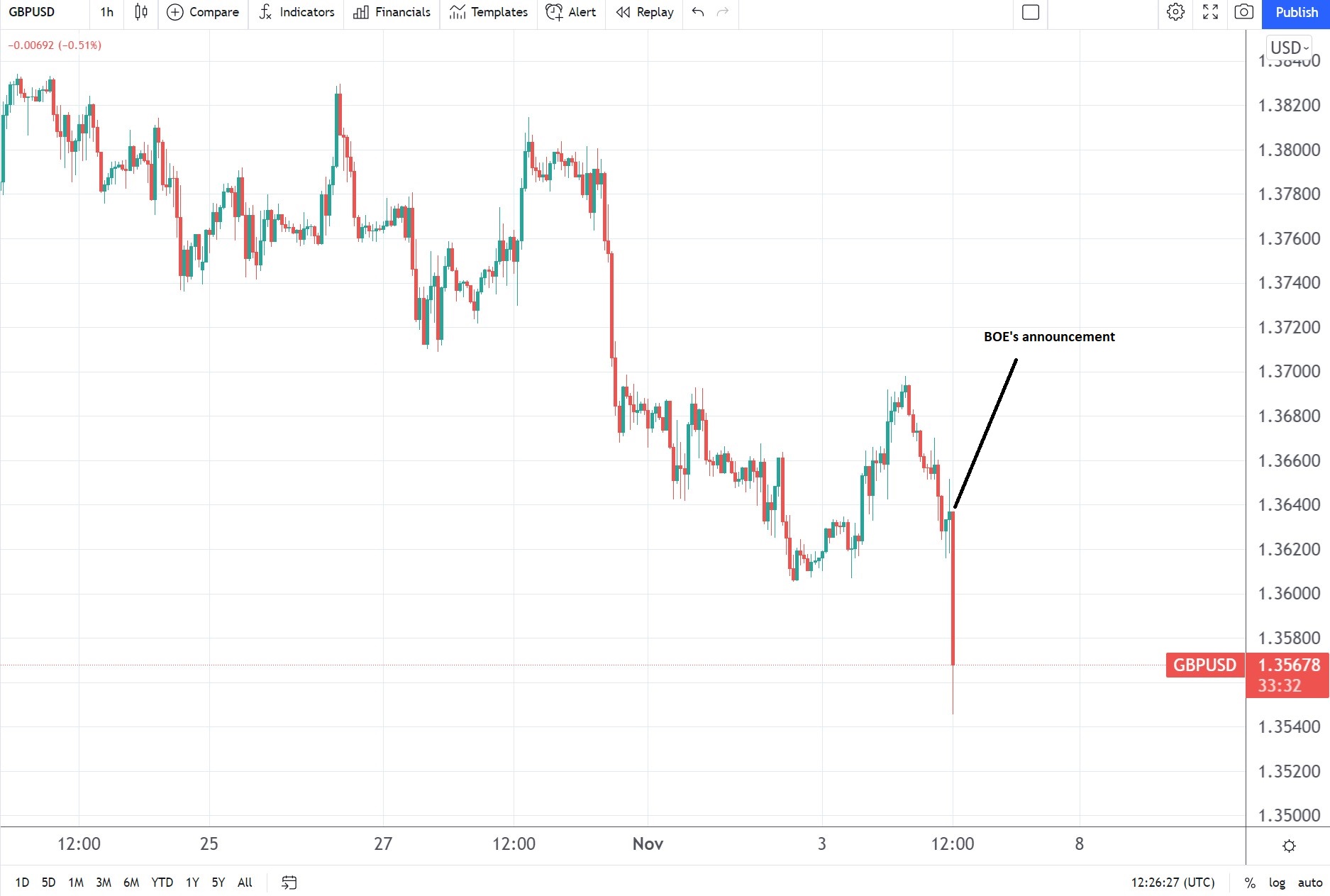 The MPC voted 7-2 to keep the key interest rate unchanged
The Monetary Policy Committee (MPC) votes on rates every time it meets, and the market closely watches the outcome. Today there is a clear hawkish shift in the votes – 7-2 vs. 9-0 to change the policy. Yet, the slightly hawkish tone was not enough to halt the pound's decline because a rate hike in December is far from a certainty.
Most certainly, the market pricing of future rates will fade after today's decision. The UK interest rate futures already point to 13 basis points of rate hikes in December, a decline from the 26 basis points before today's announcement.
The central bank sees the growth outlook weakened since August and cites supplies issues as the main reason for it. Also, the upward pressure in inflation is likely to disappear in the months ahead – a similar view with other main central banks in the world.
All in all, the BOE delivered a surprise, and the lack of consistency in its communication strategy may have bigger effects on market participants. As a result, the pound fell across the board as investors adjusted to the central bank's decision.