Peloton Stock Price Hovers Around $100 Ahead of Q4 FY2021 Earnings
Peloton (NASDAQ: PTON) stock price is down over -25% YDT. The share price has recovered recently as investors await the fourth-quarter earnings.
Peloton is an American company that provides fitness products. Peloton stock price surged during the pandemic as people were forced to spend more time indoors.
Most recently, however, the stock price has corrected from the highs. Ahead of the Q4 FY2021 earnings scheduled this coming Thursday, August 26th, the share price hovers around the $100 level.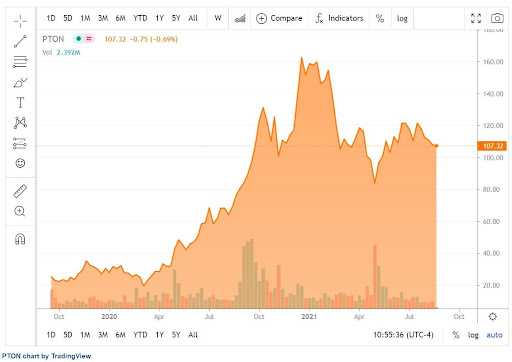 The market expects an EPS for the quarter of -$0.34. However, it did so in the previous quarter as well, only to see the company breaking even.
Peloton Stock Price Affected by the Economic Reopening
Peloton is a relatively young company. Founded only in 2012, the company's products were in high demand during the pandemic.
Now that the advanced economies are reopening gradually, Peloton shares suffer as investors shift towards other industries. However, most analysts are bullish on the Peloton stock price, as illustrated by the large number of investment houses issuing a buy rating. Out of the 80 analysts covering the stock, most of them are bullish (i.e., 67 have issued buy ratings).
The price target for Peloton shares differs from house to house, with Capital Depesche having a target of $150, while Argus Research sees Peloton share price at $120. Most recently, Wedbush Morgan Securities downgraded Peloton to hold, with a target of $115.
Peloton trades at a price/sales ratio of 6.29 TTM (Trailing 12 Months), more than three times the sector median. Investors have an annual revenue estimate of $89.81 billion for the fiscal period ending 2021.