NZD/USD price prediction ahead of the Fed's decision: bulls remain in control
NZD/USD declined throughout 2021 as the US dollar gained against its peers. However, the market has met strong support given by a confluence area and looks bullish ahead of the Fed's March meeting.
The NZD/USD exchange rate declined in 2021 as the US dollar's strength weighed on its peers. After making a yearly high above 0.74, it gradually declined to the current 0.67 area.
Ahead of the Federal Reserve's March meeting, when the Fed starts a new tightening cycle, the NZD/USD pair looks bullish. This is in sharp contrast to what the reaction should be on Fed turning hawkish, but the technical analysis picture looks like the Fed's hawkishness is already priced in.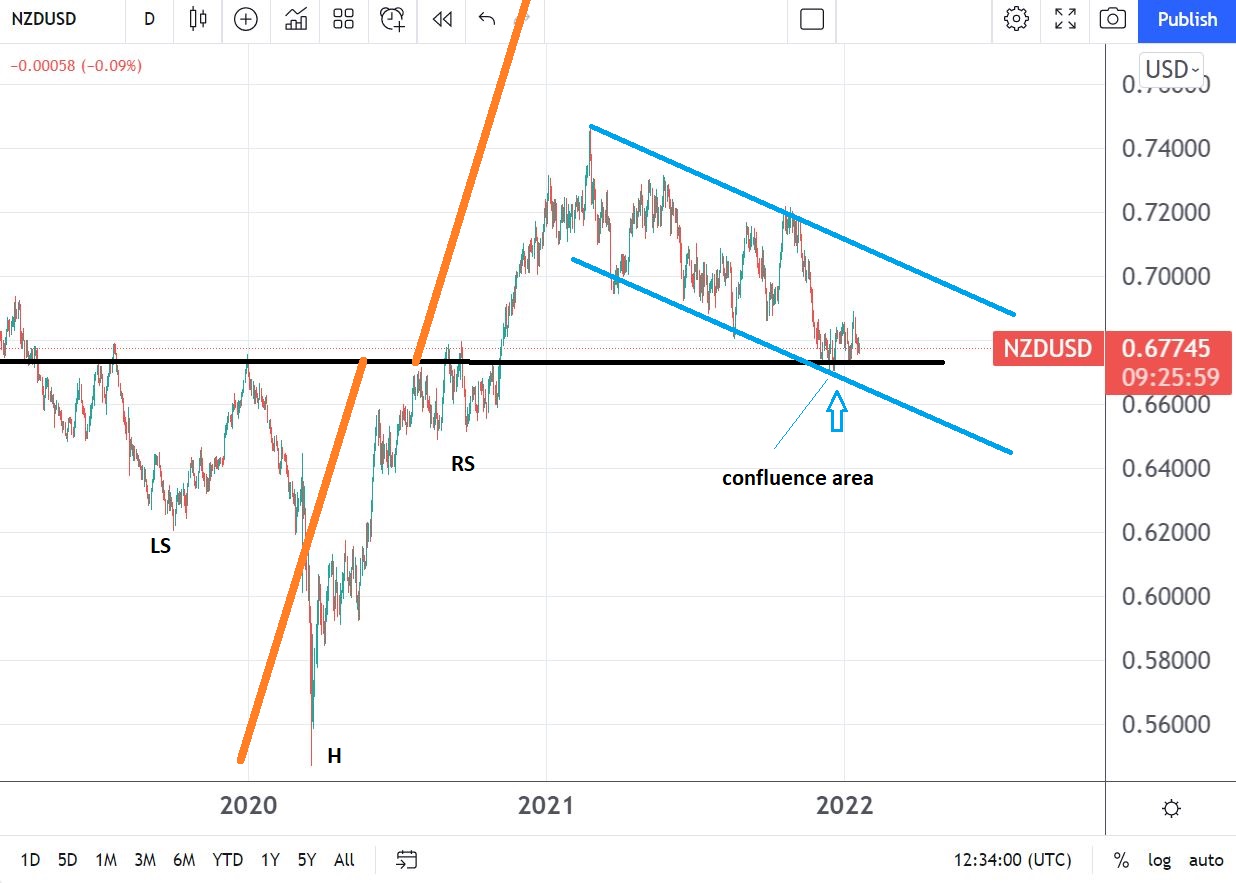 Bullish inverse head and shoulders pattern
The first bullish clue seen on the daily timeframe is an inverse head and shoulders pattern. The dip below 0.56 in triggered by the COVID-19 in 2020 looks like the head of the pattern.
Following that decline, the market rebounded, and a neckline is visible at the 0.6770 area. Coincidence or not, this is the area that offered strong resistance on the market's move to the upside, and now it acts as horizontal support. Furthermore, the price action typically retests the neckline after the initial breakout, so the 2021 decline and neckline retest confirm the bullish pattern.
Bullish flag points to more upside
The second bullish pattern on the same chart is a bullish flag. Showed in blue on the chart above, it covers all the price action from the 2021 high.
Currently, the price sits at the lower edge of the flag, supported by a dynamic level. Coupled with the horizontal support, one may argue that the NZD/USD exchange rate is at a confluence area.
The market is at support given by a confluence area
A confluence area is given by both dynamic and horizontal support or resistance levels forming in the same area. In this case, horizontal support is given by the inverse head and shoulder's neckline, while the bullish flag's lower edge gives dynamic support.
Reserve Bank of New Zealand was quick in hiking rate
How about the Fed's upcoming rate hike scheduled for next March?
While such a move is bullish for the US dollar, the gap between the two central banks remains. The Reserve Bank of New Zealand was among the first central banks in the world to raise the interest rates after COVID-19 has triggered a global economic recession.
Nowadays, the official cash rate in New Zealand is 0.75%, while the Fed did not lift the rates from the lower boundary near zero. Therefore, a rate hike from the Fed will only shrink the gap, but the interest rate differential should still support the New Zealand dollar.
Hence, the NZD/USD bullish case has some support from the fundamental analysis side too.