NZD/USD price forecast ahead of the Fed's decision
The Federal Reserve of the United States (Fed) decides its monetary policy this week. The market expects the first rate hike to be delivered – what will NZD/USD do?
The week's main event is the Federal Reserve meeting scheduled on Wednesday. So much has been written about this meeting that the markets already priced in the much-expected rate hike, the first one in a new tightening cycle.
However, details do matter, and the way the Fed nuances its decision will strongly impact financial markets.
One currency pair is resilient in the face of a strong US dollar – the NZD/USD pair. It consolidated for several days now before the pivotal 0.69 area, and the bias remains bullish, despite the upcoming Fed's rate hike.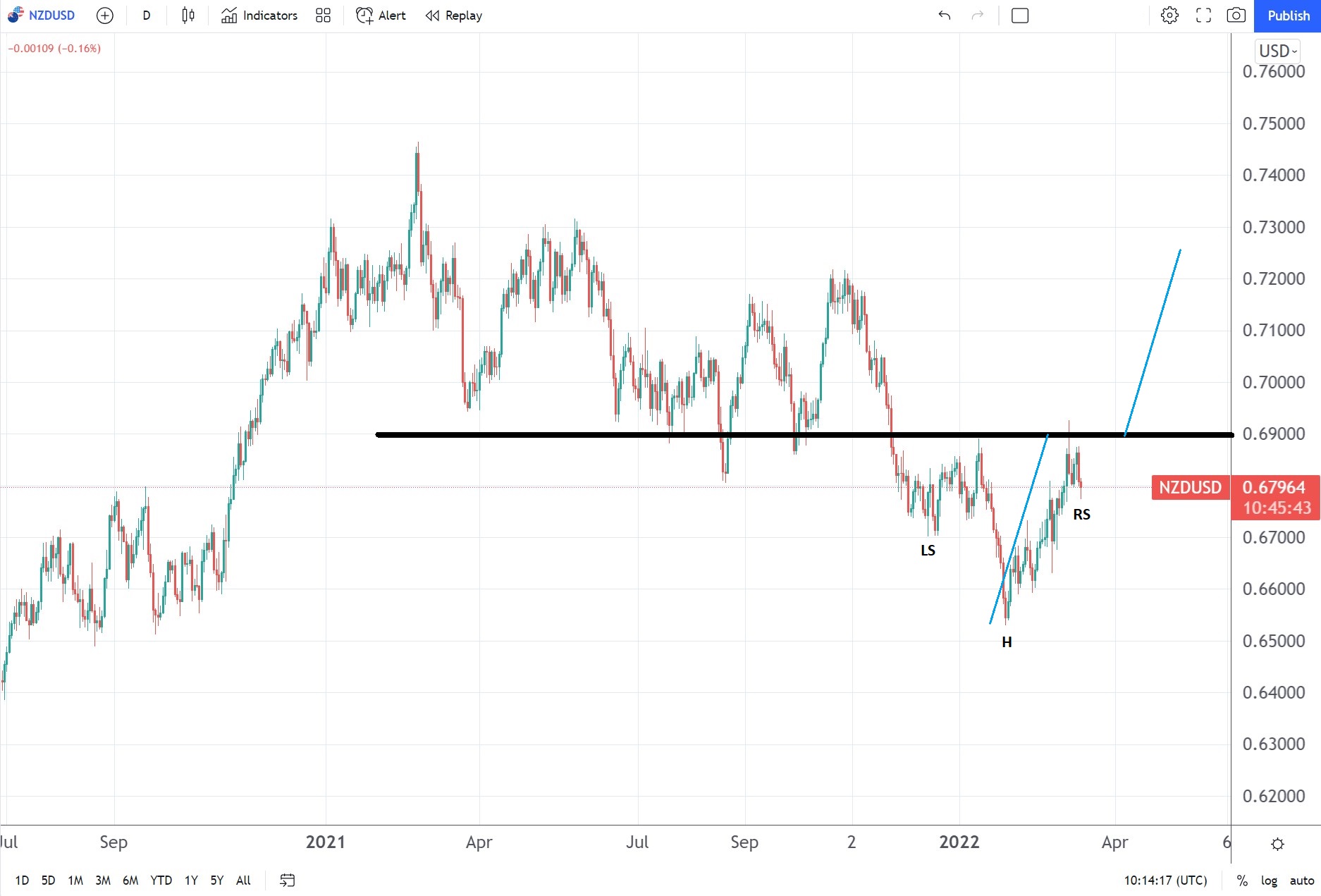 Inverse head and shoulders pattern points to 0.73
The technical picture looks bullish as an inverse head and shoulders pattern forms on the daily timeframe. 0.6900 proved to be a pivotal level so far for the NZD/USD pair, and thus, a close above signals the end of the reversal pattern.
A head and shoulders pattern has a measured move calculated by measuring the distance from the head to the neckline and projecting it from the neckline. The result represents the minimum distance that the market must travel to confirm the reversal.
In this case, it points to 0.7250 and beyond. Therefore, while the fundamental picture may favor the US dollar as the Fed prepares to tighten the rates, the technical one shows the opposite.
NZD/USD unchanged in 2022
Interestingly enough, the NZD/USD exchange rate is little changed on the year. Despite the risk-off environment triggered by the war in Ukraine, the US dollar remains offered against the New Zealand dollar, as investors quickly bought the dip.
As mentioned earlier, 0.6900 is key for more upside. On the flip side, a decline below 0.66 would invalidate the inverse head and shoulders pattern.
All in all, the Fed's meeting would bring volatility to the markets, and the NZD/USD would likely break its recent range. As things stand right now, the bias is rather bullish.