Nikkei 225 price forecast after consolidating in 2021
Nikkei 225 consolidated in 2021, unable to hold above 30,000 points. While below, the bias is bearish.
The S&P 500 index rallied this week, and it managed to close at an all-time high for the 69th time in 2021. While the rally is nothing short of impressive, it was not followed by all stock market indexes in the developed world. For instance, the Nikkei 225 index was unable to rally. Instead, it consolidated throughout the year, unable to hold above the key 30,000 points area.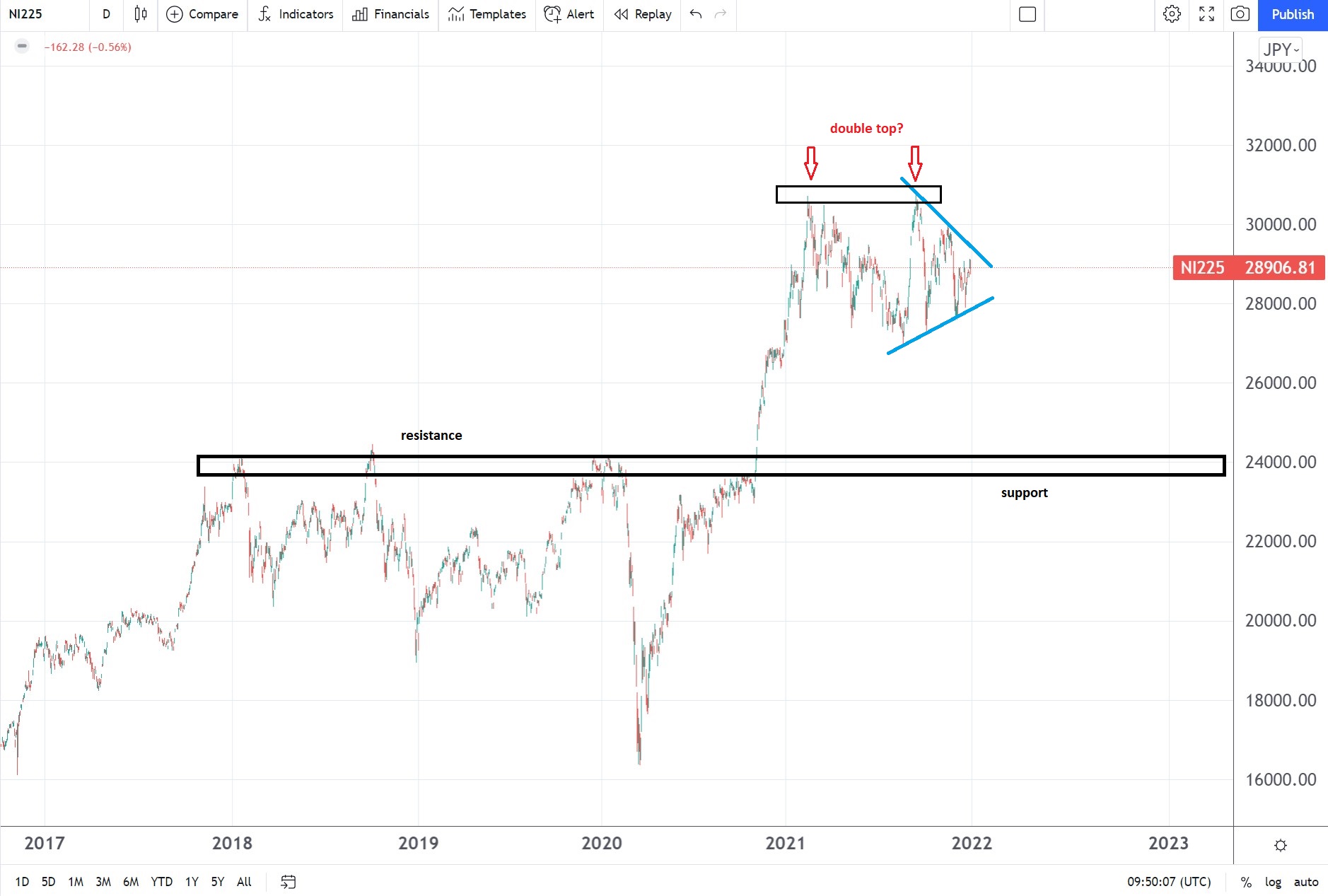 Nikkei 225 technical picture looks bearish while below 30,000 points
The chart above shows the Nikkei 225 performance in the past five years. From left to right, the 24,000 area provided resistance from 2018 until 2020, when the index declined as the COVID-19 gripped the global economy.
As central banks and governments provided monetary and financial stimulus, the Nikkei 225 recovered and overcame resistance. The rally continued all the way to the 30,000, but at this point, the technical picture shows a potential bearish reversal.
First, the index made a double top pattern above 30,000. While too early for it to be confirmed, bears will try to push it down unless the market makes a new high.
Second, at current levels, we see a triangle that may act as a reversal pattern. A daily close below 28,000 should bring more weakness, and the next level of support is at the previous resistance in the 24,000 area.
BOJ to keep the status quo
Unlike in other parts of the world, such as the United States or the Eurozone, inflation in Japan remains low. For example, last October, it reached 0.1% YoY. In other words, inflation excluding energy prices was subdued, and thus accommodative policies are still justified.
In other words, the Bank of Japan remains accommodative, but it was so this year too. Therefore, accommodative measures do not necessarily imply bullish conditions.
Domestic demand to remain resilient
Domestic demand may fuel strong economic growth in the year ahead. After the state of emergency ended, the consumption index measured by the Bank of Japan jumped 4.3% on the month. Services and durable goods recovered fast, and employment prospects rose too.
But the big question is if the recovery can be sustained in 2022. Any news on the pandemic front is enough to shift consumer sentiment and trigger a risk-off market reaction.