NASDAQ 100 price prediction after failing at 16,600 twice
NASDAQ 100 corrects from the highs, but the bias remains bullish while above pivotal area. A possible double top pattern spells trouble for bulls.
One week ahead of the Federal Reserve meeting, the stock market has corrected from its highs. However, the decline looks like a small correction so far if we consider the series of higher highs and higher lows still in place in markets such as the NASDAQ 100 index.
NASDAQ 100 represents the tech sector in the United States, one that tracks and measures the performance of the 100 largest non-financial companies listed on the Nasdaq stock market. The index rallied from its 2020 lows with little pullbacks. However, it found stiff resistance at 16,600, where it failed twice.
At this point, investors worry about the possible formation of a double top pattern. As the Federal Reserve prepares to lift rates in March, is it time to start selling equities?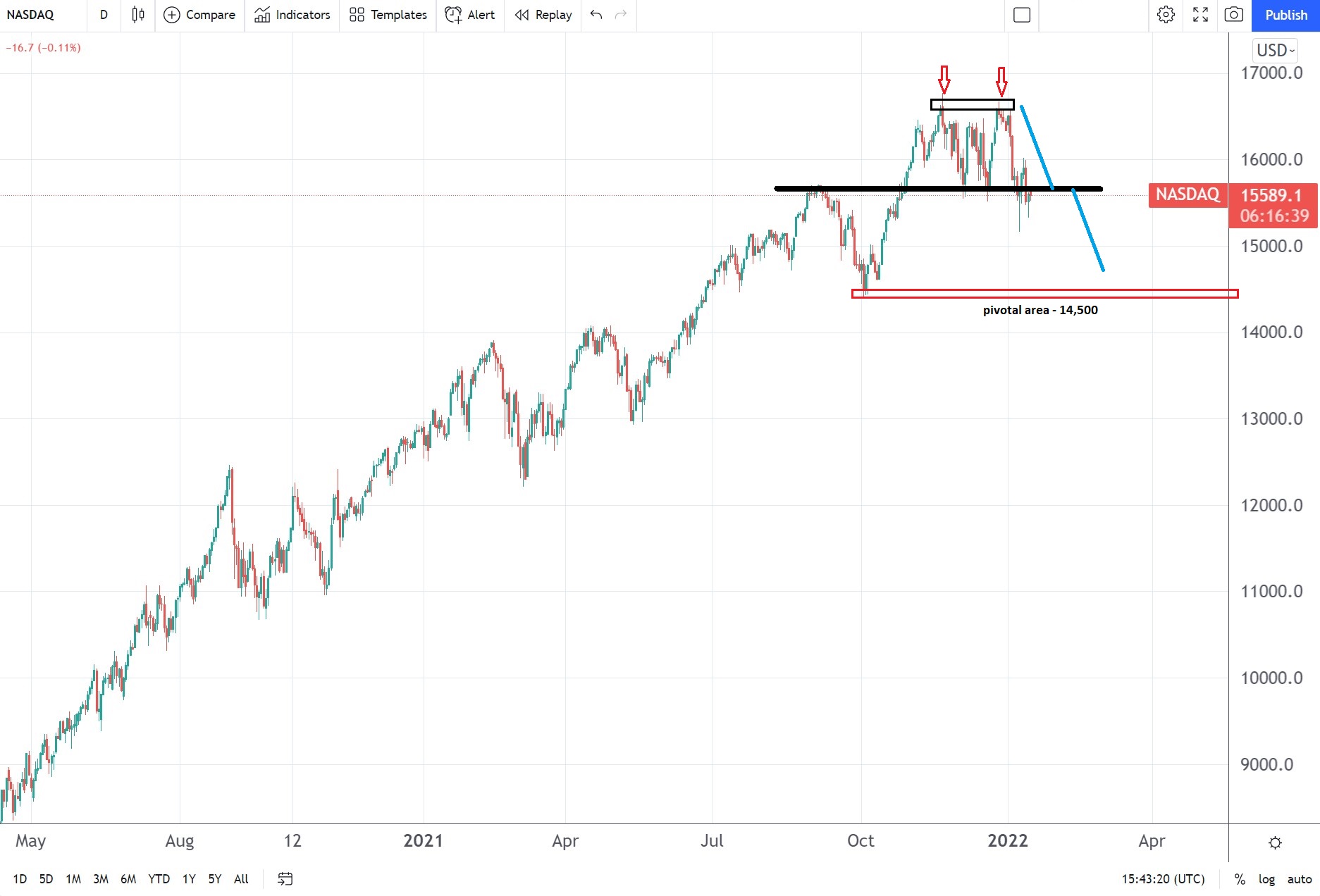 NASDAQ 100 bullish while above 14,500
The technical picture looks mixed here. On the one hand, the failure at the 16,600 area points to a double top pattern.
The measured move equals the distance from the top to the neckline projected from the neckline. But the measured move represents only the minimum distance that the market must travel to confirm the pattern. In earnest, the market may fall much more beyond the target given by the measured move.
On the other hand, even if the NASDAQ 100 declines to the measured move, the bias remains bullish. Unless we see a daily close below the pivotal 14,500 area, bulls will buy every dip.
A close below the above-mentioned area would break the higher highs and higher lows series. Moreover, it would bring the index close to a bearish market, as a deeper decline would activate a bearish market.
Pressure builds on the Fed to raise rates
The market appears to consolidate ahead of the Fed's monetary policy actions. The central bank is expected to deliver its first rate hike after the 2020 COVID-19 pandemic-led easing, and the consensus is that it will do so in March.
However, despite the Fed's forward guidance, two issues remain. One is the size of the rate hike, and the other is the number of hikes to be delivered this year.
A rule of thumb says that stocks have trouble advancing in a tightening cycle. If that is the case, a decline below 14,500 could be more than just a correction.