Mr. Market's Mini-Meltdown
Dow Jones, S&P 500, and Nasdaq indices all fell towards the end of Wednesday's trading session. Could it be the beginnings of a bear market or was it yet another opportunity to buy on the dips?
Since I have some short positions in US stock indices (you don't have to do the same) I get somewhat excited when I see that the markets may be starting to melt down. I admit that I'm searching for some confirmation of my trading thesis here, but "confirmation bias" isn't the subject of this article. What (or who) I really want to talk about is Mr. Market.
Who is Mr. Market?
Legendary investor Benjamin Graham created the Mr. Market character as an allegory to account for the often volatile nature of the stock markets. Graham described Mr. Market as a manic-depressive business partner who each day would unpredictably offer to sell you his share of your joint business or buy your share. Mr. Market's view of the business would swing from very pessimistic to wildly optimistic on a daily basis despite the actual value of the business not changing at all.
The implication is that you should buy Mr. Market's shares when he's overly pessimistic and sell him some when he's too optimistic.
Should You Listen to Mr. Market?
Yesterday (Wednesday 19 August 2021) the manic Mr. Market had a mini-meltdown towards the end of the trading session, as you can see in the following S&P 500 price chart that shows a falling price on rising volume: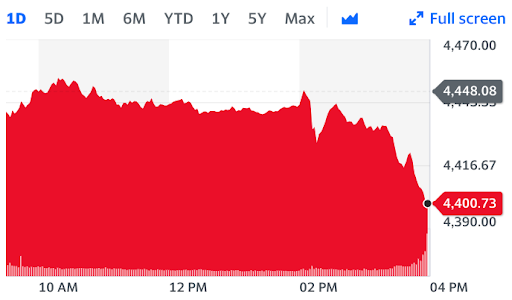 S&P 500 one-day chart for 19 August 2021 (source: Yahoo! Finance)
So, the question is:
Should you be listening to Mr. Market because this time he's telling you something valuable, or should you assume he's as irrational as ever and start buying the shares he's selling?
Mr. Market's Price Targets
It's no secret that I think the short side is where the action is, in which case the floor is the limit. But I've been thinking this for some time and have some losses (not as bad as you might think) to prove it. If I continue to be wrong, then the sky's the limit, just as it has been all this year and — in fact — for the past 10+ years. One day, I'll be right, but I'm always mindful of this sage advice from economist John Maynard Keynes:
"The stock market can remain irrational longer than you can remain solvent."
Where Can You Buy and Sell Stocks and Indices?
Whether you want to trade stock indices or individual stocks long or short, you can do so with these brokers:
eToro
eToro is one of the world's leading multi-asset trading platforms offering some of the lowest commission and fee rates in the industry. It's social copy trading features make it a great choice for those getting started.
Webull
Financial company driven by technology and offering all-in-one self-directed investment platform that provides excellent user experience.