Mind the Gap! Weight Watchers Shares Shed the Pounds
WW International (NASDAQ:WW) shares went down by about 25% yesterday as subscriber numbers fell or were flat at the end of June.
In the same way that Meggitt shares gapped up twice in the past fortnight, so shares in Weight Watchers' parent company WW International (NASDAQ:WW) gapped down yesterday. It means that the share price dropped down from one level to another without giving investors the chance to get out at any point in between. So, what went wrong at Weight Watchers?
While it might not account for all of the sudden share price shock, the underlying story seems to be that the company's subscriber numbers fell from 5 million to 4.9 million at the end of June. Branded product sales also slipped by 6.9%.
How & Where to Buy WW International Stock Today
Want to buy into Weight Watchers in case its "weight loss that works" starts working again for investors? You can buy WW International shares via these brokers:
eToro
eToro is one of the world's leading multi-asset trading platforms offering some of the lowest commission and fee rates in the industry. It's social copy trading features make it a great choice for those getting started.
Webull
Financial company driven by technology and offering all-in-one self-directed investment platform that provides excellent user experience.
Register with Webull instantly
What is WW International?
WW International, Inc. is the company that was formerly known as Weight Watchers International, Inc. It was launched in New York in 1963, was sold to Heinz in 1978, was sold to a private equity firm in 1999, and went public in 2001. Oprah Winfrey took a 10% stake in 2015, and the company dropped the words "weight watchers" from its name in 2018 to become WW International.
Should I Buy WW International Stock Right Now?
In the following chart, you can see the downward price gap in the one-month context, and it's worth noting the increase in trading volume (shown at the bottom of the chart) on the day that it happened. Sometimes such gaps subsequently close, which makes it a good idea to buy the shares. But sometimes such gaps signal a rockier road ahead, so you should be selling your existing stake or even shorting the shares if your broker allows.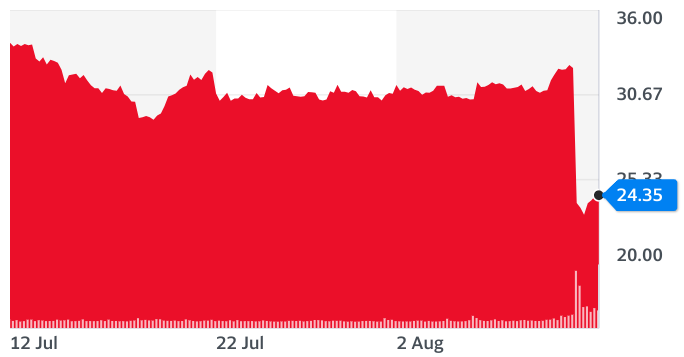 WW International Price Target 2021
If the price gap closes, buyers at yesterday's closing price of 24.35 will see an immediate massive increase of more than 30% when the share price returns to the pre-gap price of almost 32.30. If the shares go down again instead, the floor is the limit.