Mind the Gap! Tesla Shares Took a Wrong Turn Yesterday
An investigation into a series of Tesla car crashes while on autopilot caused the company's shares to crash (well, almost) by 5% on Monday morning, but the longer-term outlook doesn't look so bad.
Although it makes for good headlines, talk of the Tesla (NASDAQ:TSLA) share price plummeting or "crashing" yesterday was probably not as serious as it sounds. Sure, the shares fell by about 5% after Monday morning's gap-down, but in the grand scheme of things, the long-term chart doesn't look so bad.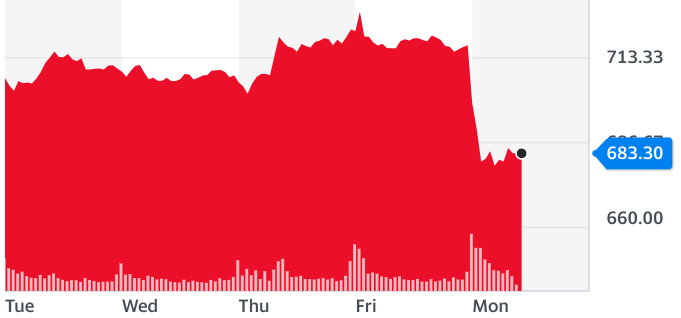 Tesla 1-day price chart (source: Yahoo! Finance)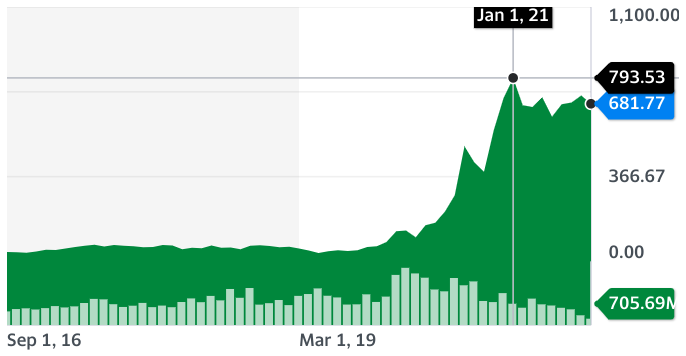 Tesla 5-year price chart (source: Yahoo! Finance)
So, what sent the share price south over the weekend? It was news that federal regulators had launched an investigation into the electric car company's autopilot feature that was accused of causing more than ten crashes.
What is Tesla?
Tesla doesn't need much introduction. This Californian company is famous for designing and manufacturing electric vehicles and the battery technologies that power them. It is probably equally famous for its outspoken CEO Elon Musk, the entrepreneur who was once PayPal's largest shareholder and who also founded the Space Exploration Technologies Corp (SpaceX) company that hopes to one day send men — and women — to Mars.
Should You Buy Tesla Stocks Right Now?
You could have made a lot of money by buying Tesla shares in January 2020 and selling them in January 2021. No, I didn't have the foresight to do this, either. But it might not be too late to buy into the Tesla share price story.
After falling from their January peak price, the shares have traded fairly flat for six months. So, they're not falling, and after this period of price consolidation, they could go up again.
If you do buy Tesla shares now, be sure to place a protective stop order below what looks like a support level at about 530. If the worst should happen, this would get you out of your unprofitable position for a smallish loss before it becomes a big loss.
Tesla Price Target 2021
Let's be positive and suggest that the Tesla long-term price trend (more than a year) and medium-term price trend (three months) will both stay positive despite an occasional bump along the road. The most obvious immediate price target would be the previous high price of 793 that was hit in January this year.
Where to Buy Tesla Stocks Today
Here are two brokers that let you trade Tesla shares:
eToro
eToro is one of the world's leading multi-asset trading platforms offering some of the lowest commission and fee rates in the industry. It's social copy trading features make it a great choice for those getting started.
Webull
Financial company driven by technology and offering all-in-one self-directed investment platform that provides excellent user experience.