Mind the Gap! Meggitt Shares Shoot Up For a Second Time Within Two Weeks
Just like Morrisons (LSE:MRW), aircraft parts maker Meggitt (LSE:MGGT) is at the centre of a bid battle between at least two suitors, which has sent its shares sky-high.
If you noticed that the price of Meggitt stock gapped up at the start of August and then again yesterday, you might be wondering why.
The story so far is that US firm Parker Hannifin offered 800p-per-share at the start of this month, valuing the company at £6.3bn. This was topped by a non-binding 900p-per-share bid by rival TransDigm yesterday, valuing the company at more than £7bn.
Meggitt's board is sticking to its story of recommending the lower bid, and in this sensitive industry, the UK government could also have some say in what happens.
How & Where to Buy Meggitt Stock Today
So, you want to buy into the Meggitt stock story? Or, do you think the shares can only down after going up too far too soon? Either way, you can trade Meggitt shares via these brokers:
eToro
eToro is one of the world's leading multi-asset trading platforms offering some of the lowest commission and fee rates in the industry. It's social copy trading features make it a great choice for those getting started.
Webull
Financial company driven by technology and offering all-in-one self-directed investment platform that provides excellent user experience.
Register with Webull instantly
What is Meggitt PLC?
Meggitt PLC is a UK-based multinational company that manufactures components for military aircraft. This Coventry company was incorporated in 1947. Historically, it has been a good dividend-paying company but it hasn't paid a dividend since 2019.
Should I Buy Meggitt Stock Right Now?
Here is the chart that tells the story. It shows how Meggitt shares have gapped up (gone from one price level to another with little or nothing in between) twice within the first two weeks of August 2021.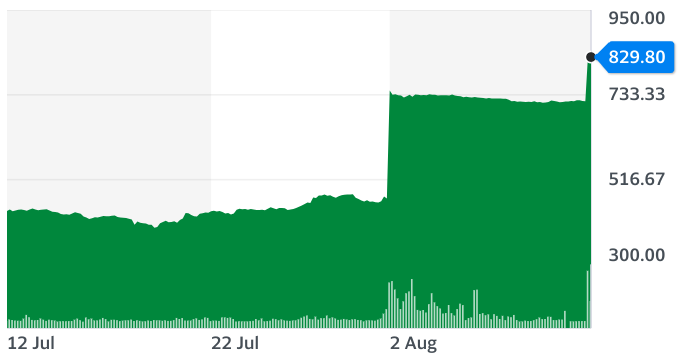 Contrarian investors could consider that the price — which also happens to be at or near its all-time highs — has gone up too far too soon and should be sure to correct. That's a perfectly viable position for potential short sellers to take.
However, if the Morrisons bid battle is anything to go by, the share price can only go one way (up!) while suitors keep circling until the stock is taken off the market.
Meggitt Price Target 2021
Second suiter TransDigm has made a non-binding 900p-a-share offer for the Coventry-based company, which is nearly 8.5% above Wednesday's 830p-per-share closing price, so that gives investors a target to aim for (and hope for).