Major hawkish twist in ECB's language sends euro higher
The European Central Bank (ECB) surprised markets today and delivered a major hawkish twist at its monetary policy decision. The central bank does not expect inflation to decline in 2022 anymore, thus sending the euro higher across the board.
What a day for FX traders, as two of the major central banks in the world have delivered hawkish surprises. To start with, the Bank of England hiked the interest rate by 25 basis points, as expected. However, several MPC (i.e., Monetary Policy Committee) members wanted to increase it by double the amount and deliver a 50 basis points hike.
But the Bank of England's hawkishness was more or less expected. After all, this is one central bank that hiked the rates in December without hinting it will do so.
It is not the same with the ECB's message from today. The ECB constantly said that it would not hike the interest rate in 2022, no matter what. Only today's message says not only that it may do so, but the market already prices in a 10 basis points rate hike as soon as next June.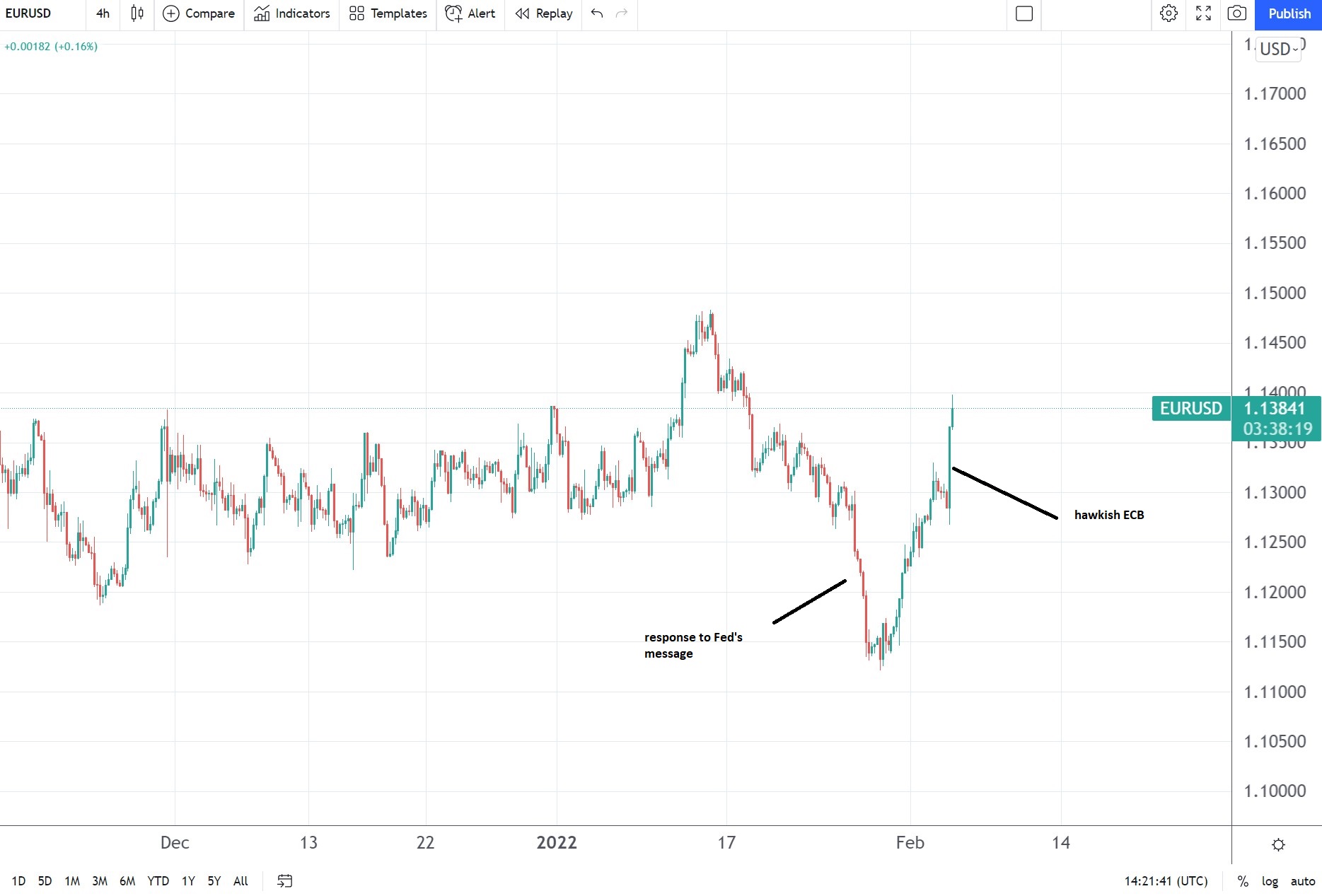 Naturally, euro bounced strongly. All euro pairs gained – including the EUR/GBP cross, which earlier in the day declined on the back of the Bank of England's message.
As for the EUR/USD, it erased all the losses triggered by the Fed's hawkish message from last week – and some more. It bounced over one big figure (i.e., more than 100 pips points) and remained bid.
What did the ECB actually say?
The big surprise was that the ECB did not see inflation coming down in 2022 anymore. As such, bets increased that it will raise the rates to fight the rise in the prices of goods and services.
Higher rates are positive for the currency, hence the euro's reaction. Moreover, during the press conference, ECB President Christine Lagarde refused to rule out a 2022 rate hike.
Today marks the introduction of a formal balance of risks to inflation, as the central bank now sees inflation risks tilted to the upside in the near term. As such, in the near term, the market has already priced in a 10 basis points rate hike.