Lululemon Stock Price Doubled During COVID-19 Pandemic – What's Next?
Lululemon Athletica (NASDAQ: LULU) stock price continues its rally. The share price is up over 100% during the COVID-19 pandemic, and investors prepare for the quarterly earnings to be released in about one week from now.
Lululemon stock price doubled during the COVID-19 pandemic. Investors bought the 2020 dip and now the shares keep making new record-highs one week ahead of the quarterly earnings scheduled for the 8th of September at 04:30 PM EDT.
The Canadian company operates over 500 stores in the United States, Canada, and internationally, and it benefited from the shift in consumer behaviour triggered by the COVID-19 pandemic. People spend more time outdoors, and, as a consequence, companies in the retail athletics apparel industry outperformed.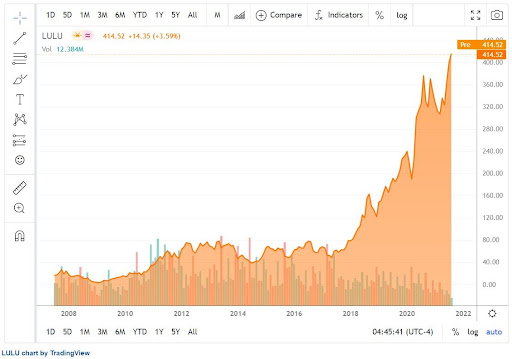 Lululemon operates with a gross profit margin of 56.87% for the last 12 months, higher than the 35.53% sector median. Moreover, the company's EBIT (earnings before interest and taxes) margin for the last 12 months dwarfs the sector median – 19.68% vs. 9.11%.
What Do Investors Expect From the Lululemon Stock Price?
Investors expect Lululemon to deliver a positive surprise for the second quarter. The company has beaten expectations in the previous four quarters. For the second quarter, investors expect EPS of $1.18, higher by 59.35% when compared to the same period last year.
Analysts are overly optimistic about Lululemon stock price. Out of the 85 analysts that cover the Lululemon stock price, none has issued a sell rating, and 34 have neutral ratings. The rest of 51 analysts are bullish and have issued buy ratings.
Most recently, Goldman Sachs has maintained its buy rating with a price target of $447. The same did Piper Sandler and BTIG Research, with price targets for the Lululemon stock price of $445, respectively $440.