Is It Time to Trade Volatility?
There are several things for traders to fear — the Taliban taking Kabul, the Fed possibly being forced to taper asset purchases, and Chinese shares tumbling — yet the "fear" indexes are sitting low. Could it be the calm before a volatility storm?
Although investors don't like it if it causes their portfolio values to fall, traders love volatility because the most money can be made when share prices rise or fall far and fast. So, how can we measure the amount of volatility in the markets, and can we trade volatility directly rather than indirectly via its effects on individual stock prices? More to the point, is now a good time to trade volatility?
What is Volatility and a Volatility Index?
The Cboe Volatility Index (VIX) was created by the Chicago Board Options Exchange (CBOE) to track the market's expectations for volatility in the S&P 500 index over the next 30 days. How it is calculated is quite mathematical, and I can't go into it here, but suffice to say that this index is often referred to as the "fear index". It goes up when traders are less sure about which way the markets will go, and a higher value means that large share price swings are more likely.
Should You Buy a Volatility Index Right Now?
After understandably peaking at the peak of the coronavirus pandemic in March 2020, the volatility indexes (aka. "fear" indexes) such as the VIX are sitting at long-term lows. Does this mean there is nothing for market participants to fear, or is there only one way for volatility to go?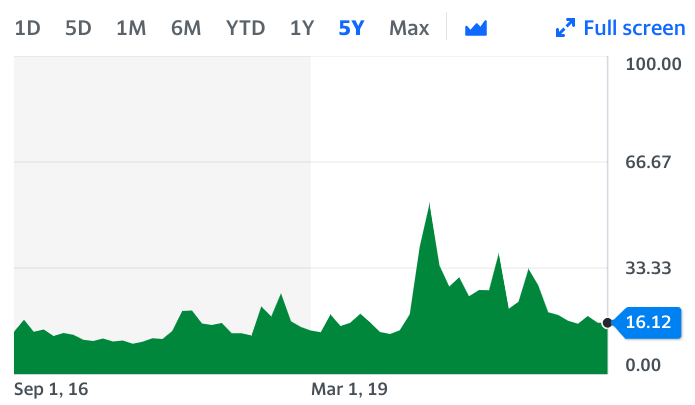 CBOE Volatility Index 5-year chart (source: Yahoo! Finance)
There are many political (Afghanistan) and economic (inflation) triggers that could drive volatility higher. We don't know what and we don't know when, but judging from the 5-year chart (above) and the 30-year chart (below) it may be more a matter of "when" than "if" volatility increases again.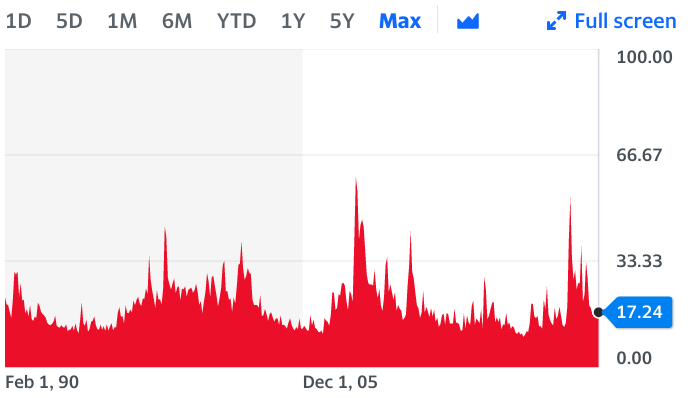 CBOE Volatility Index 30-year chart (source: Yahoo! Finance)
Volatility Index Price Targets 2021
In the previous charts, you can see the peaks that appear with some periodicity to reach two to three times the current index value. If you want to at least double your money, trading volatility itself rather than volatile stocks could be one way to do it. However, you have to decide that for yourself.
Where to Buy a Volatility Index
Most brokers let you trade the VIX or other volatility indexes in various ways. Some let you invest in an exchange-traded fund (ETF) such as the Barclays iPath Series B S&P 500 VIX Short-Term Futures ETN. Some brokers let you place a long or short spread bet or CFD trade directly on the value of the VIX or another volatility index that it offers under a different name such as simply "Volatility Index" or "EU Volatility Index". Here are two brokers to choose from:
eToro
eToro is one of the world's leading multi-asset trading platforms offering some of the lowest commission and fee rates in the industry. It's social copy trading features make it a great choice for those getting started.
Webull
Financial company driven by technology and offering all-in-one self-directed investment platform that provides excellent user experience.