Is it safe to buy WTI crude oil after entering bear market?
WTI crude oil is down more than 20% from its highs, officially entering bear market territory. In addition, this week's OPEC+ meeting ended in limbo, as it remains ongoing until January.
Oil had a terrific rally in the first ten months of the year. It kept making new higher highs, trading above $84 at the end of October and making traders wonder if $100 is possible this year.
But the $84 area proved to offer tough resistance. A triple top (i.e., a reversal pattern) formed, and after its completion, the WTI crude oil price simply collapsed.
It quickly entered bearish territory. When the price of an asset drops more than 20% from its highs, it is said that a bear market starts. In the case of the WTI crude oil price, 20% would be around $67, and the market dropped below in late November trading.
Is it safe to buy oil now that it is officially in a bear market?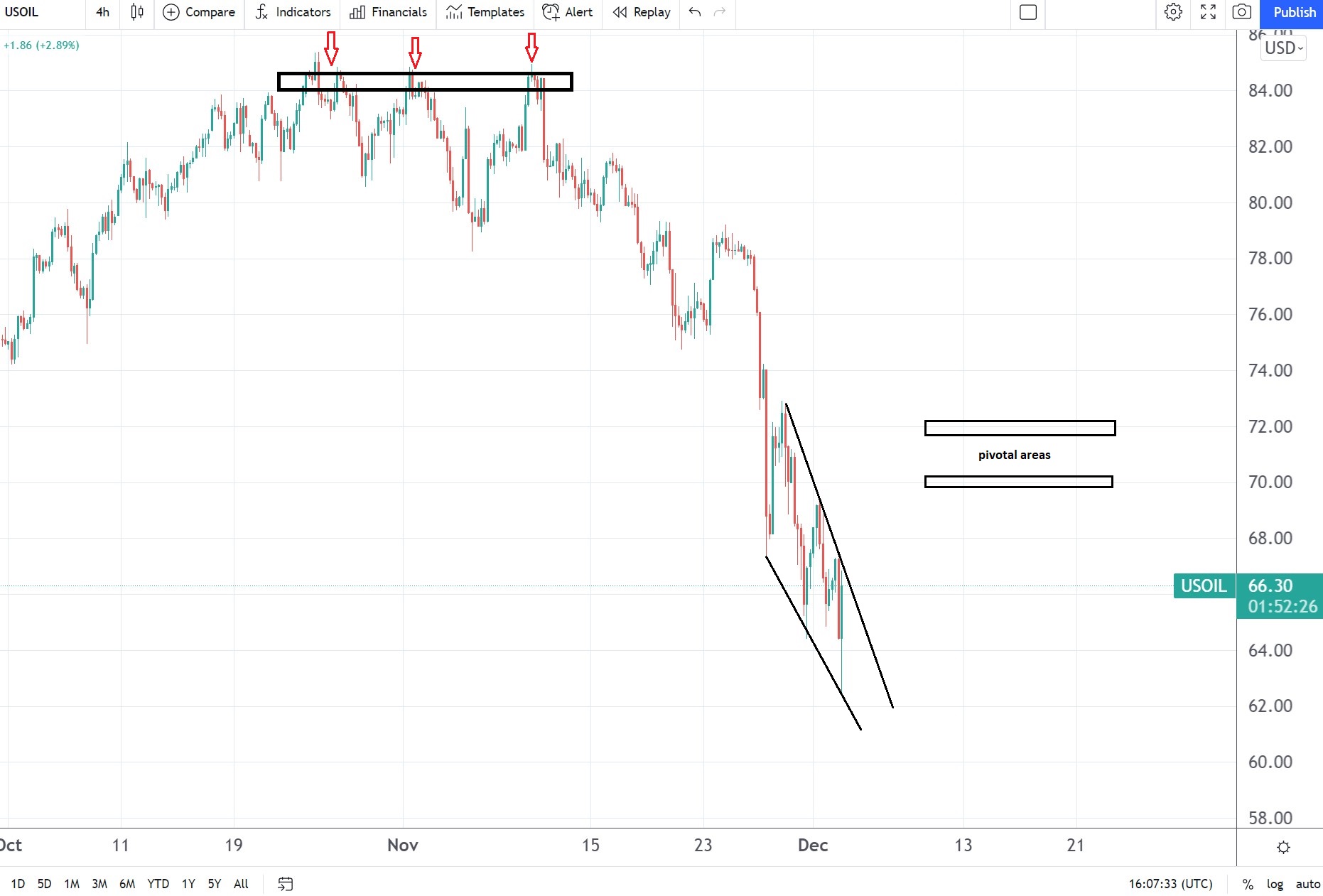 The technical picture calls for caution
Contrarian traders may want to buy the crude oil price dip, but caution is needed. While the falling wedge, a bullish reversal pattern, is tempting, it may also act as a continuation pattern. As such, a more conservative approach is desirable, and a move above $72 would put bulls back in control.
OPEC+ holds the key
This week, the focus was on the OPEC+ meeting. It started yesterday, December 1, and it was dedicated to internal administrative matters. In other words, nothing new in terms of supply and demand, but today brought some interesting details.
The OPEC+ communique showed that the cartel agreed to hike the oil output by 400k barrels/day for January, but with one caveat. Unexpectedly, the document says that the meeting "remains in session". In other words, it means that the meeting is not officially closed and remains ongoing, and so the policy could change in any moment.
It appears that the cartel plays a wait-and-see game regarding the new coronavirus variant, Omicron, and its impact on the global economy. Should it be the case for OPEC+ to intervene, it won't hesitate, as it remains in session until January 4, for a whopping 33 days.