Is it safe to buy the S&P 500 index after returning to record-high levels?
The S&P 500 index is back at record high levels despite the Federal Reserve of the United States delivering a more hawkish statement than the market expected. So is it safe to keep buying stocks after the index returned to record-high levels?
The last Federal Reserve meeting of the year is behind us, and the Fed delivered a hawkish statement and press conference. Yet, despite the fact that a hawkish Fed usually weighs on equities, stocks are back at all-time highs. The S&P 500 index, shown below, just printed a new record-high, as investors ignore the Fed's message.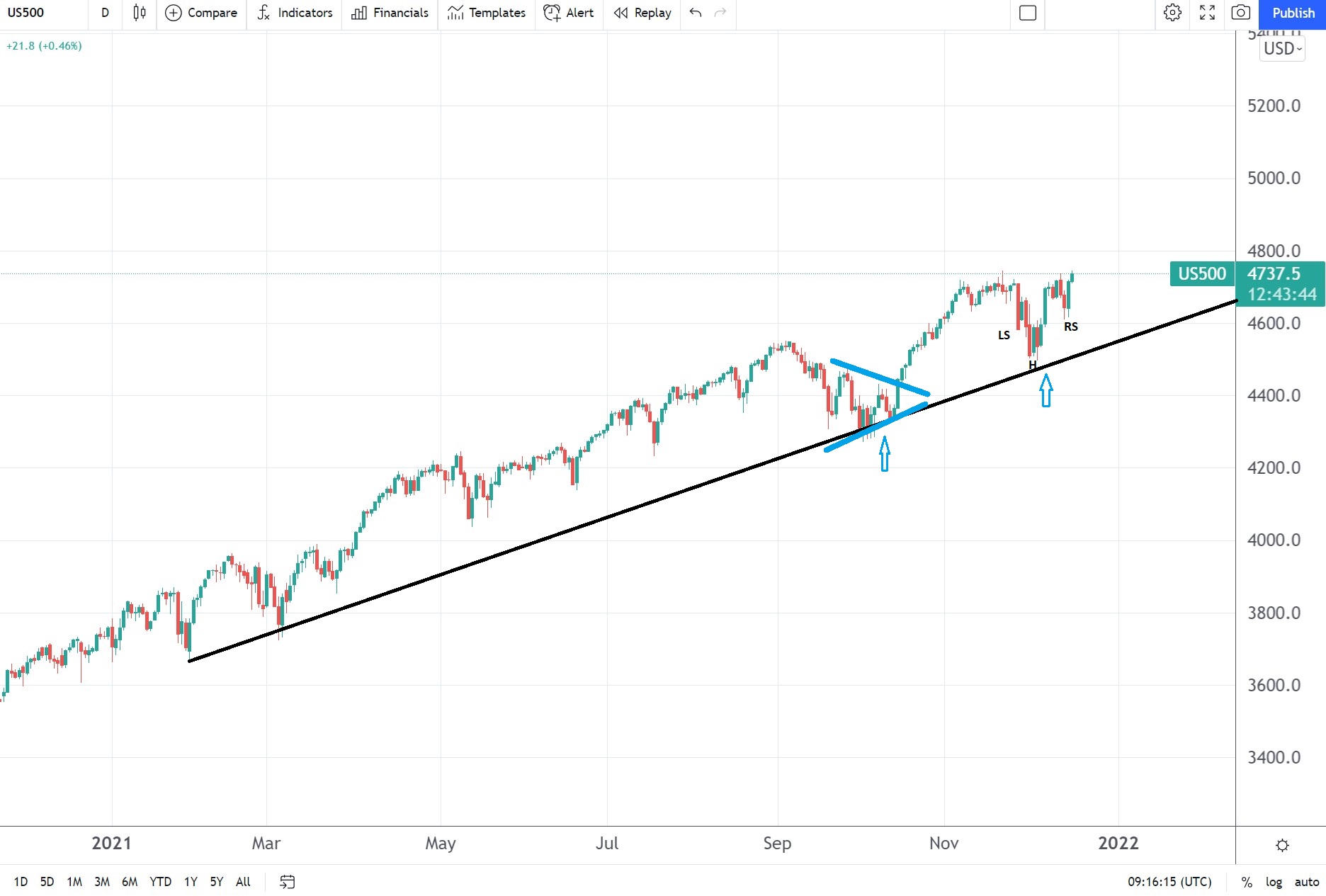 What did the Fed say?
The Fed delivered a hawkish statement in December. First, it left the rates unchanged. This was a no-brainer, in the sense that Jerome Powell stated several times that no rate hike is possible while the Fed's quantitative easing program still runs.
Second, it doubled the quantitative easing tapering speed to $30 billion/month ($20 billion Treasuries and $10 billion mortgage-backed securities. Third, it doesn't refer to inflation as transitory anymore but elevated.
As such, the market started to price in a rate hike as soon as next March, and then one hike per quarter. So far, the consensus was that the Fed will only hike twice in 2022. However, yesterday's dot plot shows three rate hikes in 2022, another three in 2023, and two in 2024. Therefore, a hawkish message.
Why did stocks jump on a hawkish message?
Despite the hawkish message, the market focused on what is happening now, and not on what will happen in the future. The reality is that the Fed easing continues – it only slowed down, as the central bank keeps buying assets, albeit at a slower pace.
Put it simply, inflation is at a forty-year high, unemployment is at 4.2%, and stocks rise 25% a year. Why the need for easing when there is more than $1.5 trillion of excess cash and the banking system cannot use it? Quantitative easing is good for stocks, and as long as the Fed keeps buying assets, stocks should keep climbing to new highs.
The S&P 500 technical picture points to more upside
The technical picture looks bullish too. First, the S&P 500 index is still above the rising trendline. Second, it formed an inverse head and shoulders pattern before making a new high. The combination of the two points to more strength in the weeks ahead, and so the path of least resistance remains the upside.