Is it safe to buy the euro after trading in bearish territory all year?
December ECB decision looms large as currency traders await new guidance from the central bank. The common currency has traded in bearish territory all year – is it safe to buy now?
One of the most-awaited events in the last part of the trading year for currency traded is the upcoming European Central Bank meeting. The ECB announces its monetary policy on Thursday, and the euro pairs' volatility will spike.
This meeting focuses on forward guidance and on what the central bank will signal regarding its asset purchases. It should be mentioned that unlike the Fed, which already started to taper its asset purchases, the ECB chose a different path.
During the COVID-19 pandemic, it ran two asset purchases programs – APP, the regular one, and PEPP, one designed as support during the pandemic. At this meeting, the ECB will likely announce the end of the PEPP program by March 2022, but the surprise may come from the APP. The ECB implied that it would boost the APP, just opposite what the Fed does. Therefore, a hawkish surprise for markets, and thus bullish for the common currency, will be for the ECB to leave the monthly purchases unchanged.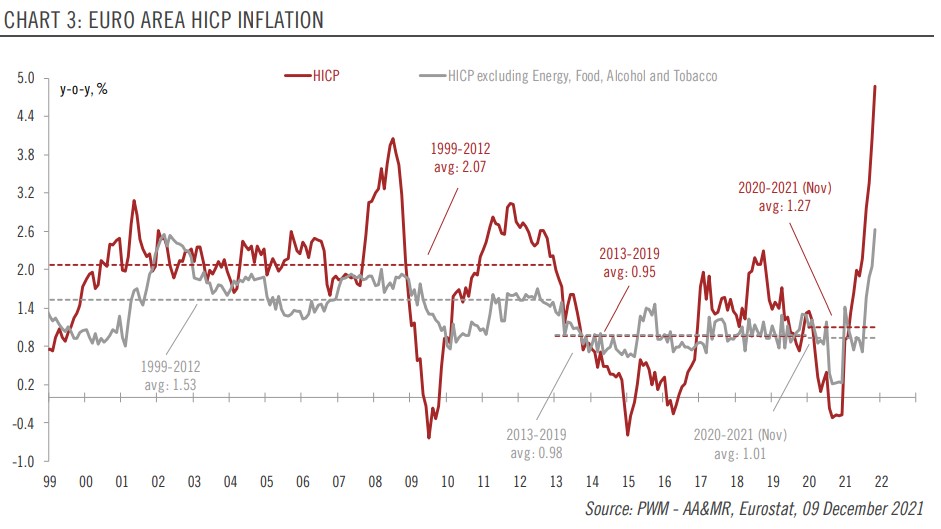 Higher inflation pressures the ECB
The possible hawkish shift in the ECB's message may come amid inflation risks. At this meeting, the ECB will present its inflation expectations for 2024, and the consensus regarding the staff projections for core inflation is 1.8%. However, the risk is tilted to the upside, at least if we consider what is happening in other parts of the world, such as the United States, where inflation has reached 6.8% in November, the highest in 39 years.
Fed to lead the way?
The Fed meeting is also important in trading the euro ahead of the ECB meeting. This is because the Federal Reserve of the United States is the most influential central bank in the world and its actions often act as a pathway for other central banks in the developed world.
As such, if the Fed is about to deliver the most hawkish shift in the dot plot in decades, then it might be wise to consider that the ECB will do the same. Hence, a hawkish Fed may imply a similar tone for the ECB.
End of year profit-taking may help bulls
The common currency traded with a bearish tone all year. It declined against its peers, but traders booking profits may boost it at the end of the year. To square a short position, one needs to go long; hence the euro may find some support in the last trading weeks of the year.
All in all, the euro still looks vulnerable, as the Fed and the ECB have divergent policies. Therefore, the overall bias for the common currency remains bearish.