Is it safe to buy Netflix stocks after plummeting 20% during post-market hours?
Netflix (NASDAQ:NFLX) reported better than expected Q4 FY2021 earnings yesterday. However, the stock plunged on weak guidance as rival streaming services affected growth.
Netflix is one of the companies that outperformed during the COVID-19 pandemic. The online streaming giant has built a global brand with hundreds of millions of subscribers and shows that gained international recognition and won many international awards.
As the pandemic has limited mobility, people spent more time online. As a result, streaming services benefited, and Netflix's stock price surged to record-high levels. It traded as high as $700 in November 2021, when fears of the omicron variant sent "pandemic" stocks higher.
However, in the meantime, fears receded, and so the stock suffered. Yesterday, Netflix reported its Q4 FY2021 earnings, and the stock price plunged more than 20% in after-hours trading.
Highlights of the Q4 FY2021 earnings
Netflix delivered better than expected results – it has beaten market expectations on both EPS and revenue. Revenue, for instance, grew 16% YoY, and the forecast for the next quarter is that it will increase by another 10.3%.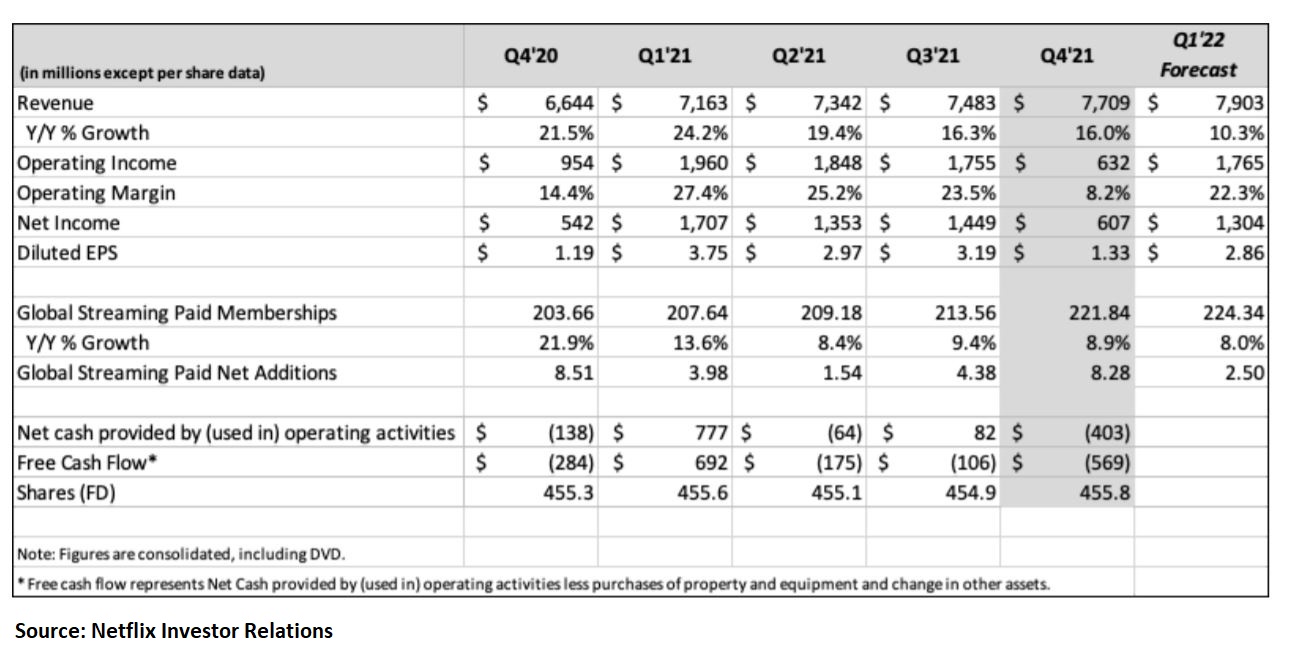 It is not the actual earnings that led to the stock plunging, but the guidance. For example, investors are worried that subscriber growth stalls. Or, that rival streaming services gain market share. Coupled with the illiquid market hours when the guidance was released, we have a proper explanation for the collapse of the stock price.
Strong dollar hurt operating margin
One of the most interesting details of yesterday's earnings call was the mentioning of a strong dollar. Netflix earns about 60% of its revenue outside of the US but has most of its expenses inside the US. Hence, the company estimated that the US dollar's appreciation in 2021 has led to a cost of about $1 billion in expected 2022 revenue, or about a 2% decline in operating margin.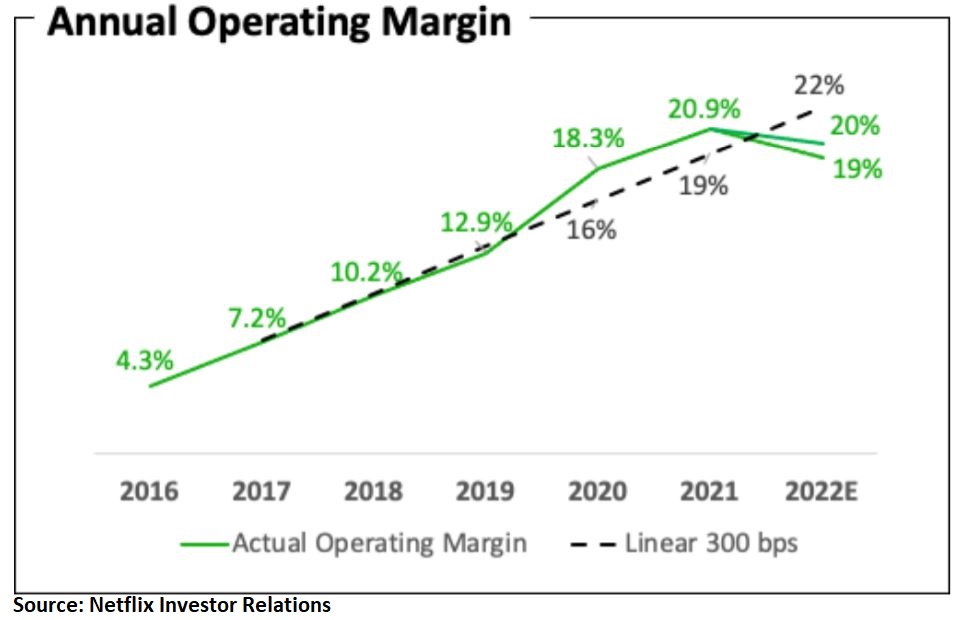 What do the charts say?The technical picture looks weak, but major support lies ahead. The stock price consolidated around $500 for more than a year prior to the bullish breakout, and that area of consolidation may turn out to provide support.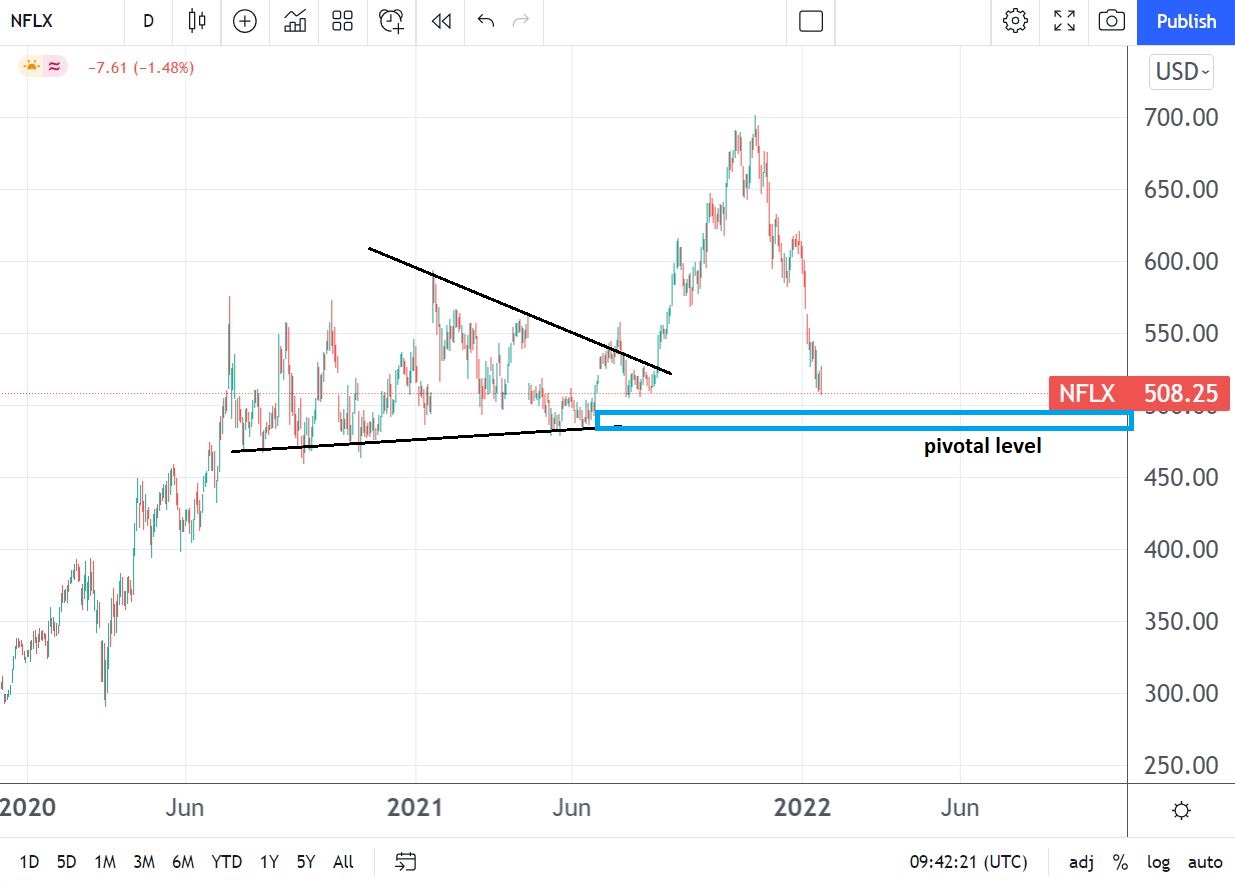 All in all, Netflix's stock tripped some stops in after-hours trading. It is not the only "pandemic" stock under pressure, and it will be interesting what the days until the Federal Reserve meeting next week will bring.