Is it safe to buy Moderna stocks after jumping +20% today?
Moderna shares are seen higher in pre-market trading by more than 20%. Comments that it could have a modified version of its vaccine to deal with the new South African mutation have triggered the move higher.
Financial markets ended the previous week on a tear lower. Stock markets worldwide have corrected on the news that a new virus mutation discovered in South Africa, may spread even faster than the delta variant.
As such, the stock markets plunged as risk-off sentiment dominated. Moreover, investors looked for safe-haven instruments, such as the Japanese yen or the Swiss franc.
But the weekend proved to calm things down. News that Moderna, a US drug-maker selling one of the COVID-19 vaccines available during the pandemic, may modify the jab to address the new mutation sent the stock price higher.
So why is the market's reaction so strong? Effectively, the market tells us that the one able to adapt the vaccine the fastest will get most of the profits.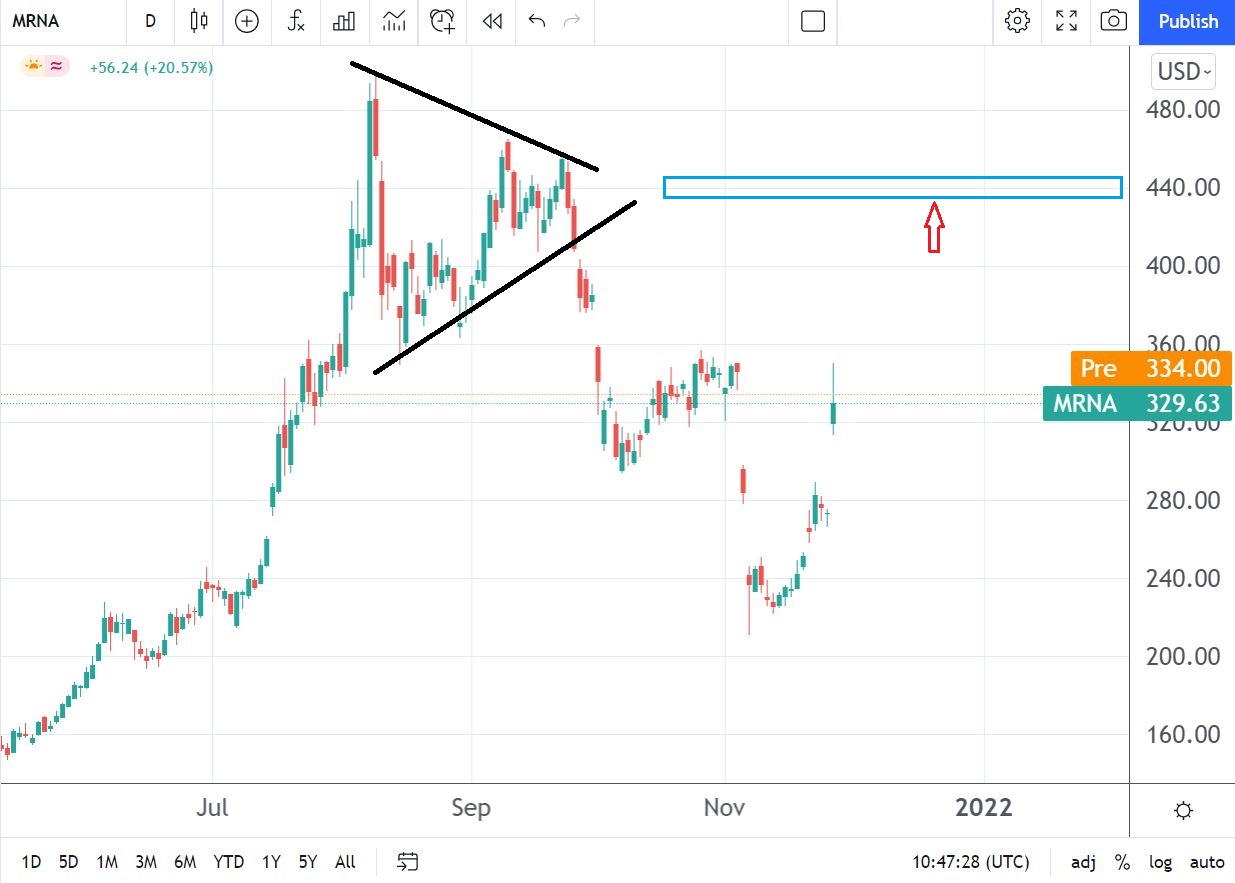 The technical picture looks bullish
Moderna's stock price traded as high as $480 in late summer. However, at that level, it consolidated in a contracting triangle formation that broke lower. Now that it bounced from the lows, the key resistance to overcome is the apex of the previous contracting triangle. A daily close above $440 signals more strength and would attract new buyers.
How about Moderna's fundamentals?
Fundamentals paint a bullish picture too. Let's start with the P/E ratio, which is seen at 14.75 in 2021, much lower than the 21.38 sector median. Furthermore, the company operates with a gross profit margin of 68.09%, higher thant the sector median as well.
While the stock price has declined in the last three months, it is still up more than 215% in 2021 and it appears that investors were still willing to buy the dip.
The scare of the new virus variant reminds the market that unless the developed world puts more effort into vaccinating the global population, the risk is that new variants will often appear. In other words, vaccines are needed, and Moderna is at the forefront of the battle against the virus.