HP Stock Price Off the 2021 Highs Ahead of the Quarterly Earnings
HP (NYSE: HPQ) stock price declined in the past couple of months after rallying in the first part of the year. The share price is up over 53% in the past year.
HP is up over 53% in the last 12 months, and now investors await the quarterly earnings to be released next week. The market expects the company to announce EPS of $0.84, up 70.49% compared to the same period last year.
HP is an American technology hardware company, selling its products and services worldwide. It managed to beat the EPS estimate in the last four consecutive quarters, so the bias is that it will do so next week, too.
The market expects the annual revenue estimates for the fiscal period ending in October 2021 to be $63.37 billion. HP trades at a price/sales ratio of 0.6, much lower than the sector median of 4.03. The gross profit margin is also well below the sector median – 19.38% vs 48.68% the sector median.

What Do Analysts Say About the HP Stock Price?
Out of the 30 analysts covering the HP stock price, most of them have neutral ratings (18), while only 9 have buy ratings. Three analysts have sell ratings for the share price, with the lowest target being $16.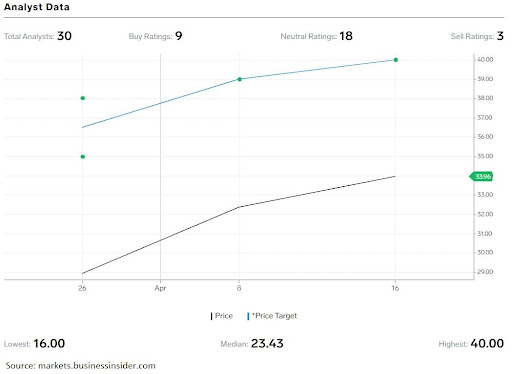 Morgan Stanley is the most bullish on the HP stock price, with a price target of $40. It raised the price target three consecutive times this year while maintaining its buy holding.
HP is a dividend-paying company with a dividend yield of 2.79% and a payout ratio of 22.31%.