Gold spikes on war breaking out in Eastern Europe; a technical analysis update
Gold rallied on news that war broke out in Eastern Europe. Russia attacked Ukraine overnight, sending the price of gold close to $2,000.
2021 brought nothing but despair and disappointment for gold buyers for at least a couple of reasons. First, the precious yellow metal failed to hedge against inflation. While inflation reached levels not seen in multiple decades, gold did not rally.
Second, not only that it did not rally, but it delivered negative returns on the year. This was too much for many gold buyers as they switched to "alternatives", such as Bitcoin, viewed by many as digital gold.
But it turned out that gold simply consolidated for a bit more than 12 months. It broke higher recently, even before today's news that Russia attacked Ukraine.
So what does the technical picture tells us now that gold price rallies?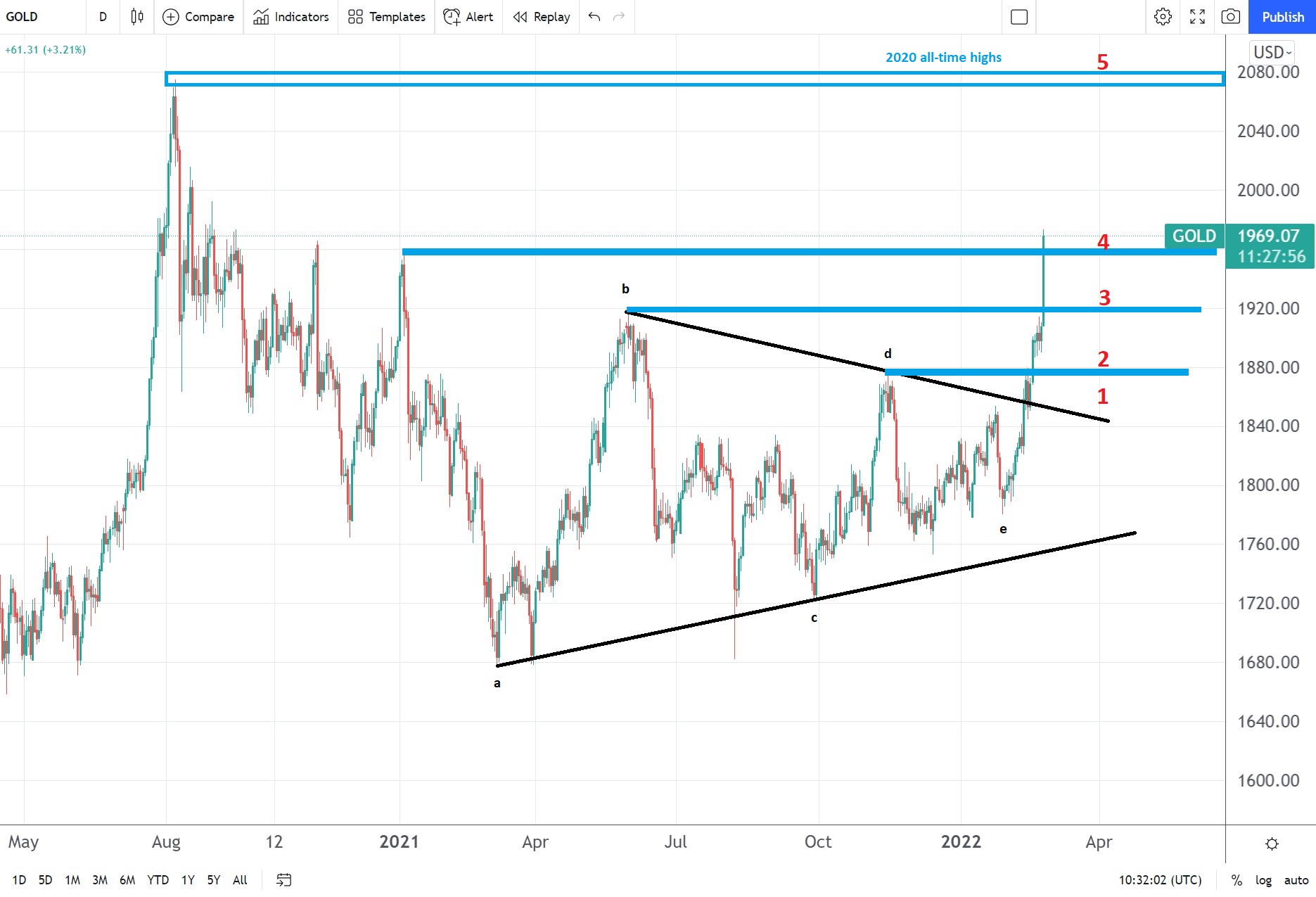 4 bullish developments on the daily chart
Gold price's bullish breakout is nothing short of impressive. Technical traders argue that the longer a consolidation takes, the more violent the breakout will be.
And so it appears to be the case here. On its way to the upside, the price of gold broke four significant levels, as noted on the chart above in red.
First, it broke the b-d trendline of a bullish triangle. The breakout signaled the end of the consolidation, thus the first bullish signal of a rally to follow.
Second, it moved above resistance given by the series of lower highs. The move above the highest point in the d-wave triggered more stops towards the highs in $1,920. If you want, the breakout above the d-wave's highs had a snowball effect, and more strength was imminent.
As such, the series of lower highs is invalidated, and all that lies above is little or no resistance. The market might hesitate at the $2,000 level for the simple reason that it is a round number, thus having some psychological impact on traders. But that should be only a temporary setback, as the triangle looks like a continuation pattern, suggesting a new all-time high is in the cards.