Gold price prediction after consolidating in 2021
Gold consolidated levels in 2021, despite rising inflation in the developed economies. Can we see record levels again in 2022?
In a period of rising inflation and supply chain bottlenecks, gold failed to fulfill its purpose in an investment portfolio – to act as a hedge against inflation. In fact, just the opposite happened to the frustration of gold investors.
It is said that any portfolio should own some gold and have a small part in cash – just in case an opportunity arises. But gold's long periods of consolidation made the yellow metal unattractive to the new retail traders used to the high volatility of other assets, such as the crypto one.
As Financial Times put it lately, gold is an analogue product in a digital world.
But this is not the first time that gold price has consolidated for a long period. In fact, in recent years, it did so again – between 2016 and 2019. While the Fed was busy hiking the federal funds rate, gold proved to be resilient. It consolidated for three years and eventually broke higher, despite the Fed's hiking.
Can it be that the current consolidation is just another continuation pattern in the long-term bullish trend for gold?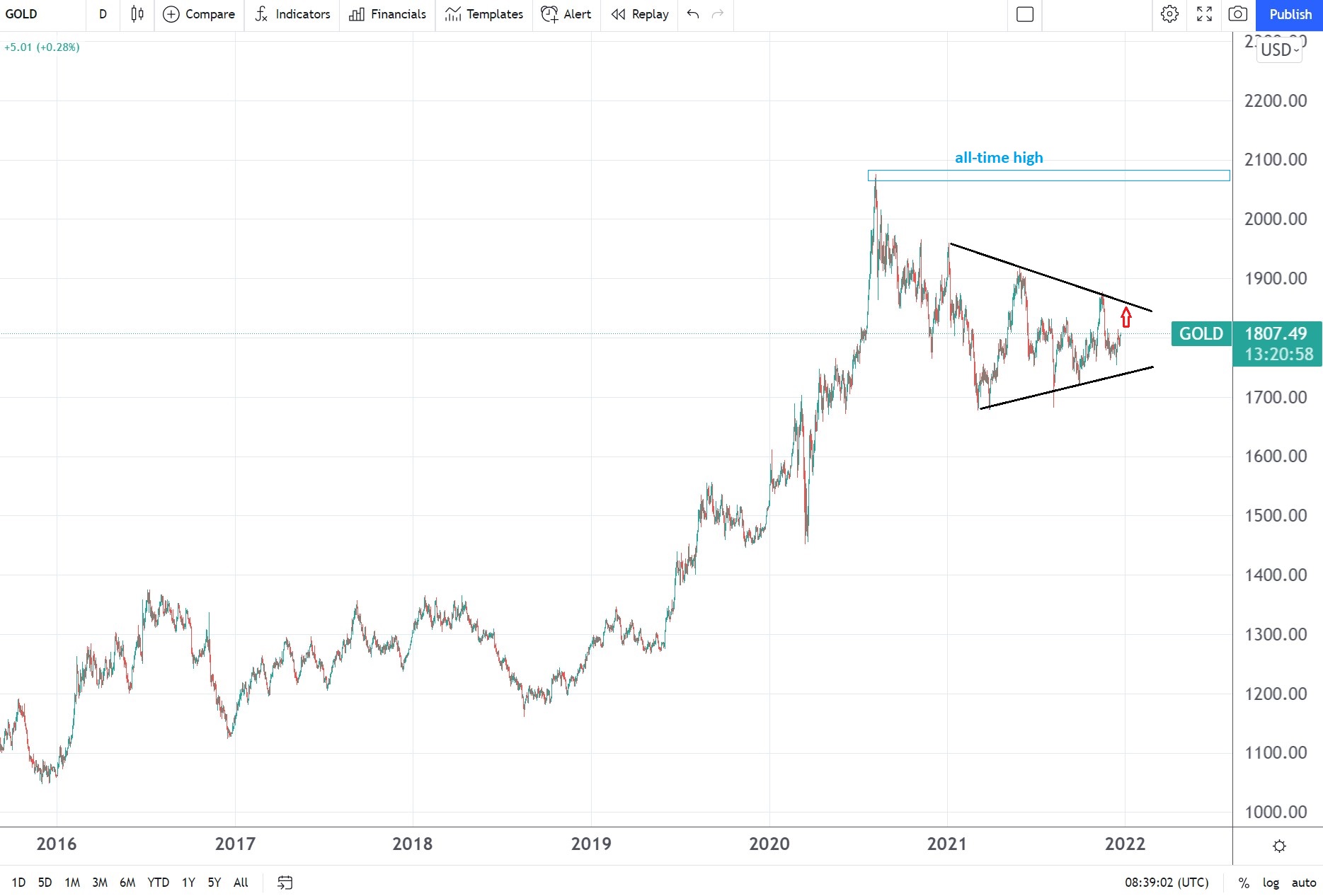 It is not the first time when gold price acts with a lag
Just like the price of gold was resilient in 2016 and 2019, it may act with a lag this time too. Consider the price action during the pandemic.
First, gold shoots up to a new all-time high on the Fed's decision to open US dollar-denominated swap lines with other major central banks in the world. In this regard, gold acted in a correlated manner with the US dollar.
Second, gold corrected from its pandemic highs, and the price hovered between $1,700 and $1,900 for most of 2021. But gold's inability to rally in an environment of rising inflation may have been triggered by a strong dollar. After all, the US dollar was the star currency of the year, gaining against all its G10 peers.
And so it did against gold.
To sum up, it is not the first time gold acts with a lag, and all the market needs is a weaker US dollar. Bulls may want to wait for the price to break above $1,900 before going long, targeting new highs. On the flip side, a drop below $1,700 would invalidate the bullish case.