Gold gave back its recent gains: should you buy or sell the precious metal?
The price of gold is back to levels seen before the Russia-Ukraine conflict started. So should you buy this dip, or is it the start of a new bearish market?
One of the biggest disappointments for investors in 2021 was gold's underperformance. Historically speaking, gold performed well during periods of high inflation.
However, gold returns were negative last year, and many hoped that 2022 would be different. After all, inflation in the United States is running at a four-decade high, and is above target in most of the advanced economies.
The Russia-Ukraine conflict sparked a vertical upside move in the price of gold. The yellow metal traded above $2,000 for the first time since it made a new all-time high in 2020 but quickly reversed the move.
At these levels, the price of gold erased the upside move triggered by the conflict in Eastern Europe. Moreover, the bias remains bearish if we consider the technical picture.
Possible head and shoulders pattern suggests more downside
A sharp upside move followed by an equally aggressive retracement is often the head of a head and shoulders pattern. The current consolidation might as well be the pattern's right shoulder, and if the market breaks and hold below the neckline, seen in black on the chart below, a run for the measured move might follow.
The measured move equals the distance from the highest point in the head to the neckline, projected from the neckline. More precisely, the technical picture suggests that the price of gold might drop to $1,760, as pointed by the measured move.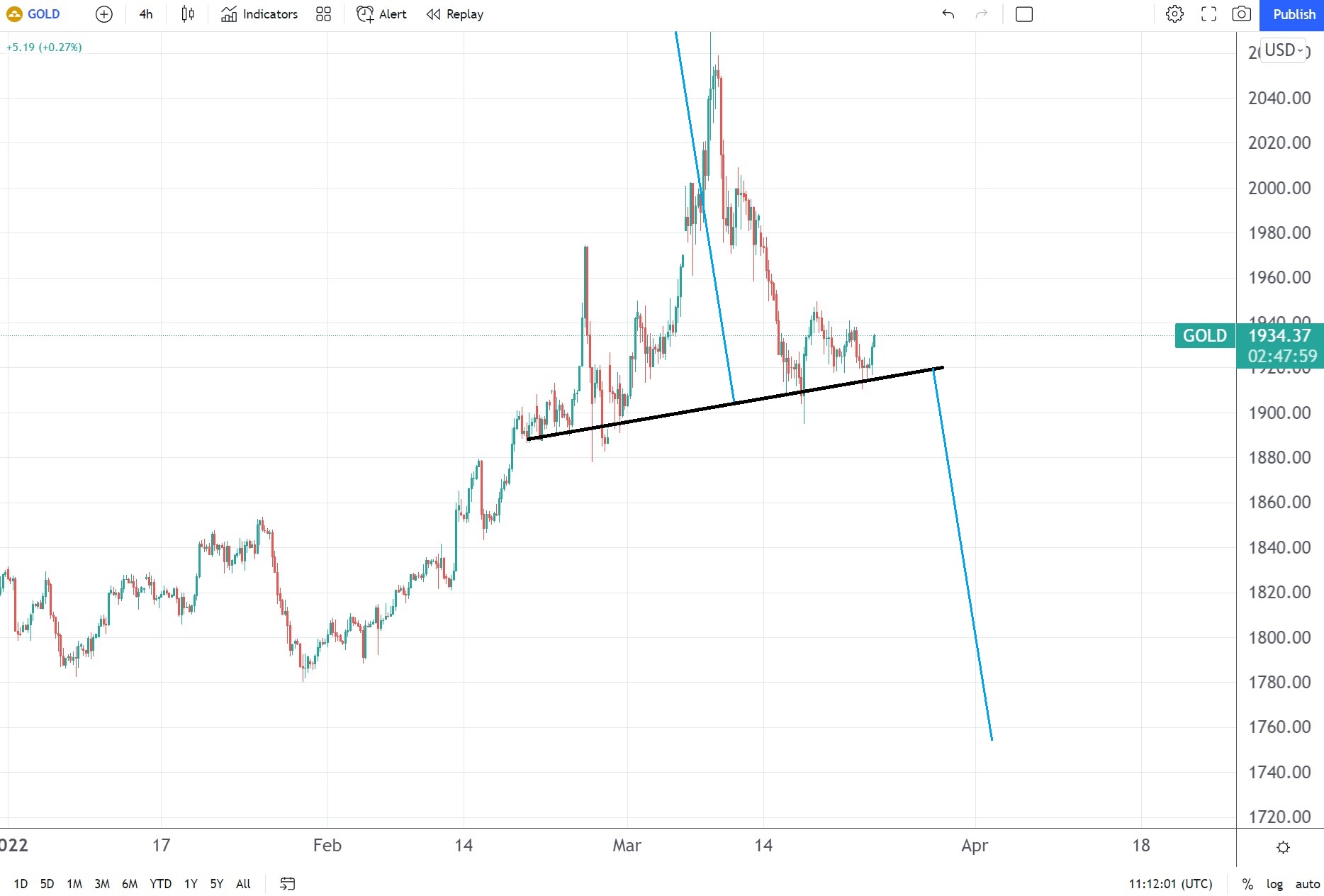 Gold price fails at offering a hedge against inflation
Gold price failed to offer a hedge against inflation in 2020 and 2021, and it looks like it does the same this year. So, where should investors turn their attention to?
One answer is the stock market.
While the dollar got stronger during the pandemic and made a new leg higher when the Russia-Ukraine conflict started, it recently gave back most of the gains. Stocks recovered from the lows and attempted to make new all-time highs, and the move triggered pronounced weakness for the US dollar.