GBP/USD bounced from lows: here are 3 reasons for the rally to continue
GBP/USD topped above 1.40 this year, then trended lower in the year's second half. But despite the ongoing weakness seen in the last months, cable, as it is also called, looks bullish ahead of the new trading year.
2021 was the year of the US dollar. Despite the loose financial conditions in the United States, investors bought the world's reserve currency on inflation fears and on projections of faster monetary tightening.
Now that those projections come true, the dollar's rally may reverse. The Fed announced faster tapering and suggested that at least two rate hikes are on their way in 2022. But the market participants always trade with a forward-looking, and despite the Fed's hawkish turn, US financial conditions remain near their loosest on record.
Therefore, the bounce in the GBP/USD pair may be just the start of a new bearish trend for the greenback. Here are three technical reasons that support a higher GBP/USD exchange rate in 2022: a bullish flag, a falling wedge, and a pivotal level that attracts price.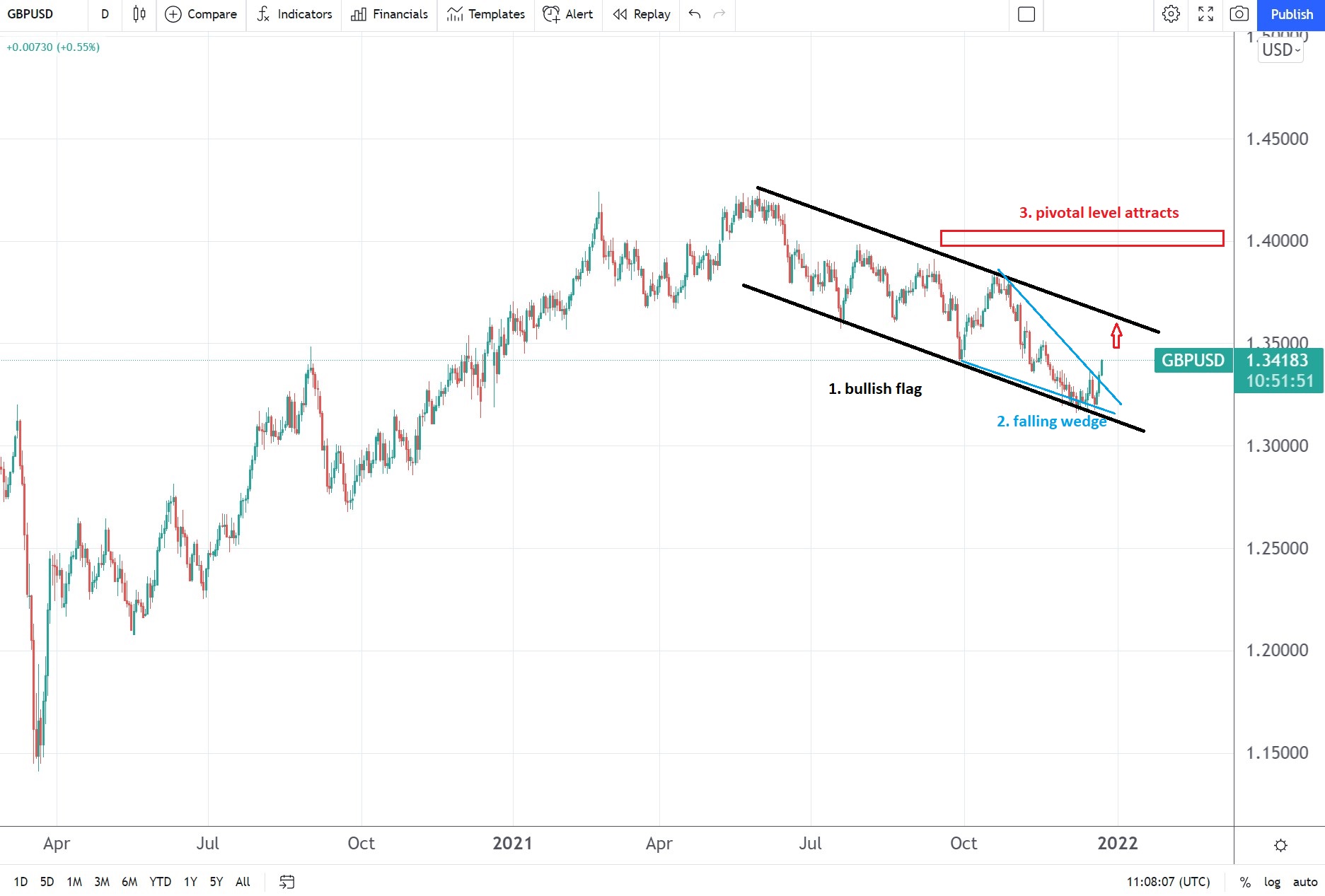 Bullish flag points to more upside
As the name suggests, a bullish flag points to higher market levels. Conservative traders may want to wait for the market to break above the rising edge of the flag before going long with a stop at the opposite edge and targeting a move above 1.40.
Falling wedge pattern ended recently
Starting with October, a falling wedge pattern appeared inside the bullish flag. The pattern suggests a reversal and, on top of that, the market found dynamic support at the lower edge of the flag. Now that the price broke above the upper trendline of the falling wedge pattern, aggressive traders may want to go long with a stop at the 2021 low and targeting a move above $1.40.
1.40 pivotal level attracts the price action
1.40 is a critical level for the GBP/USD pair. First, it is the area where the currency pair was rejected from ahead of the bullish flag's formation. Second, a double top formed there, suggesting strong resistance lies ahead.
However, as a round number, it always attracts the price action. Coupled with the previous two bullish patterns mentioned above, 1.40 might act as a pivotal level. A break above 1.35 could be just what the bulls need ahead of the 1.40.