GBP/CHF price prediction: more weakness lies ahead
The Swiss franc is in great demand as new COVID-19 fears arise. The GBPCHF gets ready to test critical support. Will it hold?
The Swiss franc and the Japanese yen are two safe-haven currencies in demand when the market is in a risk-off mode. Investors sell risky assets, such as stocks, and with the proceeds buy safe-haven currencies; the opposite happens during a risk-on move.
The news that a new COVID-19 variant discovered in South Africa spreads even faster than the delta variant triggered a risk-off move in financial markets. It is even more important that today is a short trading day for the US stock markets and many people took days off to celebrate Thanksgiving. As such, liquidity is thin and so the market movements are more violent.
Inevitably in such an environment, the Swiss franc gains. It is up across the board, and one of the currency pair that reflects its strength is the GBP/CHF. This is one of the most volatile currency pairs on the FX dashboard, but lately, it trades in very tight ranges. Today's move, while aggressive, it points to further weakness.
Interestingly enough, the Swiss National Bank's decision to keep the interest rate at -0.75%, the lowest in the world, does not affect investors looking for the franc's safety.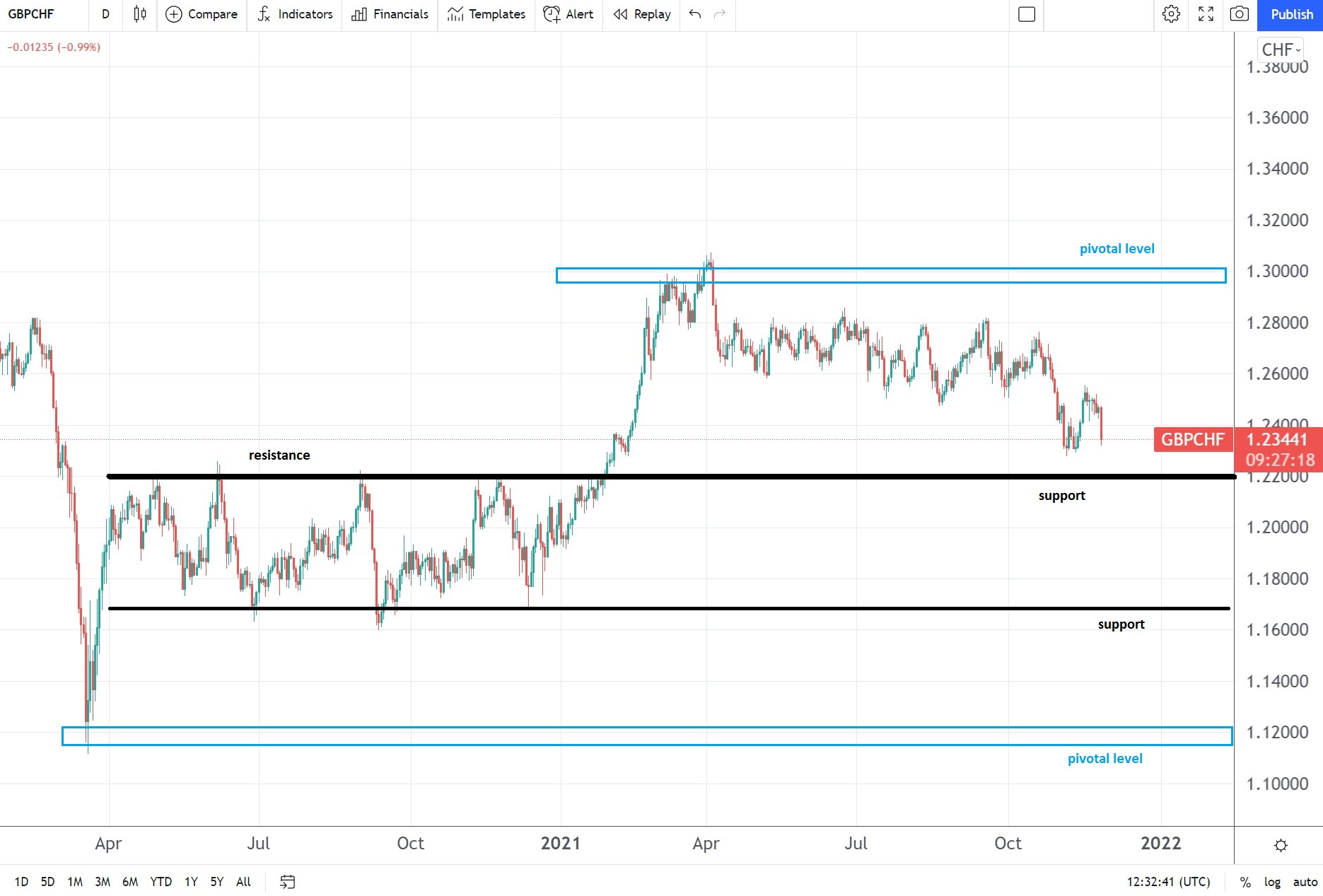 A drop below 1.22 points to further weakness
The technical picture shows two distinctive consolidation areas – one in late 2020 and one in the last six months.
The first one took almost nine months and represented a continuation pattern. Some may say that the market formed a giant bullish flag, and by the time it broke higher, the flag's resistance turned into support.
Support now is being tested as the second consolidation area turned out to be a reversal pattern. In other words, bulls would not want the price to drop below 1.22 because there is no support left until the 1.17 area.
For traders with a long-term horizon, they should pay attention to two pivotal levels. One is 1.30 and the other one is 1.12. A break of either of the two points to follow through in the same direction.