FTSE 100 price prediction after surging to yearly highs
FTSE 100 surged to a new 2021 high as the stock market rally continues. What to expect in 2022?
The stock market rally continues after the Christmas holidays, and most indexes in developed economies trade at their yearly highs. It is the case of the FTSE 100 index, closely watched in the last years both because of Brexit and because of the COVID-19 pandemic.
2020 brought a decline in the bearish territory as the pandemic gripped the world economies. However, what followed was a gradual move higher, and the FTSE 100 index fully retraced the drop.
From a technical perspective, the price action is bullish. Before the pandemic, the market formed a contracting triangle that acted as a reversal pattern. The 7,750 area was strong enough and acted as stiff resistance, but the market's ability to return to it should be interpreted as a sign of strength for further upside.
What can break the bullish bias? Here are two aspects to consider: the tightening cycle initiated by the Bank of England in December 2021 and further inflationary pressures.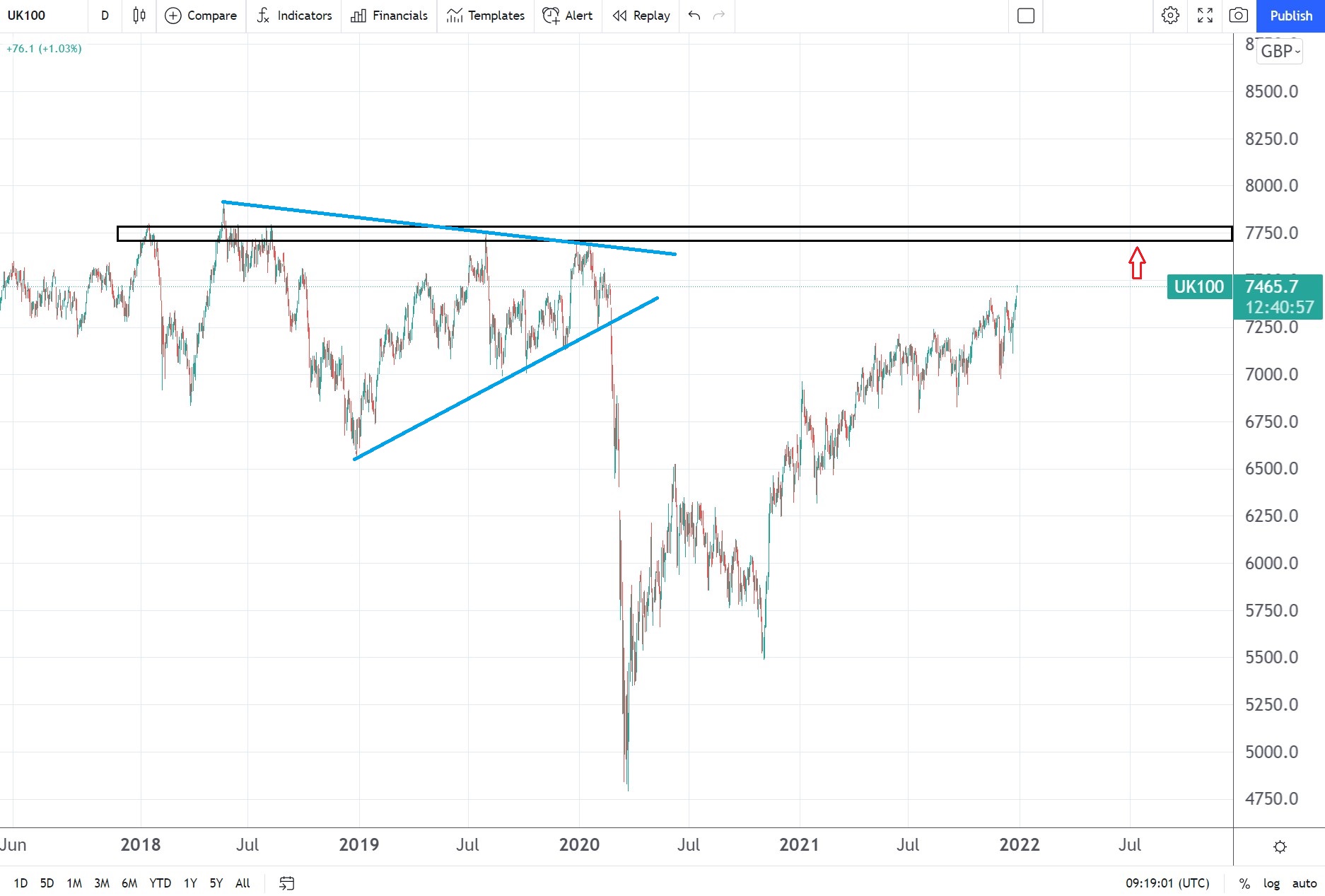 Bank of England started a cautious hiking cycle
In December, the Monetary Policy Committee voted to increase the interest rate in the United Kingdom to 0.25% from the previous 0.1%. While timid, the increase marks the start of a cautious hiking cycle, one that might derail the FTSE 100 rally.
The key moving forward is to assess how the Bank of England will act given the uncertainty posed by the Omicron variant and the threat of elevated inflation. At the previous meeting, the central bank suggested that further modest tightening was likely, but the message will likely change if we see a strong economic impact from the virus or even higher inflation.
Inflationary pressures are a risk
The current inflation rate in the United Kingdom is 5.1% – much higher than the 2% target. If inflation is too high, it makes it difficult for businesses to set the right prices for their goods and services. Equally, it makes it difficult for people to plan to spend. As such, central banks act by hiking the interest rate – just what the Bank of England did. However, because of the pandemic the risk is to tighten too fast and negatively impacts economic recovery.