FTSE 100 Felt the Heat and Fell This Morning
The FTSE 100 index fell by nearly 2% at the start of trading this morning, which may leave you wondering what to do now.
The best way to start this story is with the London Stock Exchange's heat map that shows most of the FTSE 100 stocks in the red when the market opened this morning, which explains why the index initially fell by nearly 2%.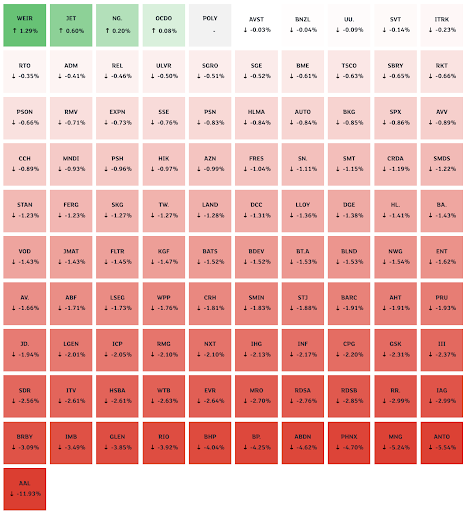 FTSE 100 Heat Map (source: London Stock Exchange)
What is the FTSE 100 Index?
The Financial Times Stock Exchange 100 Index (FTSE 100 index) is informally known as the "Footsie". It tracks the combined prices of the top 100 companies listed on the London Stock Exchange; that is, the 100 most valuable companies with the highest capitalisations.
Should You Buy or Sell the FTSE 100?
When markets fall, you basically have three options:
Buy stocks or the entire index in the hope that it rebounds

Sell stocks or the entire index if you think it will continue to go down

Hold onto your existing holdings (don't buy or sell) or simply sit on the sidelines
I can't tell you what to do, and I don't want to, but personally… I'm feeling a bit bearish, which means I think that the rout could continue. But this doesn't mean it will, and I've been wrong before.
FTSE 100 Price Targets
The FTSE 100 has been funny — as in "peculiar", not "ha-ha" — in the past 18 months. Whereas most other stock indexes, especially the American ones, have risen to unthinkable highs, the FTSE 100 has foundered and failed to recoup its pre-pandemic price level.
Where Can You Buy and Sell the FTSE 100 Index?
Investors will only think about buying the FTSE 100 index, either as individual stocks or by investing in a FTSE-tracking exchange-traded fund (ETF). Traders can bet on the FTSE rising or falling via spread bets, contracts-for-difference (CFDs), or other financial instruments. Whichever way you wish to trade or invest, you can do so with these brokers:
eToro
eToro is one of the world's leading multi-asset trading platforms offering some of the lowest commission and fee rates in the industry. It's social copy trading features make it a great choice for those getting started.
Webull
Financial company driven by technology and offering all-in-one self-directed investment platform that provides excellent user experience.