Fed's Bostic favors aggressive balance sheet shrinking. Time to buy USD?
Atlanta Fed President favors aggressive balance sheet shrinking on top of hiking rates. Higher inflation leaves Fed no other option but to tighten monetary policy faster. Is it time to buy USD?
The Federal Reserve is the first central bank to have introduced the concept of quantitative easing – buying government bonds. It used it in response to the 2008-2009 Great Financial Crisis and again during the COVID-19 pandemic.
One desired effect of quantitative easing is that monetary policy…eases. Easing financial conditions stimulate the economy in addition to lowering the federal funds rate close to zero. As a result, the Fed's balance sheet expanded to record levels, to trillions and trillions of dollars.
But now, the Fed signals a reversal. It plans to both start hiking the federal funds rate in March and shrink the balance sheet. The shrinking process, or quantitative tightening, is more interesting to watch because it has never been done at the scale the Fed plans to use now.
Dollar Index remains bullish while inside the rising channel
The dollar index rallied in the second half of the last year as investors increased their bets that the Fed will react to higher inflation data. Now that the Fed gave up on the "transitory" inflation idea, voices arise that it should reverse its policies aggressively.
If that is the case, the dollar index should remain bid and inside the rising channel. The dollar will rally as long as the series of higher highs and higher lows continues.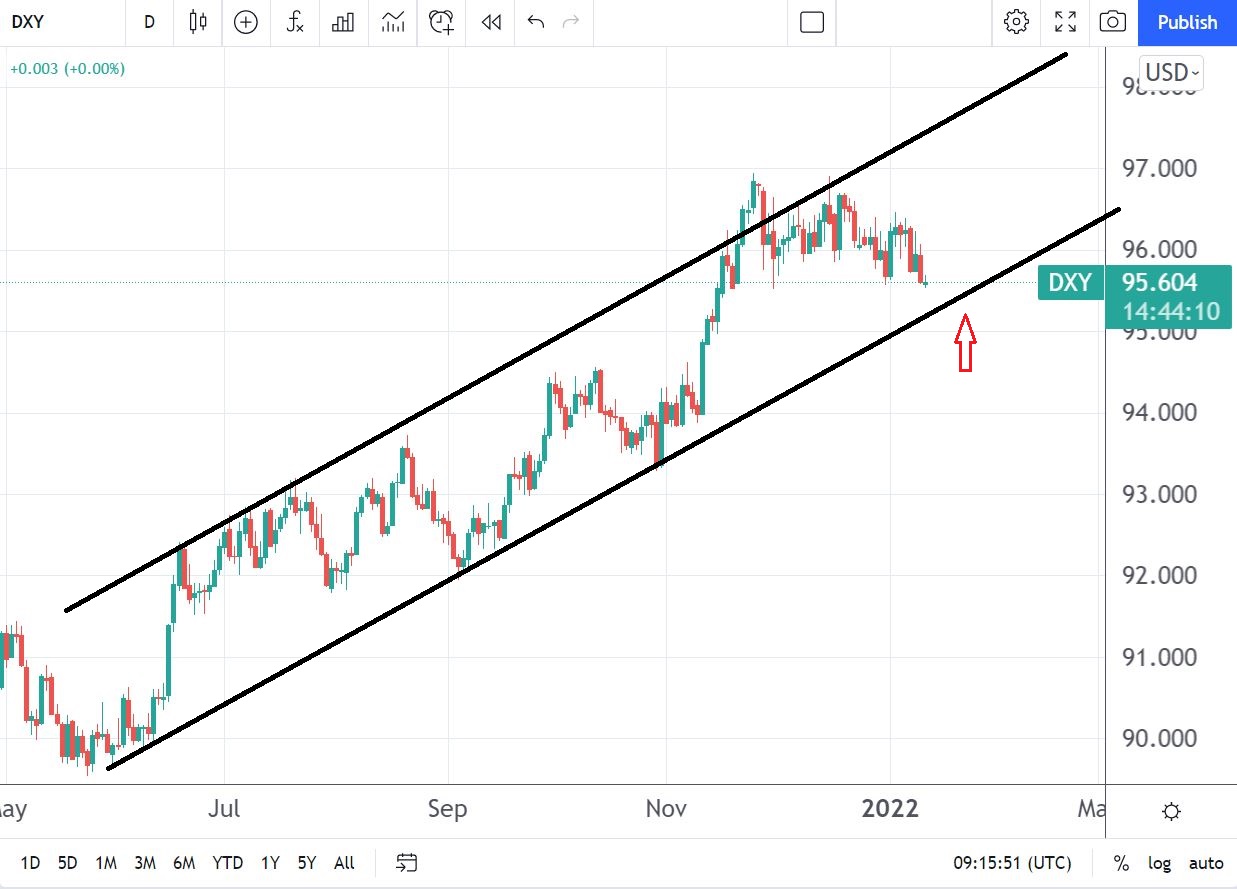 Fed Bostic favors $100 billion/month balance sheet shrinking
Yesterday, Atlanta Fed President Bostic revealed that the Fed might go extremely aggressive with its balance sheet shrinking. He talked about $100 billion/month in quantitative tightening, meaning that the Fed prepares to unwind the balance sheet by more than $1 trillion in twelve months after the first rate hike.
As the name suggests, quantitative tightening is monetary tightening, just as quantitative easing is monetary easing. Effectively, it means that financial conditions will tighten on top of the planned rate hikes.
So how will the Fed do it?
The plan is to let security holdings to mature without reinvesting principal every month. It is not the first time when the Fed does it, but not at this scale. Also, the last time it tried to unwind its balance sheet, it was stopped by a new recession.
In conclusion, neither the Fed nor the markets know what quantitative easing at a large scale would bring. But the risk of inflation psychology taking over is too big to ignore.