Fed prepares to lift rates: are rate hikes always bad for stocks?
The stock market hovers around all-time high levels despite the Federal Reserve (Fed) preparing to lift rates. Will the stocks tumble once a tightening cycle begins?
Market participants were spooked yesterday by the news that inflation in December rose by 7% YoY. The rate is well above the Fed's definition of price stability and calls for the central bank's intervention.
By intervention, the market expects a tightening cycle to begin as soon as March. Moreover, multiple rate hikes are expected this year. Will this new tightening cycle hurt stocks' performance?
If history tells us something, it will not.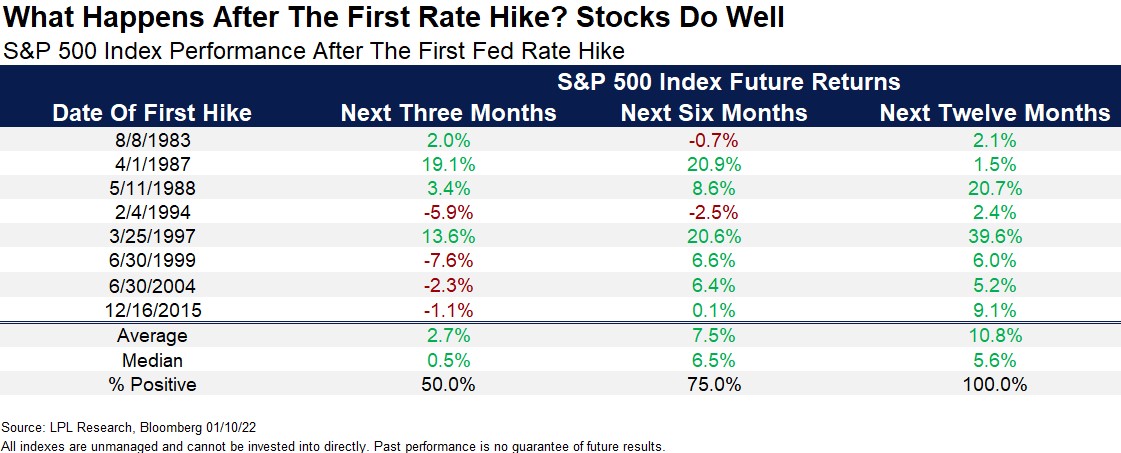 Stocks outperform after the first rate hike
Stocks tend to outperform during a monetary easing cycle. As such, when the central bank lowers the rates or eases through unconventional monetary policies, such as quantitative easing, stocks rally.
But rate hikes aren't necessarily bad for stocks.
When a new tightening cycle starts or the Fed delivers the first rate hike, history tells us that the S&P 500 outperforms in the next three, six, and twelve months. On average, the index delivered +2.7%, +7.5%, respectively +10.8% after the first rate hike in a tightening cycle.
Let's take the last tightening cycle, which started in December 2015. In the first three months after the first hike, stocks lost -1.1%. However, after one year, stocks were back up +9.1%. Hence, rate hikes aren't always bad for stocks, as many would think.
Why isn't the Fed hiking in January?
It can't.
The Fed still buys assets under its quantitative easing program. A rate hike while still easing the policy makes no sense. Moreover, it will have no effect whatsoever.
Because the Fed announced that the tapering of the asset purchases would end before its first rate hike, then March is the first meeting it can deliver a rate hike.
Can the Fed sound hawkish during its January meeting? Yes, it can – by announcing a faster tapering, which brings into discussion the prospects of a rate hike bigger than 25 basis points.
All in all, the Fed must act to keep its credibility. For example, for a long time during the pandemic, it called for inflation to be transitory – until it dropped the transitory word from its statements. To avoid making the same mistake, the Fed might deliver more hikes this year than the market expects.