EUR/USD target for November: bears to remain in control
EUR/USD breaks below horizontal support, and the price action remains bearish ahead of the Fed's decision tomorrow. A double top pattern suggests more downside is possible in November.
The EUR/USD exchange rate broke below important support recently, and the support turned resistance. If the price does not manage to hold above 1.16 ahead of the Fed's monetary policy decision tomorrow, the bias remains bearish for the rest of the month.
The Federal Reserve of the United States (Fed) is expected to announce the tapering of its asset purchases tomorrow and the actual process to start in December. While the markets are well aware of the Fed's plan, a lot is at stake at tomorrow's press conference as the language used, and the forward guidance may move the dollar pairs aggressively.
October ended with a dollar rally, and the rally may extend in November too. The EUR/USD pair recovered some of the lost ground in the last trading day of the previous month, but sellers emerged above 1.16.
Moving forward, the focus shifts to the 1.1520 area, which provided support in October. A close below would spell trouble for bulls because bears will aim for the measured move of a double top pattern.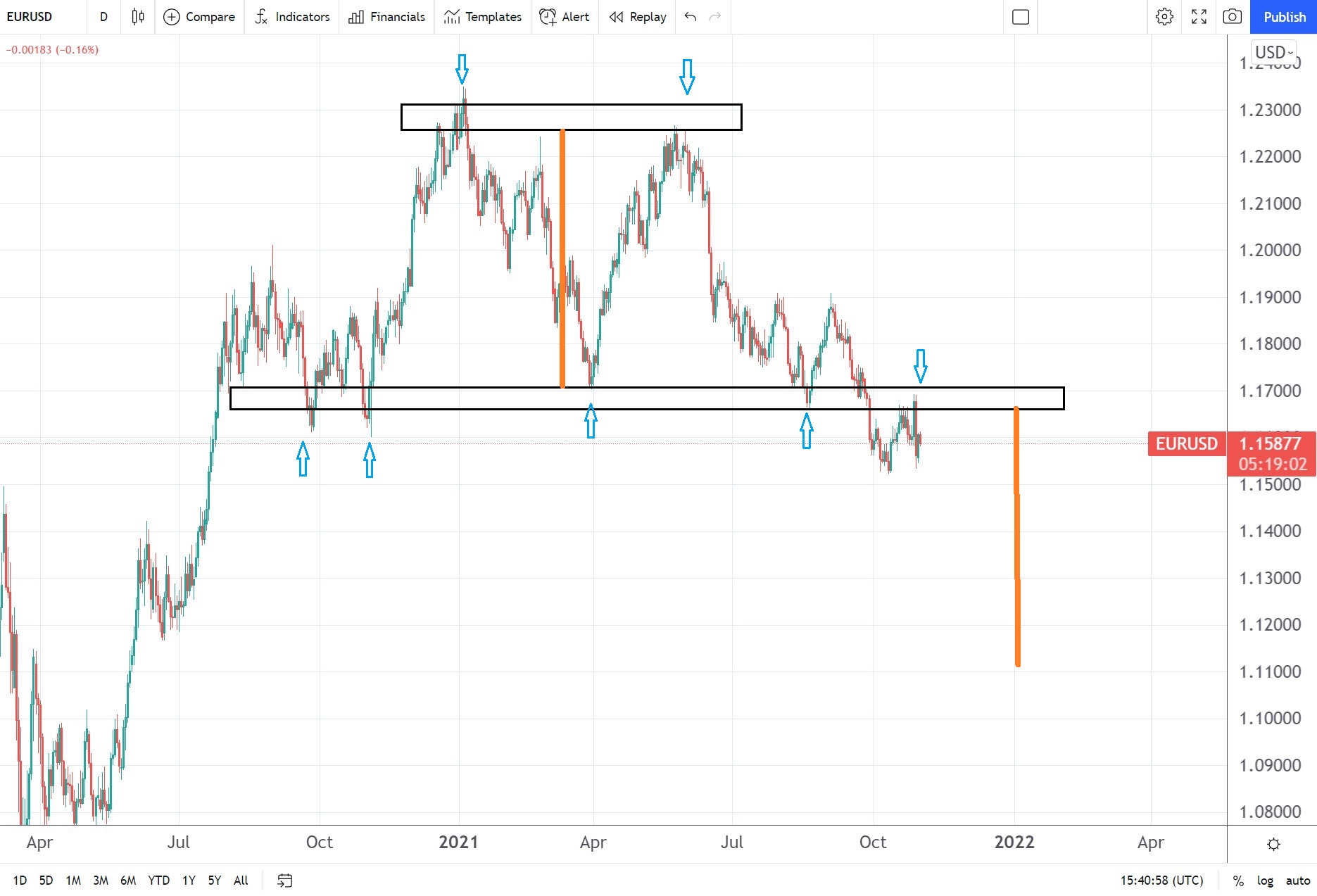 Double top pattern suggests more downside
Ahead of tomorrow's Fed decision, the technical picture looks bearish. The market formed a double top pattern in 2021 as the price failed twice at 1.23.
The recent move below the pattern's neckline suggests more downside is in store, should the pair break below 1.1520. However, the measured move of a double top pattern, as shown above in orange, projects levels below 1.12, and so it is likely that some stops lie below the recent lows.
One can also make the case of a head and shoulders pattern. This is also a reversal pattern, and the measured move is identical with the one of the double top.
The dollar's rally is more than interesting because it happens while the US stock market indices post new record highs. Also, inflation keeps rising, but that does not stop investors from bidding for the world's reserve currency.
To sum up, the bias remains bearish in November as the dollar's rally keeps on going. If the market perceives that the Fed turns hawkish tomorrow, more weakness lies ahead.