EUR/USD price prediction ahead of the Fed and ECB meetings
The US dollar rallied this year, and the EUR/USD is one of the pairs reflecting the rally. In December, the EUR/USD just consolidated near yearly lows, awaiting the Fed and the ECB decisions due next week.
EUR/USD hovers near the yearly lows with only a few weeks left in the trading year. The pair recently traded in a tight range near the lows, as investors and traders await the most important trading week in December.
Next week, both the Fed and the ECB will deliver their monetary policy decisions. First comes the Fed, on Wednesday.
The Fed's Chair, Jerome Powell, recently surprised markets with his hawkish comments. He suggested that it is time for the Fed to drop the word "transitory" when talking about inflation, thus implying that the Fed plans to act in order to combat the rise in the prices of goods and services.
It is, therefore, a possibility that the Fed will have a hawkish tone next week, in which case the US dollar should rally further. However, any market move should be taken with a grain of salt, considering that the end of the year nears and liquidity is thin.
One day after the Fed, the ECB is due to deliver its message. The focus will be on the forward guidance regarding the end of the Pandemic Emergency Purchase Programme (PEPP), and the future of the conventional quantitative easing run through the conventional Asset Programme (APP).
Nevertheless, the risk next week is tilted in favor of the dollar for the simple reason that the market now expects two rate hikes from the Fed in 2022 and no rate hike from the ECB next year. Therefore, the fundamental picture favors a higher dollar still.
How about the technical one?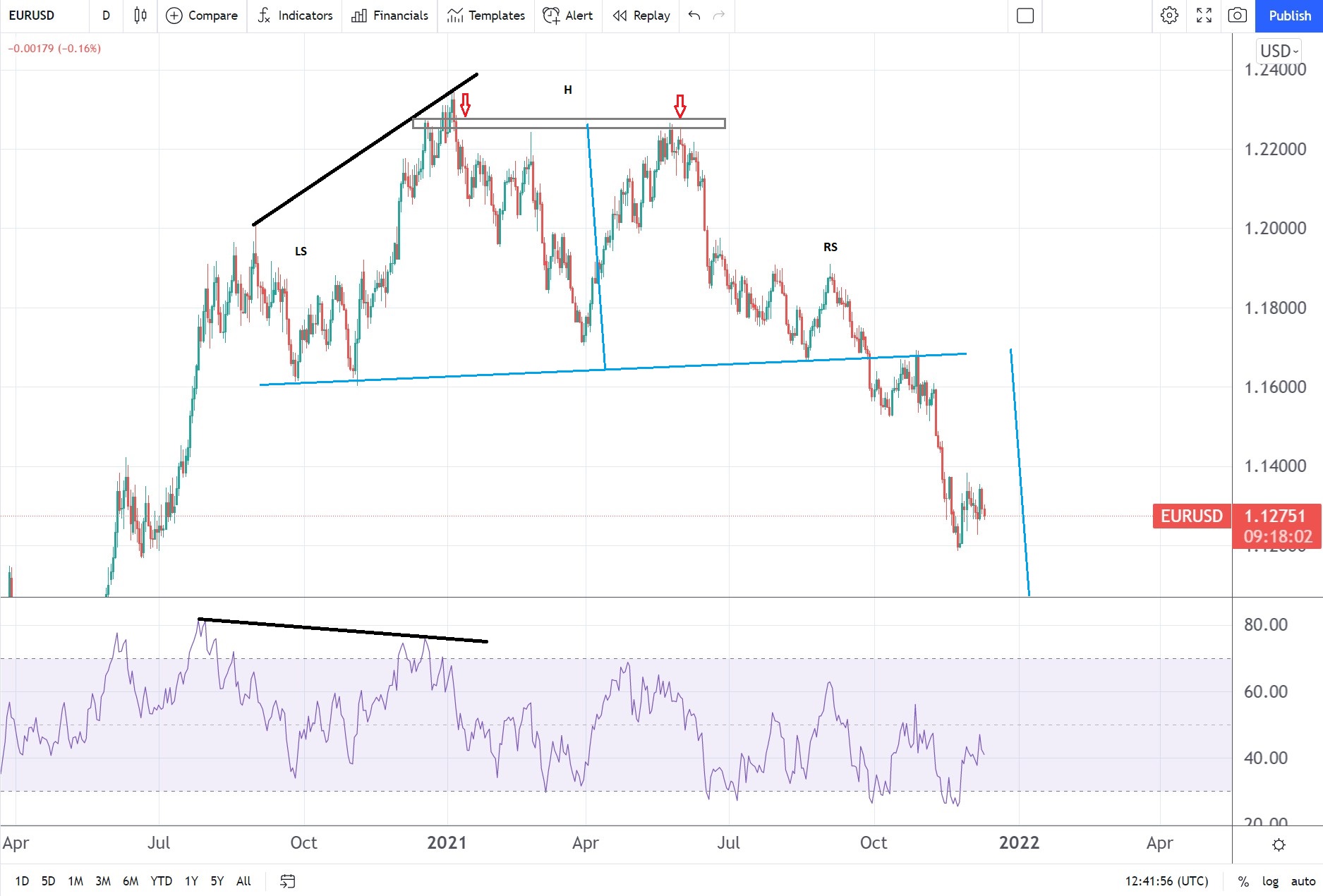 EUR/USD seems oversold here
The recent decline from the 1.16 area happened so fast that it took bulls by surprise. However, the technical picture indicated bearish conditions all year, as suggested by the double top at 1.23 and a head and shoulders pattern.
However, the EUR/USD pair looks stretched at the current levels. Therefore, a new low for the year should not be out of the question but expect buyers to emerge on such a move. Yet, unless the EUR/USD manages to climb back above 1.16, any rally will be met with new selling.