EUR/USD price prediction after trading sideways for three months
EUR/USD is back at 1.13, an area where it consolidated for three months already. Will the 2022 lows hold, or will we see a continuation of the main bearish trend?
2022 started with the US dollar rallying across the FX dashboard. It literally gained against all its G10 peers, and especially against the euro.
The greenback's strength led to the EUR/USD declining below 1.12, where buyers emerged. From a technical perspective, the pair might form an inverse head and shoulders pattern. While the technical picture is simple enough, the fundamental one is more complicated, and it is likely the one to determine the future path for the exchange rate.
Inverse head and shoulders pattern points to 1.18
From a technical analysis perspective, the EUR/USD is "working" on the right shoulder of an inverse head and shoulders pattern. The move below 1.12 represents the head of the pattern, and the neckline is seen just above 1.14.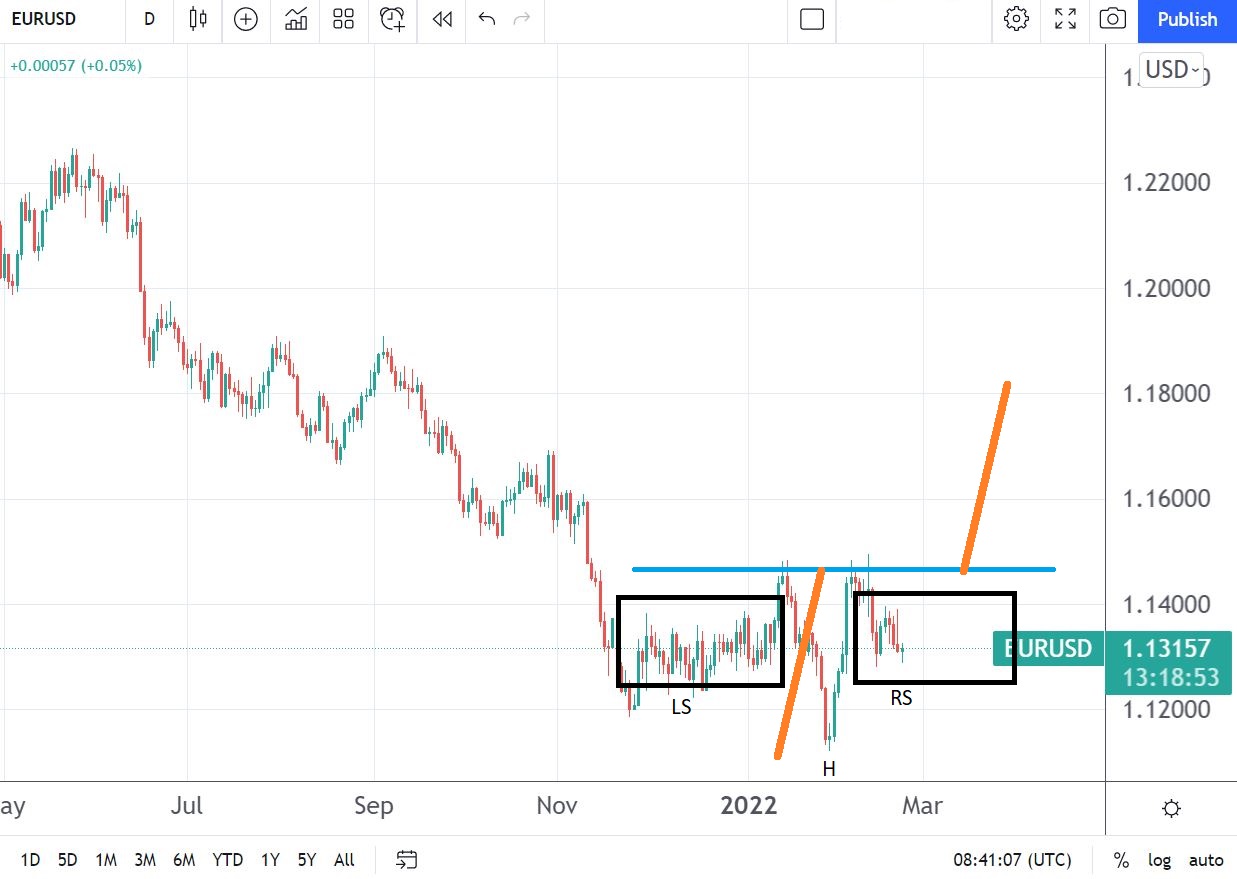 Such a pattern is more powerful the more the two shoulders look alike. As such, more consolidation between 1.13 and 1.14 levels might be bullish for the EUR/USD in the medium term, providing the 2022 low holds.
A close above the neckline would trigger more upside as bulls try their hand at the measured move. The measured move is calculated as the distance from the head to the neckline projected from the neckline. It points to 1.18, and it represents the minimum distance the market should move.
Monetary policy and geopolitics – key drivers for the EUR/USD exchange rate
Fundamental analysis looks more interesting than the technical one. On this front, the EUR/USD would likely be influenced by geopolitics and monetary policy developments.
The two central banks prepare for monetary tightening
Both the Federal Reserve of the United States and the European Central Bank warned investors that the time for monetary tightening has arrived. However, the Fed is set to tighten faster and more aggressively than the European counterpart, bullish for the greenback and bearish for the EUR/USD pair.
Russia-Ukraine developments represent a risk for EUR/USD bulls
All eyes are on Russia these days. The conflict in Ukraine risks escalating, and investors might look for safety in the world's reserve currency – the US dollar. Moreover, a conflict on the outskirts of Europe would weigh on the common currency.