EUR/USD price prediction after finding buyers below 1.10
EUR/USD finds buyers below 1.10, and the bearish momentum triggered by the war in Ukraine dissipates.
The war in Ukraine brought uncertainty in financial markets. Europe responded to Russia's invasion with economic sanctions, and the markets immediately sold the common currency, the euro.
It makes sense.
Weakened by the pandemic, Europe now faces a war. Who would want to buy the euro when several other alternatives exist?
Yet, the euro is not dropping as many have predicted. Indeed, it fell below 1.10 against the US dollar on the initial bearish momentum, but it bounced every time. Moreover, the EUR/USD looks quite bid now.
So, where does the common currency go next?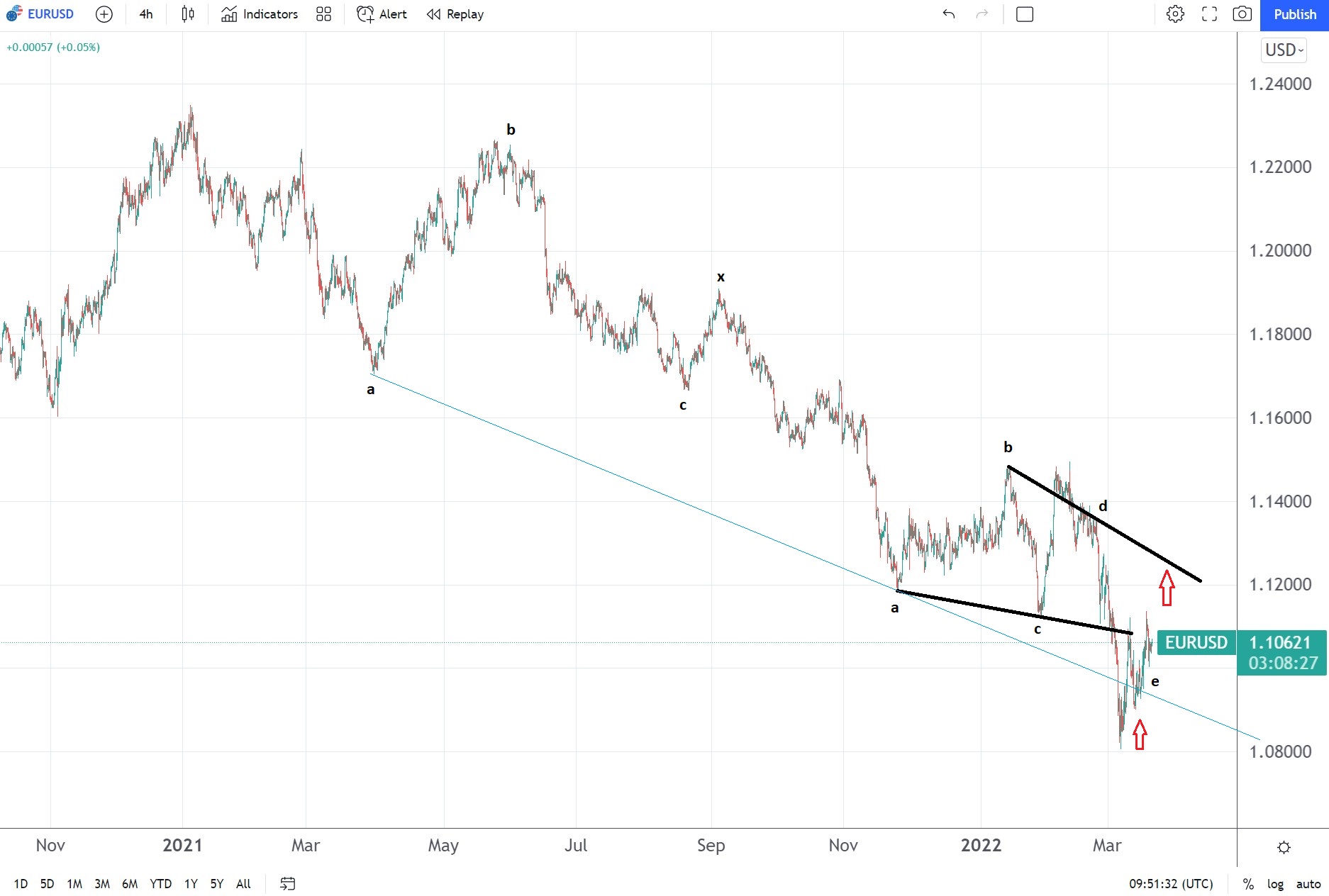 EUR/USD carves a bottom as a double combination ended
The EUR/USD has traded in a bearish trend since the start of 2021. It dropped from 1.23 to 1.08 in one and a half years, making a series of lower lows and lower highs, typical for bearish markets.
While the series remains in place, the bearish bias persists.
However, the Elliott Waves theory calls for caution. More downside may be possible but looks unlikely.
One can spot a double combination pattern with the last segment underway. A double combination comprises two simple corrective waves connected by an intermediate one.
In this case, we have a flat pattern, represented by the first a-b-c, the intermediate wave, labeled with x, followed by a triangle. The focus now sits on 1.12 and the b-d trendline.
A close above 1.12 signals the end of the triangle and the end of the double combination. On such a move, the bias turns bullish because a double combination ending with such a triangle is fully retraced.
In other words, one should not be surprised to see the EUR/USD trading back above 1.20 sooner rather than later if 1.12 gives way.
Sure enough, this is an unpopular perspective because, from a fundamental analysis standing point, the euro has no reason to rise. After all, the ECB still has the deposit facility into negative territory, while the Fed already hiked once.
But markets are never straightforward. If EUR/USD keeps finding buyers below 1.10, a short squeeze will follow eventually.