EUR/USD price prediction after bouncing from lows
The EUR/USD bounced from the yearly lows and trades with a bid tone, finding buyers on every dip. So here is a bullish case for 2022, supported by technical and fundamental factors.
EUR/USD is the most important currency pair. Besides being the most popular among retail traders due to low trading costs and tight spreads, it is the most liquid one too.
It made a new low in 2022 when compared to 2021, on the back of the Federal Reserve delivered a hawkish statement during the FOMC's first statement in the new year. Investors bought the dollar on the prospects of the Fed raising the federal funds rate in March – and they were right, the Fed did confirm its willingness to start a new tightening cycle.
After all, inflation in the United States reached 7.5% in January – the highest level in 40 years.
But the currency market reflects the value of one currency in terms of another. That being said, it means that one currency pair's volatility is driven by factors affecting both currencies.
In other words, the European Central Bank's monetary policy and decisions matter as well.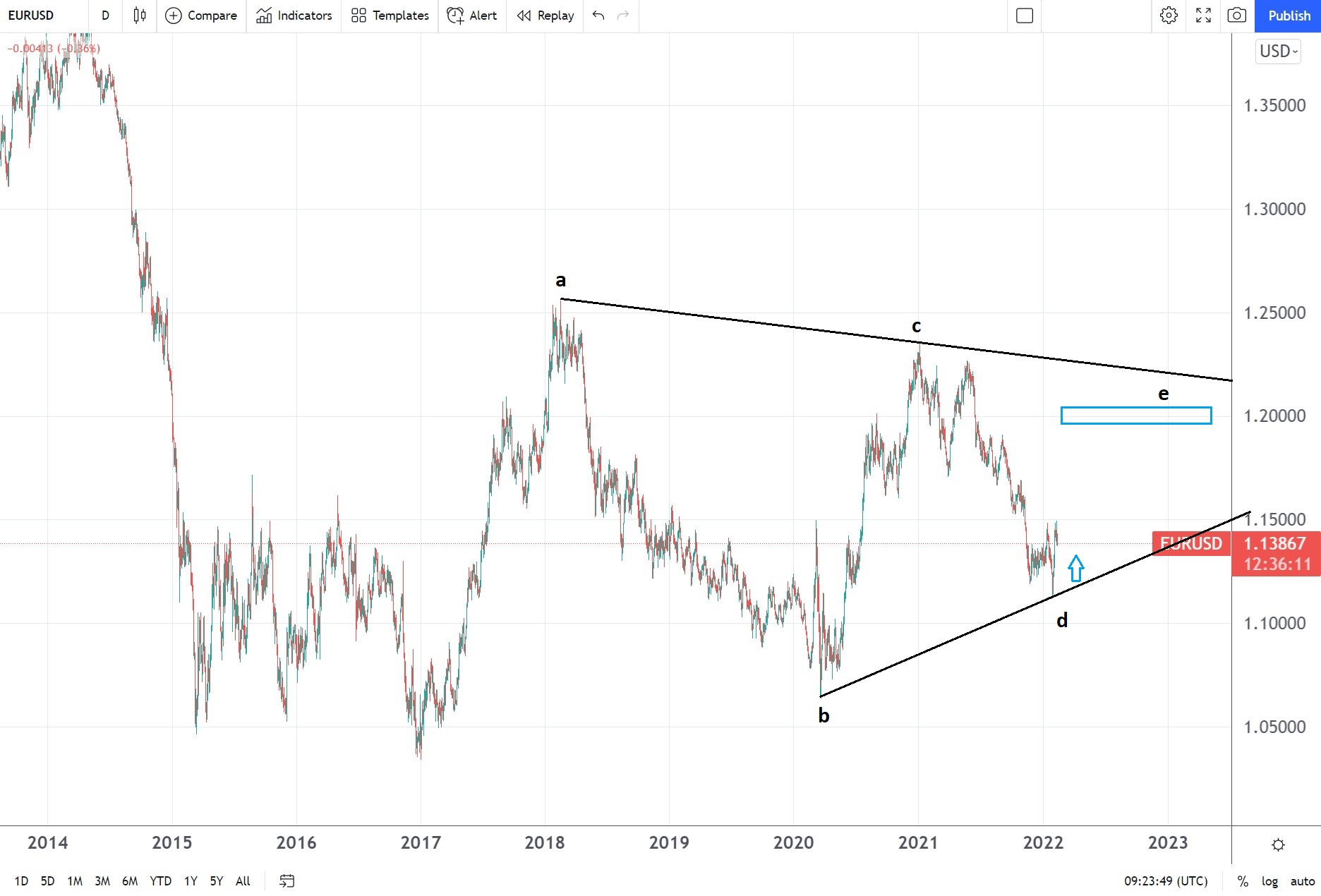 Triangular formation points to more upside while above the b-d trendline
One cannot ignore a possible contracting triangle forming on the EUR/USD daily chart. The consolidation started from the 2017 lows, and the market appears to have completed four segments already.
A triangle has five segments, all corrective if we are to interpret it according to the Elliott Waves theory. Each segment is labeled with letters, and so the four completed segments are a-b-c-d. It means that one more wave, the last one, is due, and typically it retraces much more than 50%=61.8% of the previous segment.
As such, the EUR/USD looks bid here, providing it does not drop below the b-d trendline. This trendline should hold until the triangle's completion.
ECB's hawkish pivot supports the euro on dips
The ECB took the market by surprise last Thursday when it delivered a hawkish twist. Only last December the central bank assured markets that it would not hike the interest rates in 2022, but it changed its mind fairly quickly.
Pressured by rising inflation, it signaled a hawkish pivot. As a consequence, the EUR/USD bounced from the lows, and the e-wave looks to have started.