EUR/USD price forecast ahead of the January FOMC Meeting
The main event for financial markets in the upcoming week is the FOMC Meeting on Wednesday. The EUR/USD exchange rate moved in a tight range for two months, looking for direction. What will the Fed presser bring for the most liquid currency pair?
The new trading year started with the US equity markets already down more than 7%. Investors react to rising inflation and they fear a strong response from the Federal Reserve of the United States.
While the stock market declined from its highs, the US dollar trades with a mixed tone. In fact, one may say that the US dollar and the FX market, in general, were relatively calm this week, considering what happened with equities; not to mention cryptocurrencies.
The EUR/USD pair reflect the fiat currencies' stability in otherwise volatile times. It trades in a very tight range, unusual for the most liquid and popular exchange rate.
Since November 2021, or two months, the pair trades between 1.13 and 1.14, dipping below or rising above rarely. It has become clear that traders are looking for direction, and next week's FOMC Meeting and the press conference that follows will likely trigger a break out of the current range.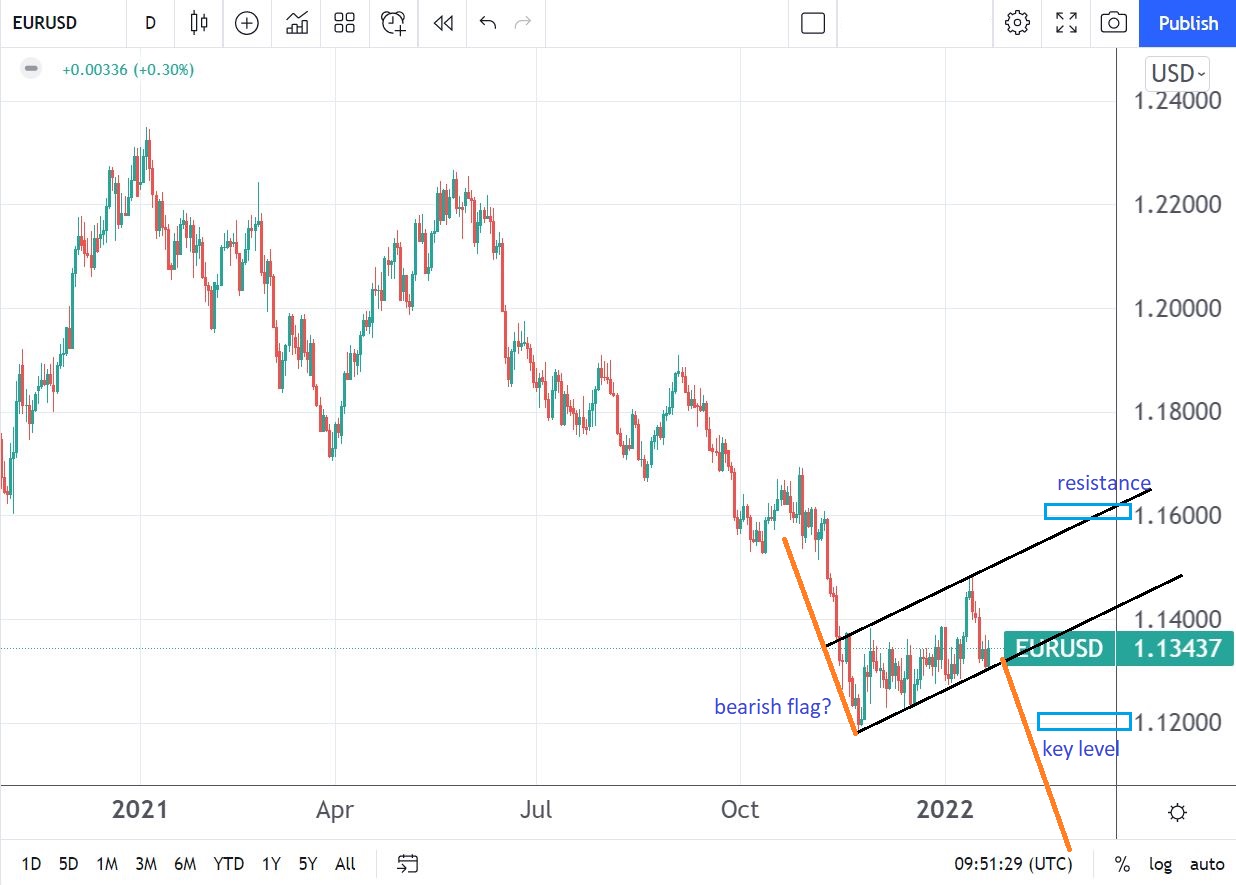 EUR/USD traded in a rising channel since last November
The recent inflation report for December 2021 showed that the prices of goods and services in the United States have reached levels not seen in nearly four decades. The news triggered a US dollar selloff, and so the EUR/USD exchange rate broke out of its range and traded above 1.14.
In the meantime, it retraced the entire move. It came back to the 1.13 equilibrium area, and the technical trader can note a rising channel.
Providing the price holds inside the rising channel, we may see the EUR/USD pushing towards the upper edge of it and trade closer to 1.16, where significant resistance lies.
A bearish flag pattern should not be ruled out
But a rising channel following a sharp decline is not necessarily good news for bulls. The pattern resembles a bearish flag, and a drop below the key 1.12 level opens the gates to further declines toward the measured move in the 1.09-1.10 area.
Italian Presidential election represents a possible market mover
A game-changer for the EUR/USD may come from the Italian Presidential election. Scheduled to start on January 24, it may trigger instability in the euro pairs if Mario Draghi, the current Prime Minister, is elected as President.

This is the most likely scenario and if so, there is a need for a new government. Hence, instability in Italy is unlikely to bode well for euro bulls.