EUR/JPY price prediction: tight range to hold for a while
EUR/JPY trades in a tight range since last May. 134 and 128 offer strong resistance, respectively support, while the 130 round number acts as a pivotal level.
One of the most interesting technical setups in the last several months comes from the EUR/JPY cross. For technical traders, ranges offer opportunities to buy and sell against support, respectively resistance. If the range forms around a round level, they are even more interesting because the ranging conditions usually last longer.
At the start of last summer, the EUR/JPY peaked at 134. 2021 was a great year for JPY bears, as the JPY pairs rallied sharply.
But after crossing the 130 for the first time, the round level attracted the price action several times and will likely do so in the future. As such, one can define a trading range where 134 acts as resistance and 128 as support.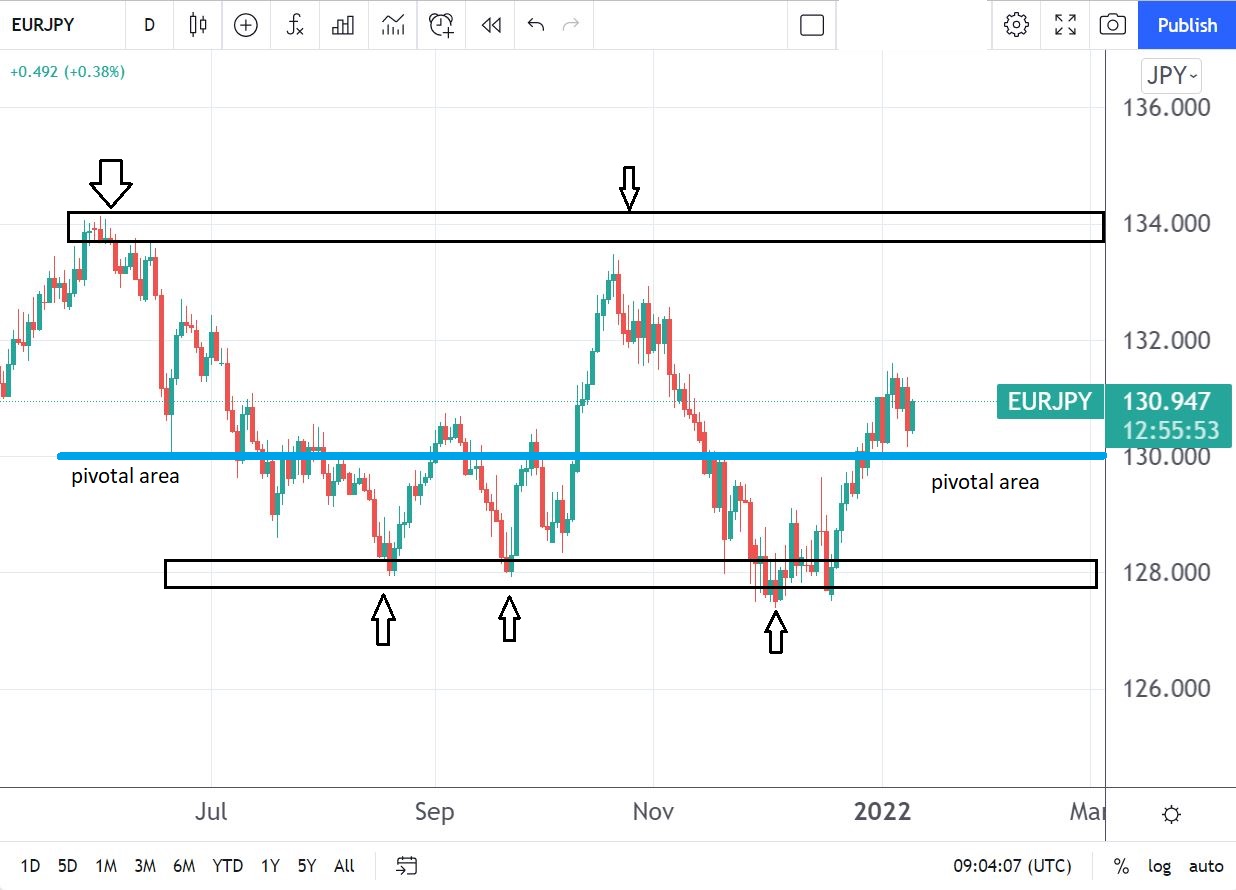 EUR/JPY bearish setup favored
The cross bounced from the 128 support area three times in a row. While above 130, it is bullish, with no resistance until the upper edge of the above-mentioned range. However, a move below 130 suggests another attempt at the 128 is in the cards.
In other words, the EUR/JPY 128-134 range will hold unless the price drops below 130. While above, bulls still have a chance to push the pair to new higher highs. On the flip side, a daily close below 130 spells trouble for bulls, as another attempt to 128 comes next.
JPY remains correlated to US equities
One of the main drivers of JPY weakness last year was the strength of the US stock market. The JPY is inversely correlated to the US stock market – it declines when stocks rally and advances when stocks fall.
As such, a sharp move below 128 indicates weakness in the stock market. Moreover, a March rate hike is in the cards now that the Federal Reserve prepares to tighten the monetary policy. If the Fed tightens faster or suggests that it would do so, the stock market will have a hard time advancing.
Later today, the Fed's Chair, Jerome Powell, testifies on his renomination. His words will be closely monitored by stock market traders as well as JPY ones.