EUR/JPY price prediction for the end of 2021: 130 acts as a pivotal level
EUR/JPY bottomed at the start of December, and it now looks ready for a new attempt at the pivotal 130 level. The ECB meeting later today looms large for the euro pairs.
European traders prepare for one of the most important events in December – the ECB meeting. The euro pairs did not do anything in December so far, waiting for more guidance from Lagarde and the Governing Council.
The EUR/JPY pair reflects the inaction mentioned earlier. It consolidated around 128 area since late November, moving directionless. However, it appears to have been broken higher lately, sparked by the USD/JPY's ongoing strength and optimism that the ECB will signal a hawkish shift just like the Fed did yesterday.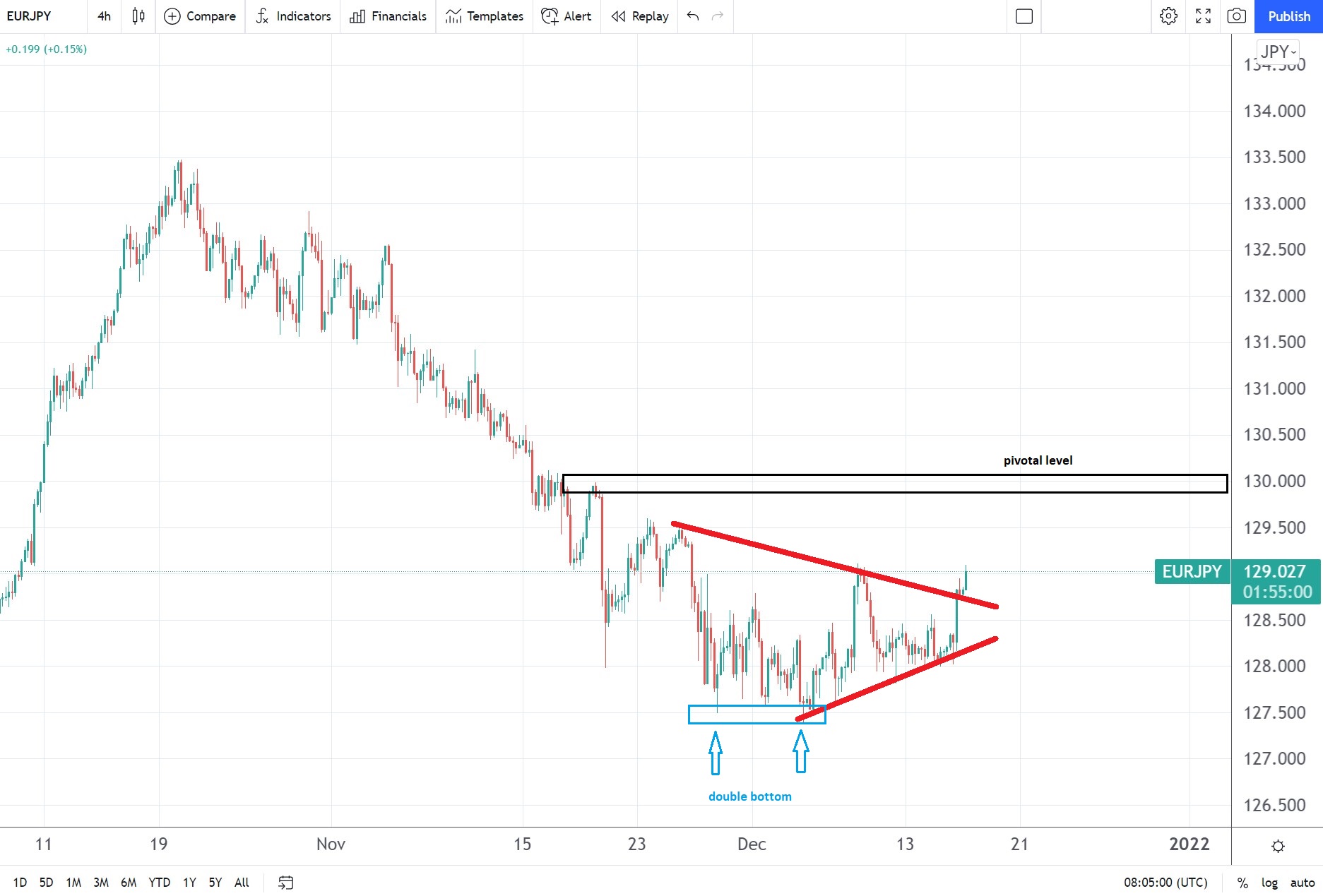 EUR/JPY double-bottomed in late November/early December
The technical picture looks constructive for EUR/JPY bulls. The pair looks poised to climb back to the 130 pivotal level ahead of the end of the year. This is a key level for the pair, visited multiple times throughout the year, and will likely attract the price action moving forward.
Two bullish patterns justify the bulls' optimism. First, a double bottom formed in late November/early December. A double bottom is a reversal pattern and signals more strength ahead. Second, a triangle at the end of a bearish trend was completed recently. The move higher signals the end of the consolidation, and 130 might be just an intermediate level on the pair's run higher.
Euro area real GDP expected at 4.5% in 2022
Fundamentals also look promising for the EUR/JPY. The euro area GDP growth is expected at 4.5% in 2022 and 2.2% in 2023, while in 2021, the GDP should reach slightly above 5.0%.
Moreover, inflation will be higher for longer. Higher inflation will force the central bank's hand to act sooner rather than later and lift the key interest rate. In contrast, the Bank of Japan is unlikely to tighten its policy anytime soon, thus offering another reason to be bullish on the EUR/JPY pair.
On the flip side, the new COVID wave may derail the economic recovery. The Japanese yen is viewed as a safe-haven currency, and thus a resurgence in the infection rate may trigger a new flight to safety. In that case, investors will find refuge in safe-haven currencies, and the EUR/JPY may slide. If that is the case, 127.50 is the level to watch.