EUR/JPY price prediction after it failed at 133 twice
A double top pattern suggests more weakness lies ahead. A clear move below the pattern's neckline suggests more downside. The 130 level acts as a pivotal one.
The EUR/JPY exchange rate is in danger of forming a double top pattern. A double top is a reversal pattern that forms at the top of a bullish trend. As the price meets horizontal resistance, it fails twice against an area. In the case of the EUR/JPY pair, this area is 133-134 and recently, the cross was rejected again from it.
The Japanese yen pairs trended higher in 2021. As it turned out, the yen was one of the weakest currencies on the FX dashboard, and the only thing keeping the EUR/JPY cross from rallying even more was the weaker euro.
Yesterday, the EUR/USD pair dropped below 1.15 in a reaction to the rising US inflation. The EUR/JPY cross reacts to the different moves in the two major pairs it represents – the EUR/USD and the USD/JPY. In other words, if the EUR/USD drops 1% and the USD/JPY rises 1%, the cross, the EUR/JPY, remains flat or unchanged.
Therefore, the EUR/USD and the USD/JPY inverse correlation must change for the double top pattern to form. One of the two majors must diverge. For example, the EUR/USD might consolidate below 1.16 for a while, and, at the same time, the USD/JPY might drop to 108. Such developments would trigger more weakness in the EUR/JPY pair.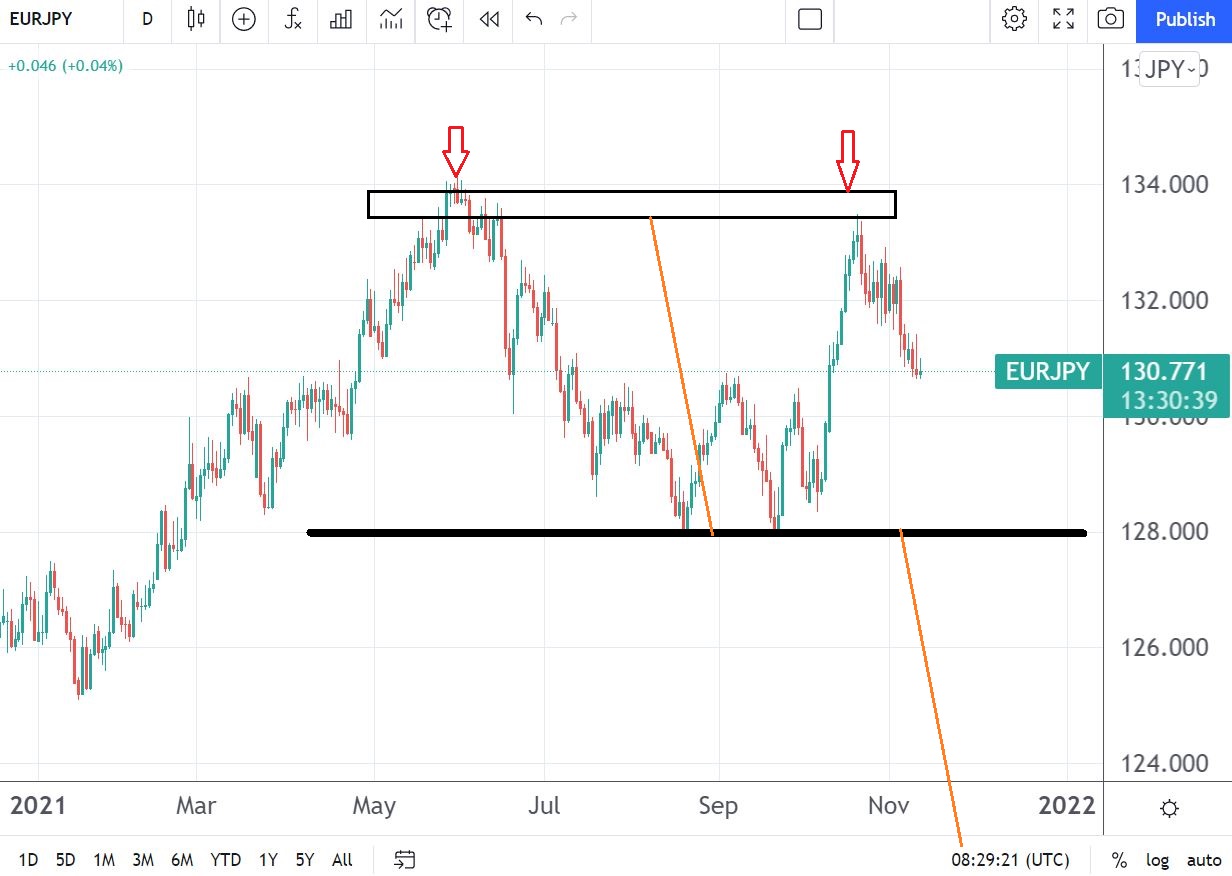 What needs to happen next for the double top to be confirmed?
A few things must happen for the pattern to be confirmed. First, a daily close below the 130 level is mandatory. This level acted as a pivotal one, and it acted both as resistance on the price's move to the upside and as support on a move to the downside.
Second, the chart above shows that the 128 area is critical for the EUR/JPY cross pair. It is the area from which the pair bounced recently and thus, we should expect it to act as support on any new attempt to break it.
Finally, a daily close below 128 would draw traders' attention to the double top pattern. Unless we see such a move, the double top is just a supposition. But a daily close below should trigger more weakness, as stops are likely to lie below the key level.