EUR/JPY price prediction after failing at 127 again
Key support area held on the recent attempt lower, and EUR/JPY is on its way to 130. What will 2022 bring?
The Japanese yen pairs are the most active ones on the FX dashboard, with only one trading week to go in the year. Such inactivity is normal during holidays, and it is reflected by the EUR/USD pair, which has traded close to 1.13 level for almost one month now.
While the EUR/USD stands still, the price action in the EUR/JPY pair is driven by the USD/JPY, which trades close to its yearly highs and is currently responsible for the u-turn in the EUR/JPY cross.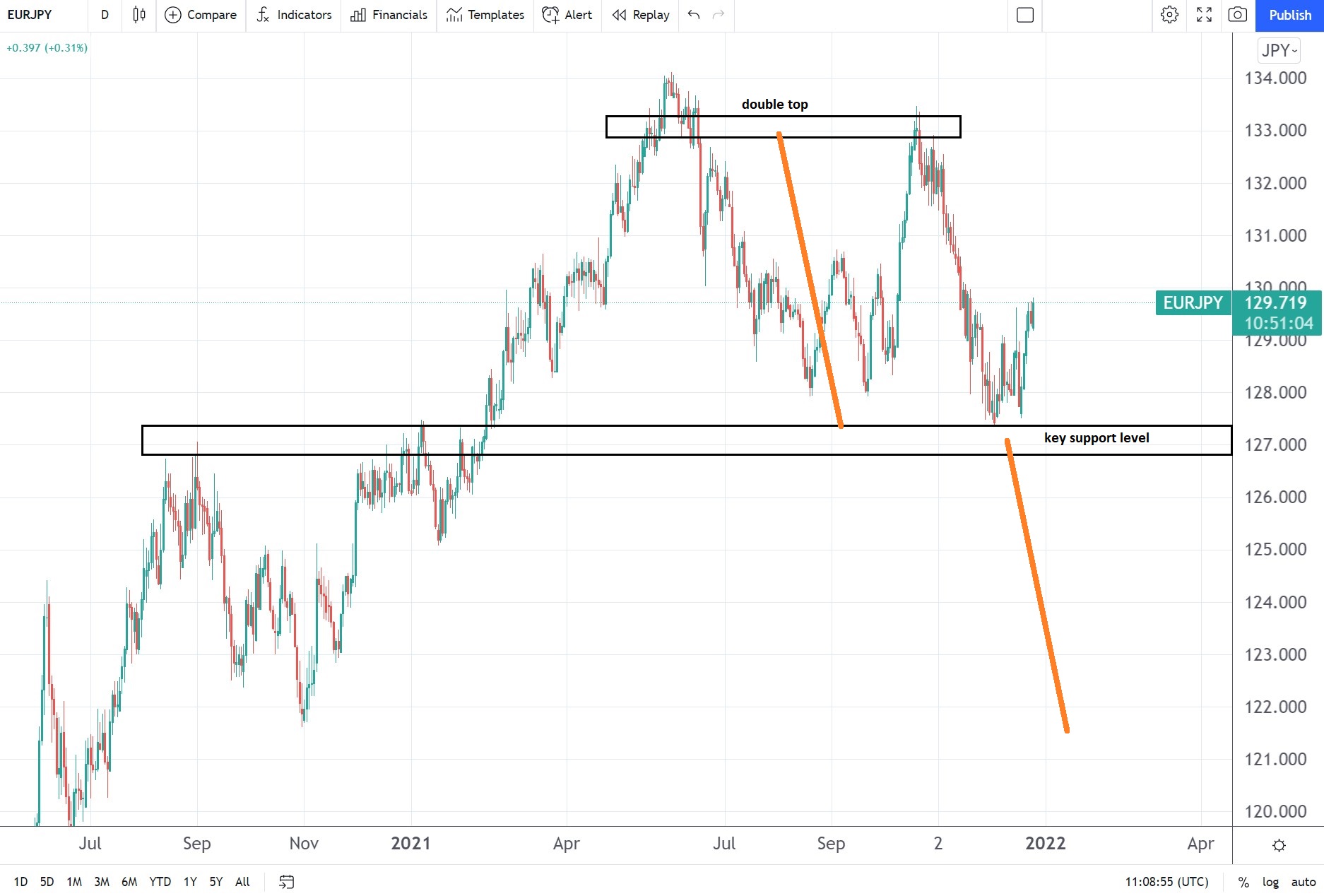 EUR/JPY to remain bid while above key support level
The EUR/JPY cross pair is one of the most actively traded pairs in the FX market. It started the year consolidating below the 127 area, only to break higher shortly after the trading year began.
From that moment on, it did not look back all the way until it reached the 133 are. It should be noted here that the EUR/USD pair opened the trading year above 1.23 and corrected ever since. In other words, the USD/JPY alone is responsible for the bullish run seen in the EUR/JPY cross.
But the 133 area proved to be too strong to hold above. As such, the pair formed a double top pattern which threatens with more weakness in 2022. However, the key support level held on the first attempt and thus offers bulls a reason to expect more strength in the year ahead.
Double top pattern may trigger a bearish trend in 2022
A double top is a bearish reversal pattern and technical traders wait for the market to break below the neckline before going short. Coincidence or not, the neckline is just the 127 key support level mentioned earlier. As such, a move below the neckline represents a breach of the key support level and, therefore, might trigger some weakness in 2022.
The pattern's measured move indicates a drop to 122 once the price action breaks below the neckline. If that is the case, expect it to be the result of either euro weakness or strong demand for the safe-have qualities of the Japanese yen.