EUR/JPY price forecast after ECB's hawkish twist
EUR/JPY is up three big figures after last week's ECB hawkish twist. So what do the charts show now that the cross trades at 132?
One of the currency pairs that reacted the most to the European Central Bank (ECB) decision last week is the EUR/JPY cross. It trades higher by over three big figures or three hundred pips on the back of the ECB's statement, which delivered a hawkish surprise to markets.
For the first time during the pandemic, the ECB sees inflation risks tilted to the upside, hinting at possible rate hikes in 2022. Such a move on rates was ruled out vehemently only six weeks ago, but now it is a possibility. In fact, markets immediately priced in one rate hike in June.
If the ECB will end up delivering it is another story. What is certain s that the market was caught on the wrong side, and the euro pairs squeezed higher. All of them did, but the move in EUR/JPY stands out of the crowd.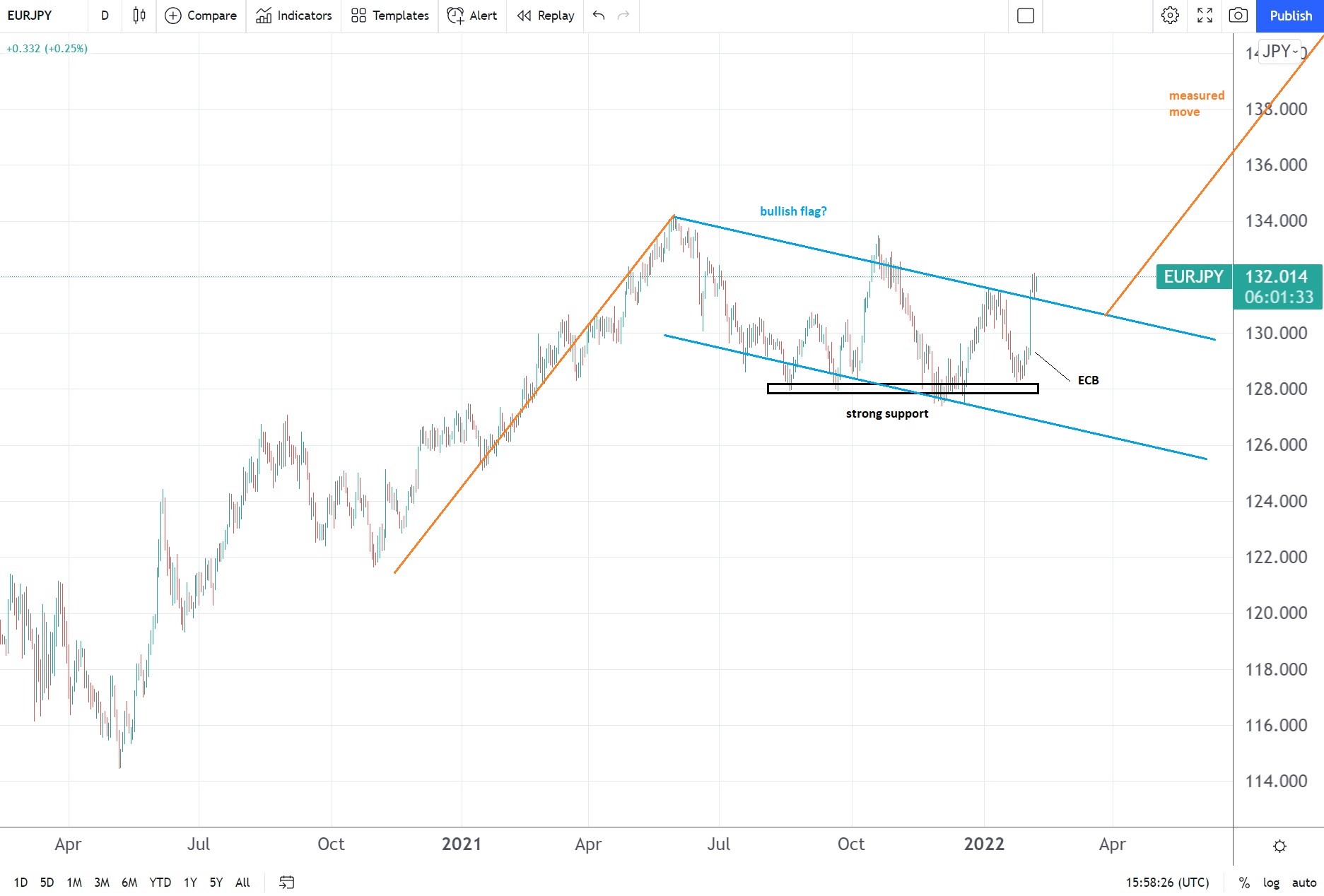 What does the technical picture say?
Two things are worth mentioning when looking at the EUR/JPY daily chart. One is the extraordinary support the market has at the 128 area. It tested it several times, and buyers succeeded in defending the level each time.
Another one is the possible bullish flag formation. The flag is the downward consolidation in the last six months, and the current move higher broke its upper edge.
Such a breakout usually is enough for aggressive bulls. As seen in orange on the chart above, the flag's measured move points to much higher levels, so bulls have all the reasons to be on the long side.
However, caution is needed. If anything, the series of lower highs is not broken yet. For this reason, conservative bulls may want to wait for the market to make a new higher high before going long, even at the expense of entering the trade a couple of hundred pips higher.
In other words, bears still have a case as long as the price does not make a new higher high. Should that be the case, expect the pressure to build for a return to the 128 support level.