EUR/GBP price forecast ahead of the BOE and ECB decisions
EUR/GBP traded with a bearish tone for more than a year now, searching for a bottom. Is this the week that marks a bottom, considering that both the Bank of England (BOE) and the European Central Bank (ECB) announce their monetary policy decisions on Thursday?
An important week for the EUR/GBP traders started two days ago. Both the BOE and the ECB will present their monetary policy decisions on Thursday, giving speculators an opportunity to trade the EUR/GBP cross.
The price action went nowhere in 2022. With more than a trading month already behind us, the EUR/GBP cross barely moved.
More precisely, in January, it traded in such a range of about 100 pips points, an extremely narrow one by all standards. However, it may be that the market only awaited more guidance from the two central banks now that the monetary policy stimulus is being removed.
EUR/GBP at dynamic support
The technical picture looks bearish, although the market has found some support at the lower edge of the declining channel. At this point, it is difficult to take a position in the EUR/GBP for at least two reasons.
First, the dynamic support may trigger a bounce from the current levels. Thus, bears are cautious in opening a new position.
Second, bulls have no reasons to buy here because even a bounce of a coupe of hundreds of pips points would still cap the market inside the bearish channel. Therefore, the wisest thing to do here is to wait for the two central banks to say what they have to say and then trade a breakout above the upper edge of the channel or sell against the same resistance.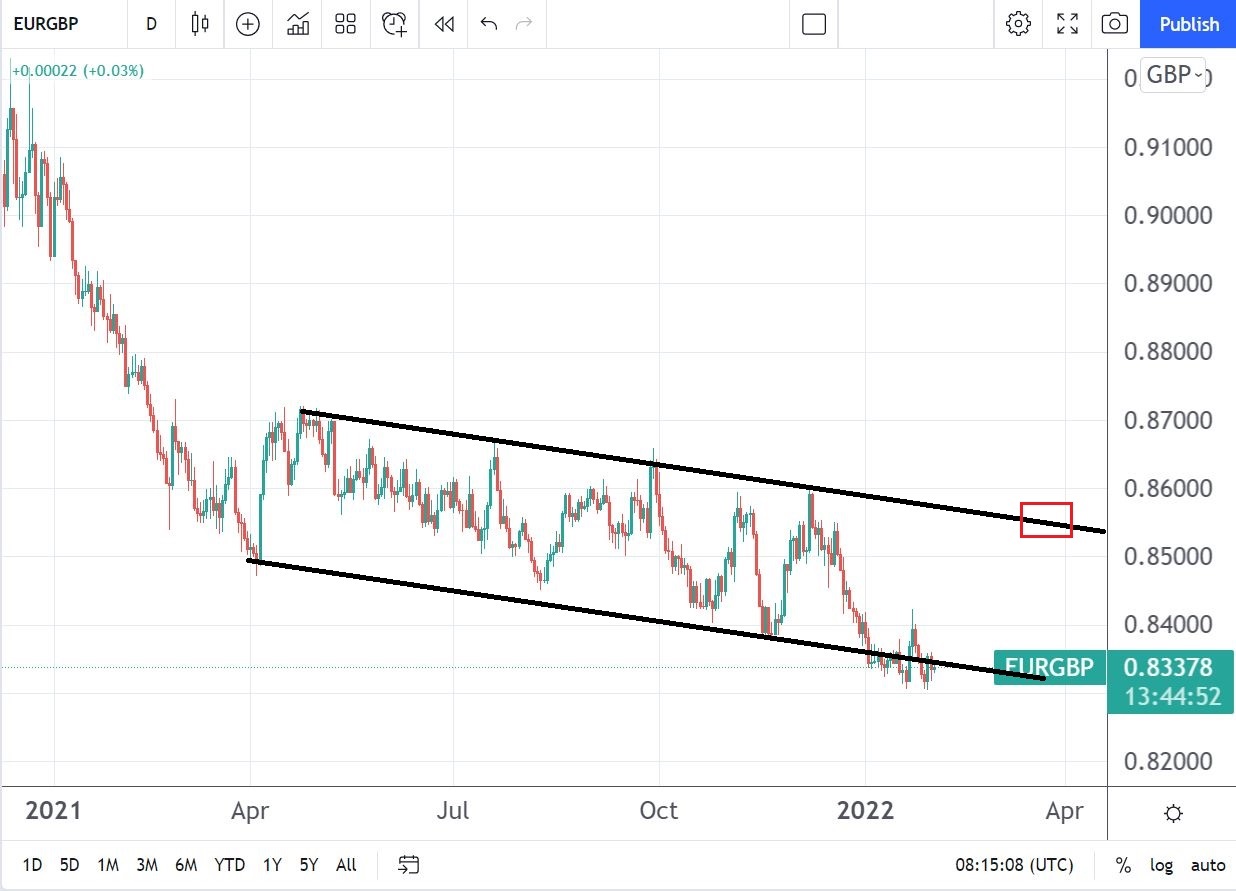 Market participants expect divergent policies
While the technical picture looks bearish, so does the fundamental one. On the one hand, the BOE is expected to raise the interest rate again after the last December rate hike. On the other hand, the ECB will rather insist on its dovish card, further pressuring the common currency.
All in all, this is a big week for the EUR/GBP cross. Traders must remember that the market has already priced in most of the central banks' outcomes, so a severe move in the exchange rate might be triggered if one of the two central banks delivers a surprise.