EUR/GBP price forecast after the BOE disappointed markets last week
The Bank of England disappointed market pricing last week. It failed to deliver on the rate adjustment the markets expected, and the British pound collapsed. What comes next for the EUR/GBP cross?
One of the main events for currency traders last week was the Bank of England's decision. The market expected the central bank to deliver the first post-pandemic rate adjustment – as it signaled it would do.
To the surprise of everyone, the central bank kept its monetary policy stance steady. As a result, the British pound collapsed across the board, with the EUR/GBP cross jumping two-hundred pips points (i.e., two big figures) recently.
Yet, the technical picture remains bleak for the EUR/GBP cross. After the initial disappointment, traders sold the cross again, on renewed pound's strength and a weak euro.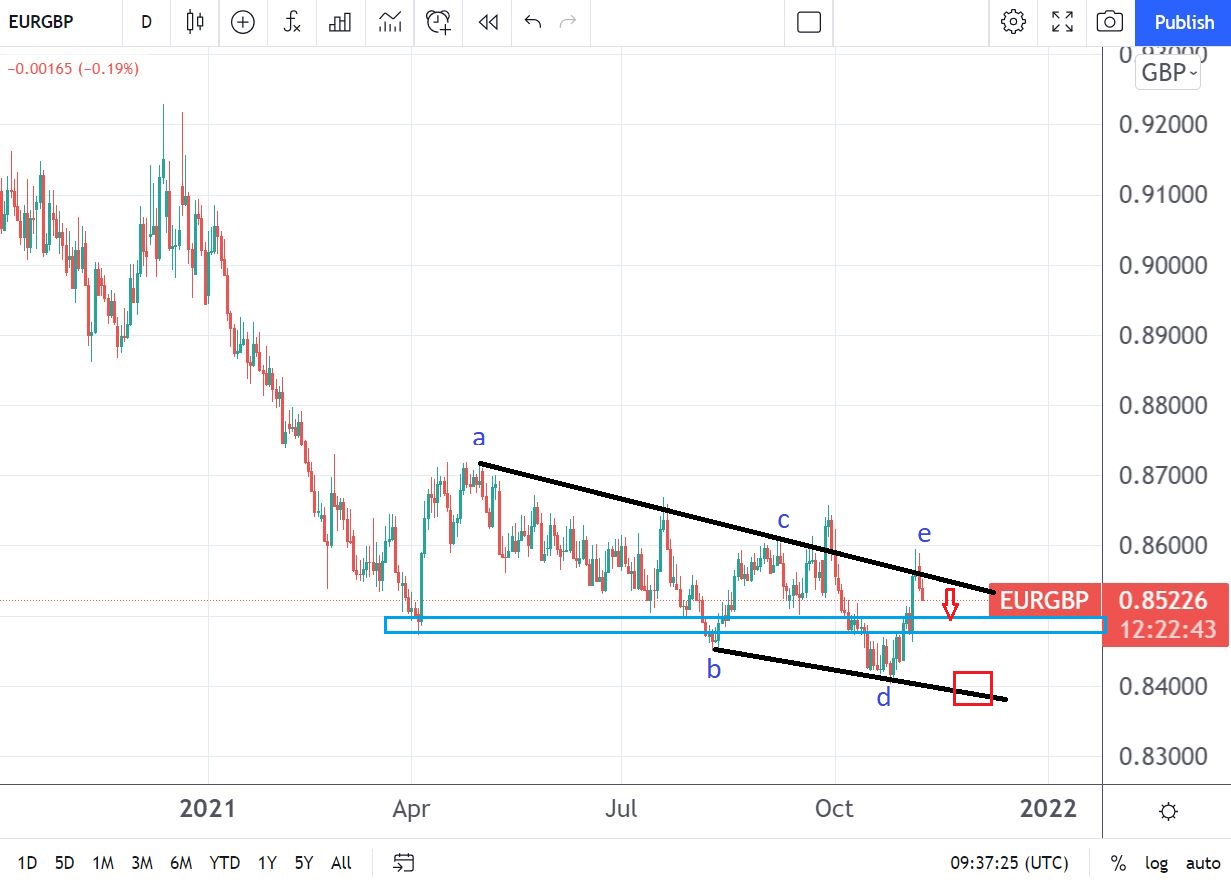 What does the technical picture say?
The daily timeframe reveals a bearish picture for the EUR/GBP cross in 2021. The price kept making new lower lows and lower highs, a typical formation during bearish trends.
Moreover, the recent bounce caused by the Bank of England disappointing markets looks like the final segment of a contracting triangle. As such, the expectations are that a new lower low is in the cards, with a move below 0.84 possible.
To reach there, the price needs first to close below the level at which the contracting triangle started. Next, on a daily close below the b-d trendline, the bias remains bearish because such a triangle suggests more downside once the price breaks the b-d trendline. Therefore, from a technical perspective, the bias remains bullish for the period ahead.
Why did the market expect the Bank of England to hike?
The Bank of England suggested in the September 22 Minutes that a rate hike is possible even before the end of the existing UK government bond asset purchase programme. Moreover, the governor told during the G30 conference call in October that the bank will have to act to stop rising inflation.
As a result, the market started to price in a rate hike. But the bank did not deliver, leaving the monetary policy unchanged and causing a mini-crash on the British pound.